When you receive a text message, you can see the timestamp above or below it (based on the manufacturer). But what if the timestamp points to a decade back?
No, you don't have to have a time machine to make this happen. Many people in Europe already went through such a scenario. They got weird texts from senseless phone numbers, sent exactly fourteen years ago.
Why are People Getting Creepy Text Messages from 2003?
The social media went crazy when a Redditor posted a picture depicting an SMS she received a couple of days ago. There's absolutely nothing extraordinary with having received a text. But it was dated 14 years back, on 14 September 2003! And that became the sensation!
She also shared the screenshot of the message application. As you clearly see, the sender's phone number doesn't make any sense. Neither does the empty message too.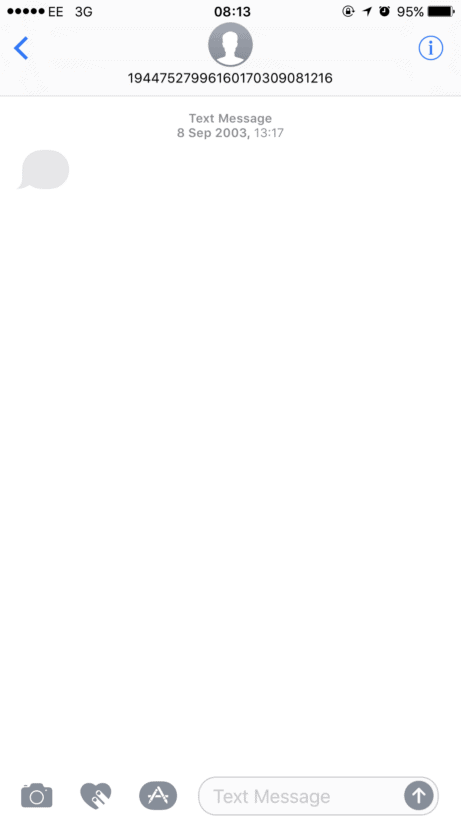 The Redditors went crazy about getting a message from the past. Apparently, it became a sensation, not only with the weird news but due to the funny insights that read, below the post as well.
It turns out many people (nearly hundred) have received the same type of message from weird phone numbers, dating back to 2003. Quoting the tweets, we found on TheNextWeb report, the issue started doing rounds back in October, last year.
Should I be concerned that I've just received a blank text message from 2003? Anyone able to shed any light on this? pic.twitter.com/jEIzbyhBq1

— SJ Williams (@SJWilliams95) February 18, 2017
This text just came through from 2003?so confused pic.twitter.com/kFUQ3mEEYz

— Amie Kinsey (@amiekinsey) February 1, 2017
why have I just received a text from 2003 from number '19' spooked pic.twitter.com/zYkVakfGB9

— chloe (@cchlce) October 18, 2016
Everything Everywhere (aka EE), a popular mobile carrier in Europe faced a glitch in August 2016. Some people pointed out the same as the cause of getting creepy messages.
But EE users aren't the only receivers of such messages. Vodafone subscribers too got confused with the back-dated messages they received.
Just got a text from 2003, @VodafoneUK we can always rely on you for me to get my texts on time???????? pic.twitter.com/0NoQ4u01fT

— grace?? (@graceepearson_) January 26, 2017
Apparently, the issue is not carrier-specific. As the affected ones use different cellular networks, we can perceive that something else is the reason.
Another Redditor came with an acceptable explanation for all this fuss. He revealed the issue arose from having two different methods to send an SMS; text mode (widely used) and PDU mode.
The text mode offers the maximum ease of use but minimum control. On the contrary, you can have the complete control over PDU mode, and it is possible to fake almost everything about it with some programming skills.
So, what should you do when you receive such a message?
No, there is nothing to worry! You can post a screenshot on social media, laugh at it, and completely forget everything. If you are too much worried and you have security concerns, just contact and notify your mobile carrier about it.