Jio came and revolutionized the telecommunication arena in India. The internet tariff plans have gone dirt cheap as compared to the pre-Jio time. Not to mention, Idea and Vodafone had to seek solace in each other through a merger to decrease the loss.
The company in their Annual General Meet announced Jio Fiber. On the contrary to everyone's belief, it will go commercially live on 5 September. Guess what? The competitors already realized the danger and started renewing the plans for users' benefit.
Hathway Brings Alluring 100Mbps plan for Rs. 699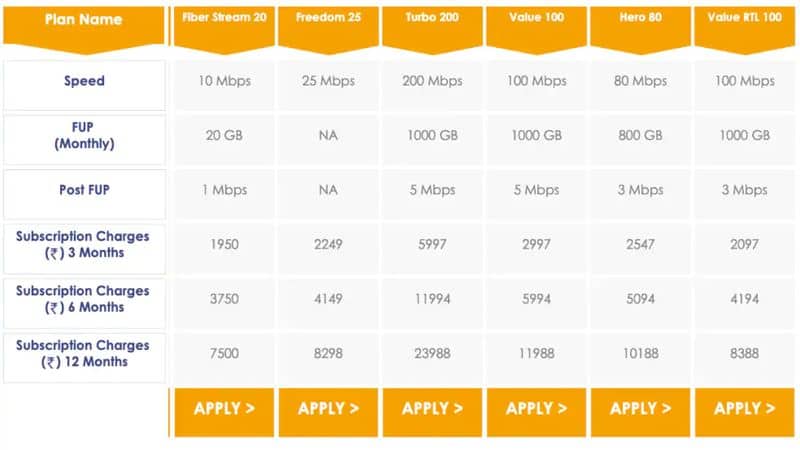 We have covered the launch of Jio Fiber here on GeekDashboard. If you remember, every internet user salivates at such impressive tariff plans. It seems other ISPs are quick to respond with their own plans to hit back against the Ambani-helmed company.
Hathway has introduced a new plan to their broadband users in Kolkata circle. You have to spend Rs. 699 to get the internet for a month. They offer 100Mbps speed with 1 TB FUP. When opting for a new connection, one can now get Rs. 2500 worth of benefits with their streaming gadget named PlayBox (available at Rs. 899). You can stream Netflix, Zee5, and SunNXT without any additional costs.
The company has brought about a few other plans too. The most seducing one among the lot is the one we mentioned here. For you to leverage the benefits, you have to subscribe for at least three months. The other plans' speed range from 10 Mbps to 200 Mbps. The cheapest one named Fiber Stream 20 offers a speed of 10 Mbps with 20 GB monthly FUP. For three months, you have to spend Rs. 1950.
The expensive one bears the name Turbo 200 has 1000 GB monthly FUP with 200 Mbps speed. The subscription cost for three months is Rs. 5997.
As you already read, the company has launched a limited-period offer for its PlayBox streaming device. The price has been decreased to Rs. 899 now. Moreover, the subscribers can now avail popular streaming services at a cost of Rs. 2500 for three months.
To recall, the original cost of PlayBox is Rs. 2999. And, you could have only got Netflix for two months.
ACT Fibernet, on the other hand, has its own streaming device- ACT Stream TV 4K. You can get your hands on it now with a refundable deposit of Rs. 1500. The complimentary services include one-month Zee5 and Hooq.