Amazon Prime isn't new to Indian media consumers. They have launched it over a year ago with early access to deals and video streaming service. Then came Amazon Music service that lets you stream your favorite music at no additional cost.
You might have already aware of Amazon Kindle, an ebook reader (application is also available). If you spend Rs.150 per month (first month free), you can access over a million titles. As a complimentary package to the Prime subscribers, Amazon now allows users to read hundreds of titles for free under the banner of Prime Reading.
Amazon Prime Reading is now Available in India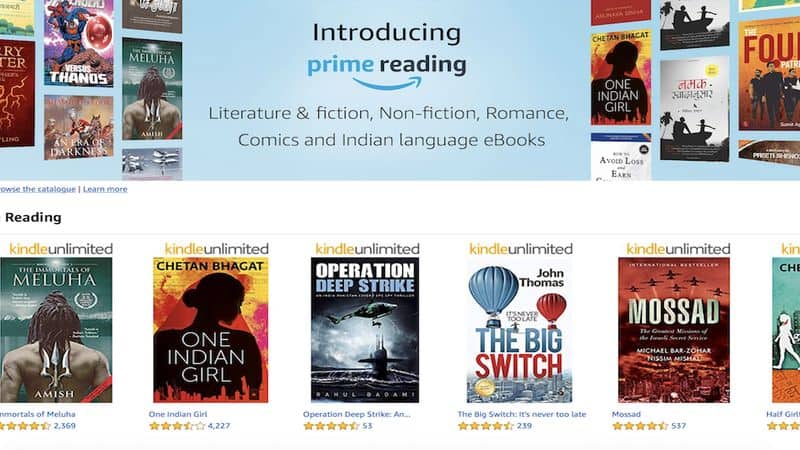 If you love digital reading, you are going to love Prime Reading. Unlike Kindle Unlimited, you can't get a million title at your fingertips. On the contrary, you will get hundreds of books the company has chosen for the Prime users.
You know Amazon Prime is available in two different subscription options; Rs. 999 yearly plan and Rs. 129 monthly plan. With this, you get early access to deals, faster delivery, entry to Prime Videos, and Amazon Music. As Prime Reading went live, you can access a few of your favorite titles as well.
Also Read:- How to Transfer Apple Books from your iPhone or iPad to PC without iTunes
On the other side of the spectrum lies Kindle Unlimited. You have to pay Rs. 150 per month and it doesn't come with an annual plan. Neither does it offer you access to anything extra (music or videos). All you can do is reading (you can choose any, though).
Just like Kindle Unlimited, you can read books on the physical ebook reader and mobile or tablet applications. As of now, some of the titles available under Prime Reading are Harry Potter and the Philosopher's Stone, Immortals of Meluha, One Indian Girl, and Operation Deep Strike.
In a press statement, the country manager of Kindle India, Rajiv Mehta says that Prime Reading build a habit of reading and members can now read their favorite titles by conveniently downloading and reading ebooks within minutes at no additional cost.
In case you think the regular Kindle app is too heavy to load on your phone, you can go for Kindle Lite. It gives you access to books under Prime Reading on entry-level Android devices.
Once you sign in using your Prime account, you should browse the dedicated Prime Reading section. There, you can see the available title. Choosing one will give you a Read for Free button. That's where you should tap to start reading. As you already read, the reading is done via Kindle app with all the standard features. The books are available in English, Hindi, Marathi, and Tamil.