Wherever you go, I am there; says Google. Yeah, with the launch of Google Shopping in India, we are forced to say it. The search engine titan has got their hands on everything online. Google Shopping, the inventory of products you can purchase just started waves in India.
We have been hearing about Google Shopping, coming to India. Now that it happened, you have to get accustomed with the same to pull off the maximum possibilities of online shopping. Let's delve into what Google Shopping does.
Google Shopping Website Went Live in India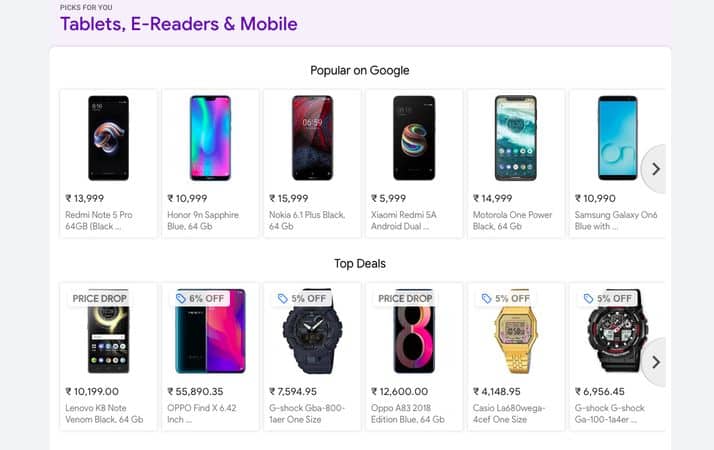 You might have used many services from Google. We don't want to name each of them. The point is, you can add one more to the list. Google Shopping, the shopping directory website from the Mountain View titan has finally gone live in India.
You might have already got a simple answer to the question, what actually is Google Shopping? It is an inventory of products that Google thinks relevant to you. Don't tell me you don't know Google tracks all your online activities. With the location on, it can even tell you where you are right now. So, you can see the trending products from your area of interest on the Google Shopping homepage.
You can scroll down to the bottom of the page to see the categories listed there. In case you are not looking forward to buying a product from the usual genre, you can just scroll down and pick one up from there. It shows the top deals you can bag as well.
In the search result page, when looking for a product, you can now see a new Shopping tab beside Web, Images, Videos, News, and Maps. Clicking the same will give you a few results from different e-commerce websites. Besides, you can search for a product right from the homepage as well.
You can filter the listing based on price, seller, and new or refurbished. In short, you can compare products and their prices from different platforms and decide which one works the best for you.
Don't confuse Google Shopping with a proper e-commerce site. It's just a directory that helps you take the right purchase decision.
Google has plans to display the pricing from online merchants on the directory. As of now, we don't when the feature will make its way to the website. On mobile and desktop, you can relish the Google Shopping experience via its progressive web app. We are not sure about their move to launching a proper smartphone application.
Google says they want to increase the number of online buyers in India, where only one-third of the total 400 million internet users have made use of e-commerce at least once.