Get ready to unleash the next level messaging facility from Google. The new platform (not so new, though) has the name Rich Communications Service aka RCS. We first saw Google's interest towards this field when they bought RCS provider Jibe, back in 2015.
With RCS enabled, you will leverage the best-in-class SMS experience with enhanced facilities like group chats, high-resolution media sharing, typing indicators and read receipts. Even today, we can find these features on a full-fledged IM app only.
What Actually Is The Next Generation Messaging Platform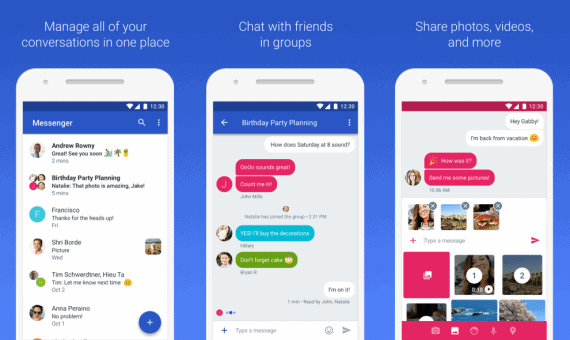 As stated earlier in the article, the tech world was eagerly waiting for Google to announce their RCS platform ever since they bought Jibe.
Customers on Sprint network will get the first chance to unleash the enhanced media facilities over SMS.
The service becomes available via Google's own Messenger app. For a user to get the feature on their handset, he/she should set the same app as their default messaging client. Moreover, you need to have Android KitKat or higher.
The selected LG and Nexus phones from Sprint get an automatical upgrade to the RCS. If you are a person who is eligible and couldn't get it automatically, you can always avail the same by installing Google's Messenger app from the Play Store.
Download on Google Play
Almost all the devices running on stock Android has Messenger as the default app (including the brand-new Pixel series). The RCS feature is available on every unlocked device from Sprint network as well.
Also Read:- Google Tango Hits the Public with Lenovo Phab 2 Pro
Many of us wished for enhanced group chatting facilities for SMS as we see on IM apps like WhatsApp and Facebook Messenger. Even though we can talk in a group using MMS, actions like naming the group, adding new members and leaving were not available until now. Google's RCS is going to change the scene. And, it surely is going to compete with Apple's iMessage and other third-party messaging clients.
Every Android device from Sprint will come up with Messenger as the default client, from the very next year, says Google.
There is a size limit for pictures and videos you can send via a typical MMS. As Google rolls out the new platform, Sprint users can easily send 100x larger media files than usual. Moreover, they can get both delivery and read receipts too.
Rich Messaging Service or RCS is not actually a new feature. According to GSM Association, about 49 carriers today provide the same. Nonetheless, Sprint stands out from the rest with Google's innovative efforts to introduce a new RCS profile.
Given that Google RCS will not come to every Android device anytime soon, it can't compete for edge-to-edge with iMessage now. In the meantime, they have to make contracts with other carriers as well. Google hinted that it would happen in next months. Still, no one can give a definite answer to WHEN.
In the past few months, Google has released Allo and Duo. They already have another chatting app (Hangouts) that works on the basis of email addresses. Now with RCS, it is evident that the tech giant wants to dominate the messaging field inch by inch.