One of the significant reasons for the massive success of Android is the availability of applications and Notification History Log is our all-time favorite. There are millions of free ones to choose from. However, Play Store doesn't only have free apps. You might have already encountered with premium ones on the platform.
Have you ever bought a paid application or proceeded with in-app purchase? You know you will have to go through a payment gateway. In India, there used to be two options; card and net banking. Do you think they are not enough for them? Well, brace yourself!
You can Now Use UPI Payments on Google Play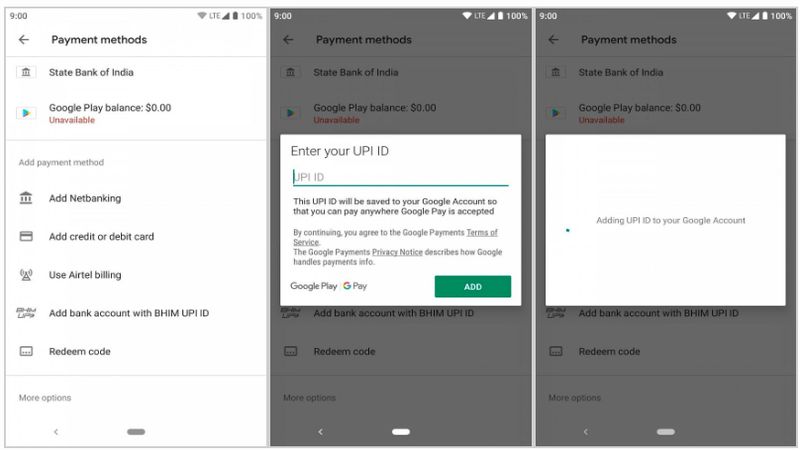 I have found myself in dilemma many times. When I want to buy an application and seeing only two payment choices, I change my mind. It has happened to me many times. In this fast-moving world, no one is ready to spare more than a minute for an app buying section.
Can you relate to this? Then, you may be using Unified Payments Interface as an Indian. The Government has introduced this system for a seamless way to send and receive money. You just need an ID. No multiple layers of protection! Still, the safest!
It seems like Google heard users' need. Many users have spotted the app store to have a UPI payment option. You need to have version 16.3.37. Having this version doesn't guarantee the availability of the feature though. We couldn't spot it on our devices. Maybe, it's not a version-specific feature, but a server-side one. Google need to switch it for your account.
How can you make a payment on Google Play using UPI? Well, it's quite easy. Choose an application or game you want to purchase. On the payment screen, you will see a new one- Add bank account with BHIM UPI ID. Tap on it and proceed with the on-screen instructions.
As many as 141 banks in the country support UPI payments. In comparison with other payment choices, this one has fewer steps to go through, which obviously makes the process quicker. In case you haven't joined, it is high time you did that.
You can use Google Pay or the UPI app of your bank. Both these options get you an ID, which you can give to receive payments. Unless you directly send money from UPI apps, you will have to provide your ID for confirmation.
So, what do you think? Did you get this new feature? Don't forget to share your opinion with us in the comment section down below.