There are smartphones out there which are hotly anticipated by tech enthusiasts every year. These smartphones include flagships from OnePlus, Samsung, Apple and Google. We now know that OnePlus 7 Pro is already released and Galaxy S10 series is also out. The Galaxy Note 10 series from Samsung is also coming next month. Apart from that, Apple's iPhone XI series is also leaked and expected to come in September.
The smartphone that is left to be discovered is the Google Pixel 4. Although the Pixel 4 series has also been leaked, we know that the details were not enough. Now, we have the first renders of Google's Pixel 4, thanks to the famous leaker, OnLeaks.
Google Pixel 4 might have triple rear cameras, dual front cameras, and no physical fingerprint sensor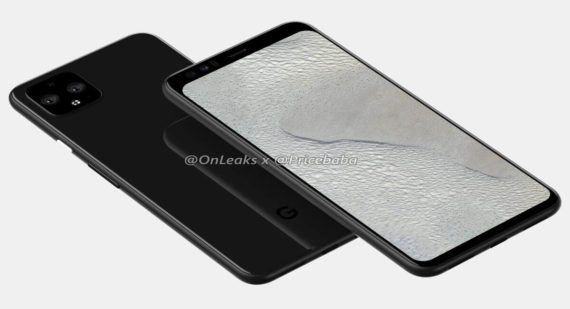 If you would take a look at renders of the Pixel 4 by OnLeaks, you would not believe that this is a smartphone releasing in 2019. This is because of the front design that Google might have gone with. Unlike last year's Pixel 3 XL, this year's Pixel 4 series will have a visible forehead and minimal chin. This means that Google did not focus on the bezel-less look for its flagship this year.
However, the problem is that we have seen smartphones with a similar design, at least the forehead, released a couple of years ago. And it feels like the design is outdated for a flagship in 2019.
But this should also stop people from complaining about the ugly notch of Pixel 3 XL. Apart from that, OnLeaks says that Google will boost the RAM on Pixel 4 up to 6GB due to Pixel 3's RAM management issues.
This year's Pixel 4 series will also have triple cameras at the back and dual cameras on the front. Now, there are reports that Google might use a ToF sensor on the front for Face Unlock similar to FaceID. Also, there will be a ToF sensor on the back for depth mapping.
However, the reports about a third camera at Pixel 4's back are not solid at the moment. Nonetheless, it is guaranteed that the Pixel 4 series will be the new smartphone camera king when it releases. Because Pixel 3 series is arguably still the best smartphone camera of 2019 along with Huawei P30 Pro.
In terms of pricing, there are no revelations as yet. But it is believed that the price of Pixel 4 series will remain the same as the Pixel 3 series at launch. However, we have seen that it is better to wait in the case of Pixels because they generally get discounted pretty soon.