Google has globally unveiled their new flagship Android phones, Pixel 2 and Pixel 2 XL yesterday. Even though the XL version carries some premium specs, both of them share a lot in common.
To recall, the first generation Pixel devices made a huge fan base, especially with the camera. We hope it will happen with the new Pixel lineup as well.
Google Launched Pixel 2 and Pixel 2 XL with Snapdragon 835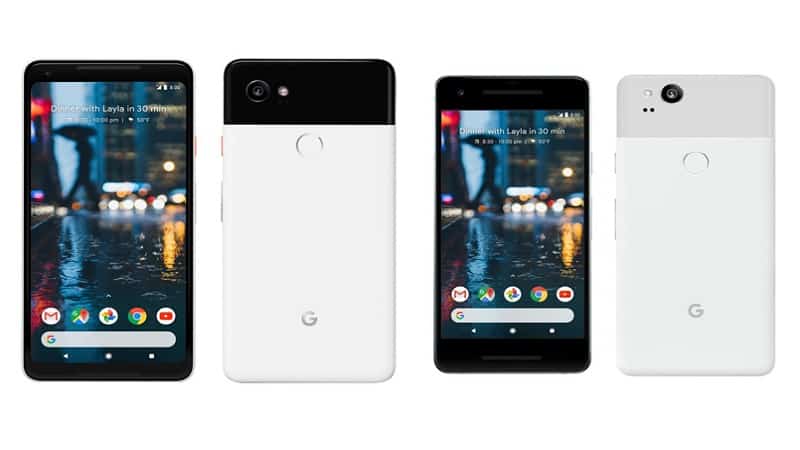 As stated earlier, both the devices share a lot in common barring a few differences to make the XL one premium.
Underneath the hood, they bear a Snapdragon 835 processor coupled with 4 GB of RAM. You might think it as a deal breaker given the availability of 8 GB smartphones in the market. However, for stock Android, 4 GB doesn't suck. You can buy both the devices in two storage variants (64 and 128 GB). When it comes to the camera, they feature a 12.2 MP sensor on the back that supports laser autofocus, dual-phase detection, optical and electronic image stabilization doubled with an f/1.8 aperture lens. The front camera, on the other hand, has an 8 MP sensor with f/2.2 aperture.
Despite Google teased Apple last year for ditching the headphone jack, the search giant did the same thing on Pixel 2 devices. They will ship an adapter within the packet, though. The Active Edge squeezable side technology allows us to launch Google Assistant on the go. Unfortunately, we don't get wireless charging facility. Both Pixel 2 and Pixel 2 XL runs on Android 8.0 Oreo and Google promises faster future update delivery as well.
Also Read:- 8 Ways to Fix Google Pixel Overheating Problems
Taking the difference in specs into the consideration, Pixel 2 has a 5.5-inch full HD display whereas the Pixel 2 XL sports a 6-inch QHD+ screen with 18:9 aspect ratio and minimal bezels. The battery capacity on the smaller model is only 2700 mAh and that of XL edition is 3520 mAh. We are a bit disappointed to see the smaller battery on the Pixel 2 (irrespective of the fast charging capabilities).
The company already confirmed the Indian pricing of the new Pixel smartphones. The 64 GB Pixel 2 will hit the market at a price of Rs. 61000 and it goes up to Rs. 70000 for the 128 GB. The costs of Pixel 2 XL 64 and 128 GB are Rs. 73000 and Rs. 82000 respectively. You can pre-order the device from October 26 and it will be available online as a Flipkart exclusive. It is also possible for you to grab one unit from 1000 offline stores around the country. Pixel 2 will go on sale on November 1st and Pixel 2 XL by November 15th.
Specs comparison table
Google Pixel 2
Google Piexel 2 XL
Display
5.5 inch
6.0 inch
Processor
Snapgragon 835
RAM
4 GB
Internal Storage
64/128 GB
Primary Camera
12.2 MP
Secondary Camera
8 MP
Headphone jack
No
OS
Android Oreo
Battery
2700 mAh
3520 mAh
Price
Starts from Rs. 61000
Starts from Rs. 73000
Pre-order
October 26th
Sale starts on
November 1st
November 15th
Available at
Flipkart