Google has announced the support for Passkeys for Google Workspace and Google Cloud users. The tech giant is aiming for a future where users don't have to worry about remembering and typing passwords every time while logging in. The company has started making more efforts in bringing Passkeys to more people for the same reason.
Recently, Google has given access to personal accounts to use the Passkeys feature. Now, the brand has brought support for this feature to Google Workspace and Google Cloud users. The company has started expanding the support for all of its products and this new update will enable, professionals to take advantage of the feature.
Google has officially announced the Passkey support for Workspace and Cloud users in a recent blog post. The post reveals that the Passkeys feature will be available for both Cloud and Workspace accounts as an open Beta version. Passkeys still didn't complete their testing phase and people that want to use the feature can try it by enrolling as a beta tester.
Google Passkeys Will Now Support Workspace and Cloud Users
The update will roll out in phases to every account. More than 9 million business entities can choose the Passkeys feature. However, the rollout will take place in a few weeks. Moreover, even if the organization has opted for Passkeys, users still need to enter the password. The Workspace users need the permission from admin to enable the Passkeys from their Settings.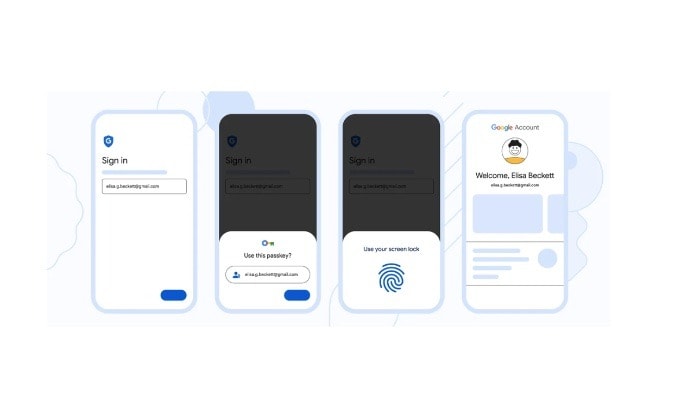 By default the Passkeys will come disabled for the Workspace accounts and the administrator should turn on the feature. This will enable the users to sign in by skipping the password and using only the Passkeys option. Users can sign in and authenticate themselves with face recognition or fingerprint scanner on their PC or Mobile devices.
Passkeys may become a standard practice among users in the coming days as it has wide support. The Passkeys feature will run on Android, ChromeOS, iOS, macOS, Windows, and many popular browsers. It's a more efficient way to authenticate without trying to remember or type the password. It's a more secure way when compared to the traditional authentication process.
Google has brought new features such as the Magic Compose, which lets you generate texts using AI and Dark Monitoring for Gmail. And, now with the inclusion of Passkeys, the company will help users in authenticating faster, better, and in a more secure way. It's much easier to log in to any website, as users don't require to type in the long alphanumeric characters every time.