Google One has newly announced a new storage program in their already existing plans that go from 100GB to 30TB. The newest storage program added into the Google One will fill the long gap available between the 2TB and 10TB options.
Previously, Google used to provide free unlimited storage on its Photos application, but now they have limited the storage to only up to 15GB.
Google One New 5TB Storage Plan Details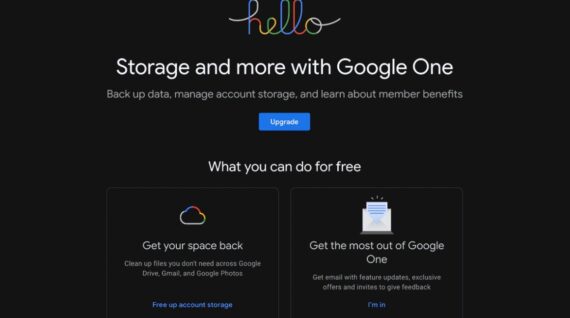 The tech giant has stopped its unlimited storage program that used to provide unlimited Photos storage. Besides, 15 GB of default storage was provided for original quality photos, mail, and other Drive features.
Now, that they have discontinued the unlimited storage for photos application. The storage for regular quality photos, mail, and all the Google services end up using the provided default 15GB storage.
The added storage option in the already existing storage plans from the One program; will give a choice for users that prefer a plan between 2TB and the 10TB. Besides, Google provides three different storage options in India that include 100GB, 200GB, and a 2TB plan. On the contrary, the US features up to 3 plans with higher storage of 10TB, 20TB, and a 30TB plan.
The new 5TB plan will give an extra option for users that wants to select a plan in between the 2TB and 10TB storage option. The storage plan brings some needful features for users like 10% credits redeemable on Google Play Store; access to Google experts, option to add your family, and VPN for android phone. Also, the plan starts at $24.99 per month in the US as of now.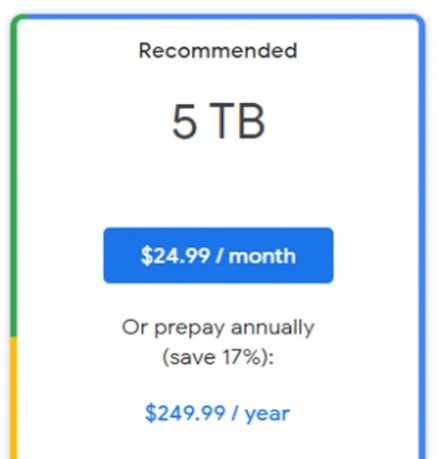 Users can even opt for an annual plan at $249.99 per year and can save 17% with the yearly plan in the Google One program. There is no information regarding the plan coming to India's One program from the company.
The basic plan India with 100GB of storage starts at Rs. 130 per month or Rs. 1,300 per year. Besides, the higher storage plan with 2TB storage is priced at Rs. 650 per month or Rs. 6,500 per month in India.