We all use Google Maps quite often. When we ride through an unknown area, Google Maps help us reach the destination without wandering around much. The search engine titan has been releasing new features like auto-rickshaw mode, suggested routes, and estimated fare, etc.
The latest one to the addition is the journey time estimation which you can see by adding the departure or arrival time. You might have already seen this under public transport mode. Yet, this is the first time the feature has made its way to for car as a navigation option.
Google Maps Gets Journey Estimation Time on Android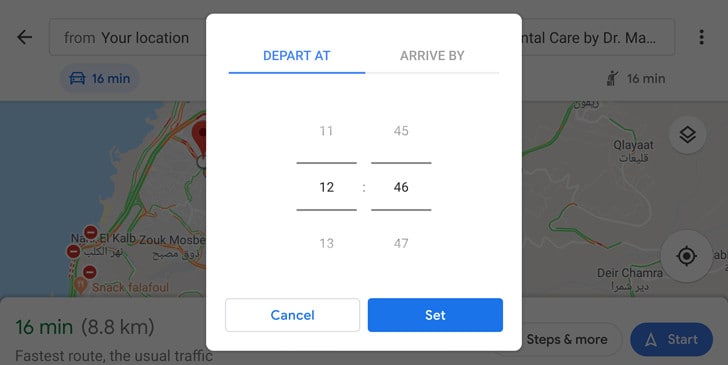 Google Maps for Android saved your time quite a few time, didn't it? The internet giant is on a spree of releasing new features to the application. As you have read earlier, you got quite a few of them in the last few months.
You can now add departure time (with date) on the interface to get an estimation of journey duration. Moreover, you can also try entering the departure time to see the same information. Adding arrival time also helps you foresee the approximate time to start the journey.
It is interesting to note that the feature already made its way to the desktop client and the mobile app under public transport mode. The update is a server-side rollout, so you can spot journey estimation on different versions.
Maybe, the feature has already found its place on Google Maps on your Android device. Setting departure or arrival time isn't as tedious as you may think. First, you will have to search for a place. Then, tap on the three-dots situated at the top-right corner of the screen. There, you see half a dozen options. The third one is what you need that says "Set depart & arrival time".
Also Read:- Google Maps for Android brings Offline Navigation and Search
Have you ever missed arriving at a place on time? We know you certainly have. Setting the arrival time gives you a hint at when you should leave. A small drawback is the absence of a notification action. If they manage to pull it off, we can easily get alerted of beginning the journey and thereby not missing the clock.
Another drawback we spotted is the impossibility to check on traffic jams if you set the arrival time first. As we all know, the unexpected traffic jams prolong your journey.
In the US, Google Maps received a speed limit feature. Some users have reported they got the same. You can see speed limit warning of the roads you will be traveling. The speed trap is another facility Google has embedded into their Maps application. You can use it to view incidents that hinder your journey.