We have known that both Android and iOS have their own set of features which are good and exclusive to the platform. One of those features is AirDrop found on each and every iOS device which lets you easily transfer files between two nearby iOS devices. Although the same can be said about Android, it is not as convenient.
Because you will have to install third-party applications to transfer files such as MiDrop, Xender, SHAREit, etc. However, Google is now working on bringing an AirDrop-like feature to Stock Android called 'Fast Share'. This feature will replace Android Beam starting from Android Q which has been deprecated.
Google will have an AirDrop-like feature in Android Q named 'Fast Share'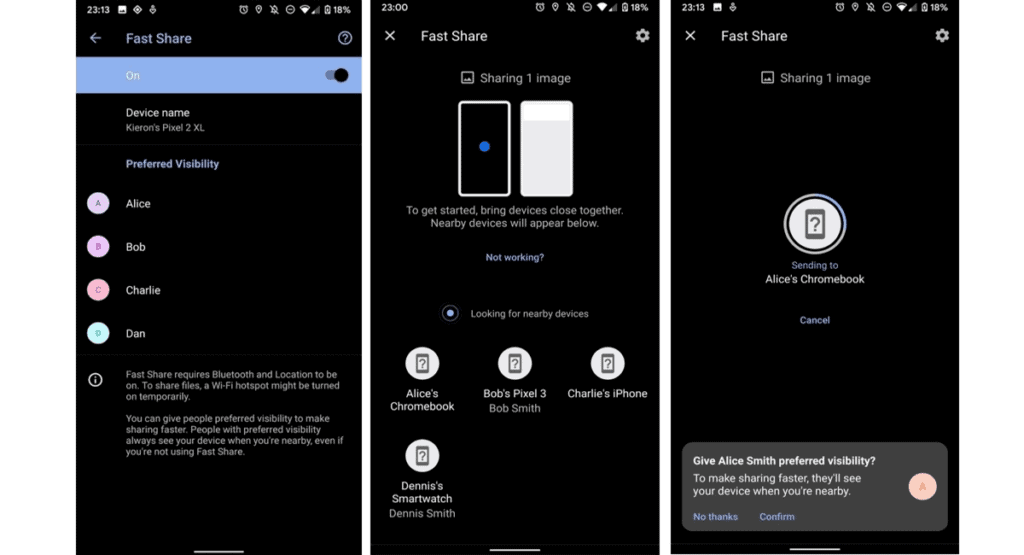 At the Google I/O 2019, Google silently announced that Android Beam has been deprecated in Android Q. Later, this announcement got a lot of reactions which were totally unexpected. This meant that Android Beam was used by many users around the world.
However, Android Beam works with NFC-enabled devices which is a chip not present on all Android devices. Thus, the scope of Android Beam was slightly limited and it was tedious as well.
Since Android Beam is going away, we now have some good news for Android users out there. Google is working on an Android Beam-replacement and an iOS AirDrop-like feature. This feature is likely to be named as 'Fast Share' as seen on Android Q Beta.
The developers at XDA and 9to5Google tweaked the source code to find a hidden feature in Android Q Beta named Fast Share. This feature lets you "share to nearby devices without Internet". Instead of NFC, Google's Fast Share works on Bluetooth so it will work on all the Android devices.
Looking at the interface of Fast Share, it seems to work seamlessly as well. A user will be able to see all the devices nearby if Fast Share is granted access. After that, a user can share files directly to any of the nearby devices. Although nothing is confirmed yet, we believe that the receiver will be able to accept or reject the incoming file same as AirDrop.
One thing that is almost confirmed, however, is that this feature will ship with Android Q. Also, this feature is said to work on all Bluetooth-enabled devices based on Android, iOS, Chromebook, Smartwatches and possibly Windows too based on the screenshots.