Google has already provided us with free WiFi connection in railway stations all over the country. They have been serving us with the same for the last two years. In a profit-centric world, nothing can stay free forever. That's what the latest news about Google Station Program suggests.
The search engine giant wants to make the service paid in selected stations. They initially monetized the connection with ads. However, the recent reports indicate they already started testing the new model in a few stations in Mumbai. Even from the beginning, the company had plans to monetize the service by other means.
 Google Station Program Goes Paid in Selected Stations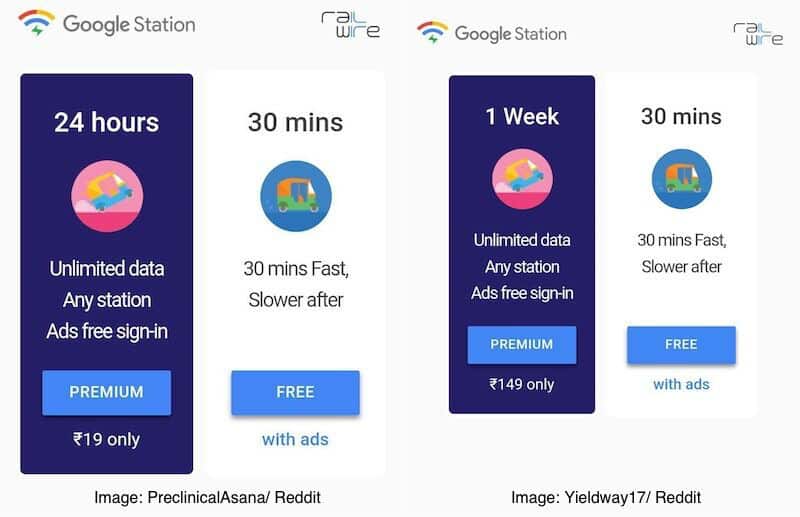 It is not an overnight thought to make the program paid. They carried out a trial run in chosen stations of Central Mumbai in 2016 itself. Now, the new paid model made its way to other stations in collaboration with RailTel. Even by the end of 2016, they had 53 stations with paid WiFi under their belt. In 2018, they want to expand to 400 railway stations and reap profit from the internet urge of men.
A Redditor has spotted the recent change happened to the WiFi provided by Google. He has posted a screenshot on the social media platform. Going by the information from him, there are three plans available for you to choose from. Of course, you can opt for a free plan but it gives faster internet only for 30 minutes. Once the quota goes over, you will have to surf the web with damned speed.
You can enjoy unlimited connection for 24 hours if you pay Rs. 19. In case you are a regular commuter, the most premium plan fetches you internet access for a whole week at a price of Rs. 149. Both these plans offer you with the ad-free sign in, unlimited data, and access from any station. Bear in mind that the station you are in should have the new plan for Google Station Program.
The company already serves 227 stations all over the country, with another 22 in the pipeline. They want to expand their service to a total of 400 stations. Google plans to bring high-speed internet connectivity to educational institutions as well.
At Google for India 2017 event, Next Billion Users (NBU) Vice President Caesar Sengupta stated that over 7.5 million people made use of Google Station program in the country.
What do you think? Should they be doing this or shouldn't they? Is the price reasonable? Don't forget to add your opinion to the comment section down below.