Google I/O 2021 event has started and the most exciting part of the event features the introduction of Android 12.  The beta version of the OS is available for the Google Pixel series and a few other OEMs.
Android 12 is the next big update from Google with a lot of design and user interface upgrades. The new version of Android is set out for a better experience for users. The software giant has announced that they are now supporting 3 billion devices across the globe. Achieving this big number is only possible through Android OS on cheaper and higher-end devices.
Google IO: Android 12 Beta and Supported Devices Details
Android 12 features an array of new colors, revamped widgets for the interface that customizes according to your personality. Google has introduced a new color extraction feature that allows the system to automatically determine the dominant color. The primary color from your wallpaper or could be a picture you clicked is showcased across the entire interface. This makes the phone's notification shade, the lock screen, volume controls, and widgets matching with the same color.
The newer version of Android even features a new range of fluid motion and animations. Moreover, there is a new animation that fades out and in from the lock button when you lock or unlock the phone.
Apart from these, the newly redesigned widgets, checkboxes, switches, and even radio buttons feature interactive controls. Although, Google has given more importance to Privacy and security as well apart from these new design tweaks.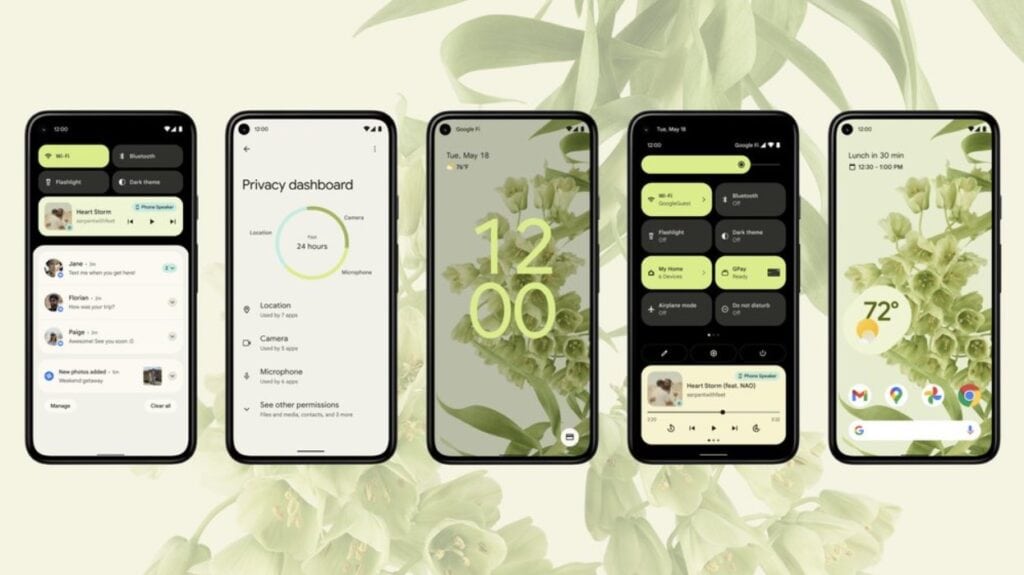 The privacy settings allow you to have a watch on the apps that access your data. The Android 12 will have an overall optimized user experience that serves better power efficiency and performance.
Due to its underlying improvements in the software and internal tweaks, you can experience a reduced CPU time needed for core system services by up to 22 percent and cut the use of big cores by the system server by up to 15 percent.
The supported devices for the new Android 12 Beta officially are the Pixel smartphones from Google. The users that don't own a Pixel device can install it on other Android devices from third-party OEMs.
The smartphones that Android 12 is supported other than Pixel handsets are Asus ZenFone 8, OnePlus 9, OnePlus 9 Pro, Oppo Find X3 Pro, TCL 20 Pro 5G, Tecno Camon 17, iQoo 7 Legend, Mi 11, Mi 11 Ultra, Mi 11i, Mi 11X Pro, Realme GT, and the ZTE Axon 30 Ultra 5G.