The Google Chromebooks were launched in 2011 as devices that will provide quicker performance with fewer specifications. The Chromebooks work a bit differently than the traditional computers. The devices come with web-based applications that make use of the Google Chrome browser for completing tasks.
The Chromebooks are meant to feature faster boot times and quicker app loading times for a better experience. These devices have become a go-to option for students and businesses that rely on work that requires less powered and efficient machines. Now, the tech giant has brought the next generation of these machines named Chromebook Plus with AI capabilities.
Chromebook Plus with Built-in AI Features and Boosted Performance
For starters, the new Chromebook Plus is not a hardware product from Google but a certification program that devices need to meet the criteria. The products that come under the Chromebook Plus should include their basic requirement of specifications. Once the device features the necessary hardware, Google will provide the advanced ChromeOS on the device.
This move from Google was made to ensure the customers have a clear idea of the laptop that they have to choose. The Chromebook Plus series of laptops will remove the confusion among consumers in purchasing laptops and make it easier to grab one of these machines.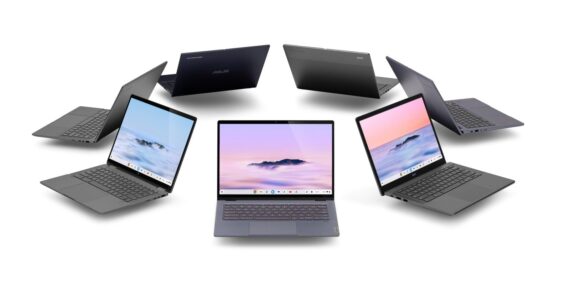 Chromebook Plus Hardware Requirements:
CPU: Intel Core i3 12th Gen, AMD Ryzen 3 7000 series and above
RAM: 8GB+
Storage: 128GB+
Webcam: 1080p+ with Temporal Noise Reduction
Display: Full HD IPS or better display
Some of the AI capability features included on the Chromebook Plus laptops are Google Photos HDR, Portrait Blur, and Magic Eraser. Additionally, the laptops will come with support for creative applications like Adobe Photoshop, Adobe Express, and LumaFusion. Furthermore, the laptops will feature offline file sync that enables editing docs in offline mode on Google Drive.
On the other hand, the AI-powered chromeOS features on these newly certified devices will enhance the user experience. The features included as free offerings on the AI-enabled chromeOS which includes AI-based writing assistant, AI-generated custom wallpapers, and AI-generated video call backgrounds.
There's a new dedicated video chat control panel specifically designed for the Chromebook Plus models. This new panel will come with features that will improve the overall video quality while having video chats. The features included with the new panel are improved lighting, added background blur, and turning on noise cancellation in noise environments.
The support for new AI functionalities and creative applications with AI capabilities will roll out soon on Chromebook Plus-certified devices. Speaking of the availability, currently, the laptops with Chromebook Plus certification will go on sale from October 8 in the United States. Google will launch these devices soon in India and other markets around the globe.