Google Chrome has been the most favorite desktop browsers that most people have on their device. Apart from its RAM management, it works flawlessly with any device, whether it be a Windows device, Mac, Android or iOS. Over the period of time, Google has been pushing updates to Chrome to make it smoother and make a better user experience. But, some users notice a problem when they install Chrome on their device. It sometimes shows up "Chrome has stopped working" or a similar error and Google Chrome won't open or load whatever you do.
This has puzzled many people into resetting their devices and doing everything they can to start Chrome normally. But, for those who want to get rid of Google Chrome not loading problem, I have got different ways to fix it.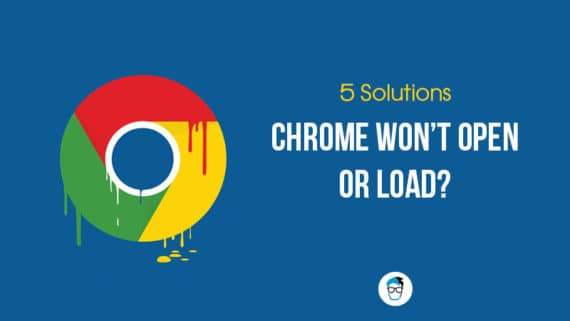 Without any further delay, let's begin.
5 things to do when Google Chrome won't open and keeps crashing
Sometimes, users download the older versions of Chrome from unofficial sources instead of the updated version, which might crash the Google Chrome or prevent it from opening or loading. This could also occur due to any faulty extensions that people might have installed on their Chrome browser.
Well, whatever the case may be, here are the troubleshooting steps to follow when Google Chrome won't open and isn't launching at all.
1. Reinstall Google Chrome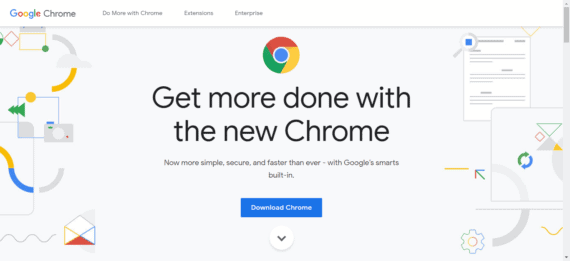 The most basic thing you must first do is uninstalling Chrome from your device and then reinstall it. Deleting the Chrome and installing it again will reset the Chrome settings to default and might fix any kind of Chrome issues. For most of the user, this can be a solution to fix Chrome not opening issue.
Follow the steps mentioned below to uninstall Google Chrome from your device:
If you are Windows 10 users, search "Add or remove programs" in your Windows search bar and select the best match.

From the list of all installed software, select Google Chrome and click on Uninstall. Follow the on-screen instructions to completely uninstall and delete Chrome from your device.

After uninstalling Google Chrome, download the official and latest version of Chrome here and run the installer file to install Chrome again on your Laptop or PC.
If Chrome keeps crashing or fails to open even after reinstalling it, try other troubleshooting steps mentioned below.
2. Adjusting the Antivirus and Firewall Settings
For those people who have installed Antivirus on their machines and unable to use Google Chrome, check your antivirus settings as it may have blocked the Chrome browser from opening due to any security reasons that the antivirus might have imposed.
For instance, here is how you can remove all security exceptions for Google Chrome in Quick Heal Antivirus. If you have any other antivirus software installed on your machine, reach out to their customer support to find out the relevant steps for your tool.
Open Quick Heal Total Security and go to Internet & Network.

Go to the settings of Firewall Protection.
Click on Configure… located to the extreme right of Program Rules.
Search for the Google Chrome Program Path "C > Program Files (x86) > GoogleChrome > Application > chrome.exe" and change the access to "Allow".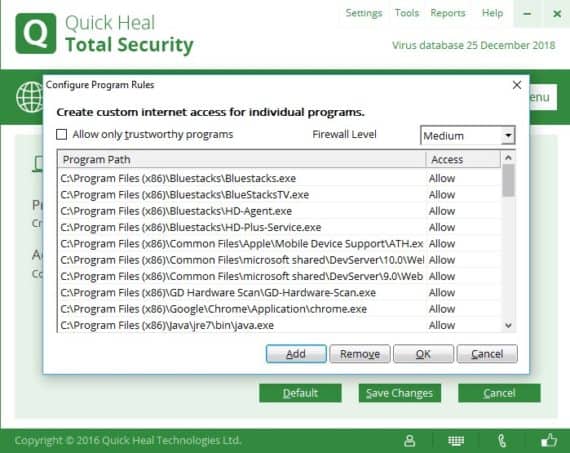 For those who do not have an Antivirus installed and still Google Chrome won't load or open on their device, then you should check the Windows Firewall setting as mentioned below:
Search for "Allow an App through Windows Firewall" in the search bar of Windows and select the Best match.
 Search the Google Chrome app under the Name column and ensure both Private and Public checkboxes are enabled.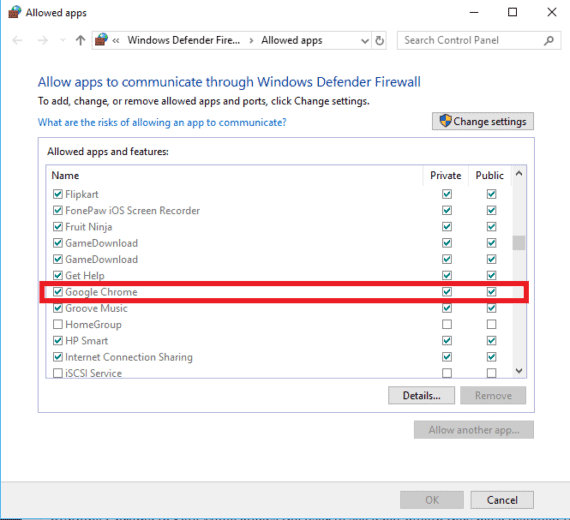 3. Delete User Profile Chrome Has Saved
The user profile of Google Chrome stores all your browsing history, bookmarks, extensions, cookies etc on your hard disk. Deleting the user profile is a risk as it deletes all the above-mentioned data and you can not recover them unless you sync them to your Google account.
If you have any important data that you might not want to delete, then I would suggest to either create a backup or use other steps mentioned in this article to fix Chrome not loading problem.
Here are the steps to delete user profile of Google Chrome in Windows:
Open Run by pressing Win and R keys on your keyboard.
Type %USERPROFILE%AppDataLocalGoogleChromeUser Data and hit OK.
Rename the "Default" folder to "Default-backup" to reset Chrome profile.   
Open Google Chrome and if it loads normally without any errors then quickly click on Reset and clean up option located at Settings > Advanced.


Relaunch the Google Chrome browser and sign in again to sync all your bookmarks, passwords etc from your Google account.
FYI: When you relaunch the Chrome, a new "Default" will be automatically created at the User Data directory and all your new user data will be saved in the newly created Default folder. You can still use the Default-backup folder as a backup if needed.
Steps to delete user profile of Google Chrome in Mac:
If Google Chrome won't open or load on your device running on macOS, follow the steps mentioned below in order to make Chrome working again.
Open Terminal on your Mac.
Run the command sudo rm-rf~/Library/Application/Support/Google/Chrome and hit Enter to wipe out the User Data.

Relaunch the Chrome and log in with your Google account to finish the setup.
4. Run Chrome in Compatibility Mode
If Chrome won't open and stops loading after updating your operating system, then you should try running the Chrome in compatibility mode to solve the problem. The other alternate solution is updating the Chrome to its latest version which is compatible with your updated operating system.
If you are in hurry and has no time to download and install the update, here are the steps to make the Google Chrome compatible with the older versions of the Windows operating system: 
Right-click on the Google Chrome icon on the desktop and click on Properties.
Navigate to the "Compatibility" tab.
Enable "Run this program in compatibility mode for" checkbox.
Choose Windows 8 or your previous version of Windows from the drop-down list.

Click Apply and then OK to apply the changes.
Relaunch Google Chrome to start using the browser.
7. Delete chrome.dll file
Few times Google Chrome won't open or load because of the corrupted settings file. Usually Google Chrome stores all it's settings on the chrome.dll file located at "C: > Program File (x86) > Google Chrome > Application > 71.0.3578.98 (Version of Chrome folder)".
You need to permanently delete the chrome.dll file here and relaunch the Google Chrome to reset the settings to its default. Resetting the Chrome settings will usually fix most of the known problems in Chrome.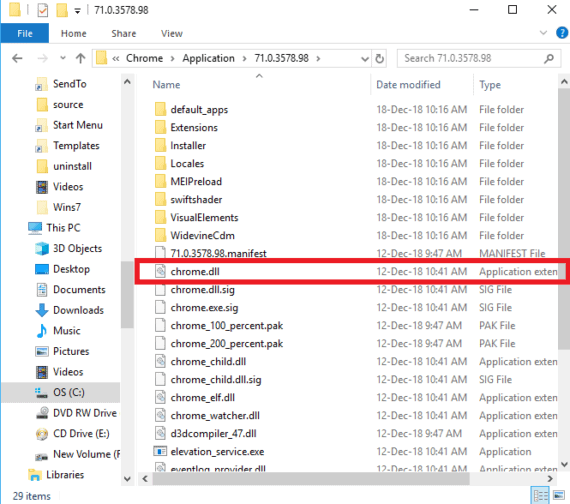 Once you permanently delete the chrome.dll file, you can relaunch the Google Chrome and use it to browse the internet as usual. If you are worried about deleting the .dll files, you can always choose to backup it on a safer location before deleting it.
Conclusion
If Google Chrome won't open or keeps crashing on your Windows or Mac machines, then there might be many possible conflicts and you need to troubleshoot the problem with different solutions. For some people, a fresh new install of Chrome might do the trick and for others, they might have to follow the longer route of playing with the user data of chrome.
The first things you have to do is restarting your machine and updating Google Chrome to its latest version. If the problem still persists, try disabling your Antivirus or Firewall and then try resetting the user profile and Chrome settings.
If you think I have missed any step that may help users to solve Google Chrome won't open or load problem, please do mention them in the comments down below as it would greatly help us as well as the readers.