If you use Google Chrome on Mac, you know how they have changed the appearance. The browser now wears a dark outfit, which in turn pacifies the eyes. They did the same for YouTube as well.
With the new update, the company has pushed the feature to Chrome for Android. It is going to get your eyes calmness if you are a person who spends all night browsing web pages. The testing of the same feature had been going on for a while. And it is now they have made up their mind to bring it to the stable build.
Google Brings Dark Mode to Chrome for Android
Are you a fan of dark mode? Say yes, and you will be delighted to invite the latest Chrome update to your Android device. Going by the reports, the company has rolled out a stable update that contains the feature. However, it doesn't seem like the new version hasn't reached every device. You will have to wait a bit for that to happen.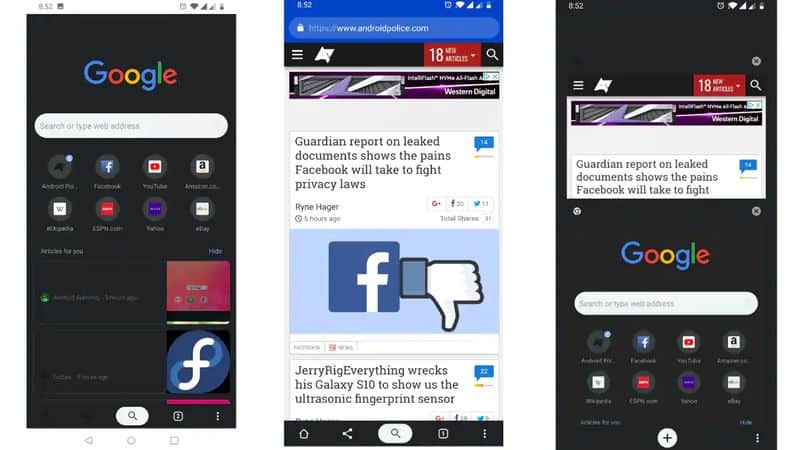 The version in which you will see the dark mode is v74. When we tried to fetch the latest version manually from Play Store, all we could see was v73. The installation via APK file didn't flourish as well. However, you can try installing the latest version using the APK file from any external websites.
The dark mode feature for Google Chrome first came into the limelight in February when they started testing it. The insight we got is you still have to use #enable-android-night-mode flag on the stable version. It isn't clear though as we couldn't get our hands on the new build.
Chrome Canary is the experimental version of the browser. Just like beta apps on Android, Canary gets the new features first. They have introduced a Reader Mode in Chrome Canary for desktop users. Users can enable the flag by visiting chrome://flags/#enable-reader-mode. Don't forget to restart the browser once you activate the flag. You will have to disappoint yourself if you are not using the Canary version.
On activation, you can use the reader mode by selecting Distill option after clicking on the top-right three-dots button. The Reader Mode works best when you want text content (say news or article) but no ads or rich media.
From June, Google is going to block sign-ins from embedded browser frameworks for preventing man in the middle (MiTM) phishing attacks. They have asked developers to switch over to browser-based OAuth authentication.