Deciding that enough is enough, Google is now rolling out Chrome 68 in an attempt to make the web safer. If a site doesn't contain an SSL certificate and is only HTTP, not HTTPS like it should be, then Chrome 68 will alert the user with a 'Not Secure' label. This will hopefully dissuade the user from continuing with the site, as SSL certificates are mandatory for every website.
Google's own blog has commented on the matter of Chrome 68 and states that it is a necessary move to ensure the online world is more protected than ever. According to Google
Chrome's new interface will help users understand that all HTTP sites are not secure, and continue to move the web towards a secure HTTPS web by default. HTTPS is easier and cheaper than ever before, and it unlocks both performance improvements and powerful new features that are too sensitive for HTTP.
Web safety has become harder than ever now due to the clever tactics employed by attackers across the world, but when you figuratively leave the door wide open by not having an SSL, then you're putting yourself and your users at risk.
Your website will be labeled as "Not secure" in Chrome 68 if SSL is not installed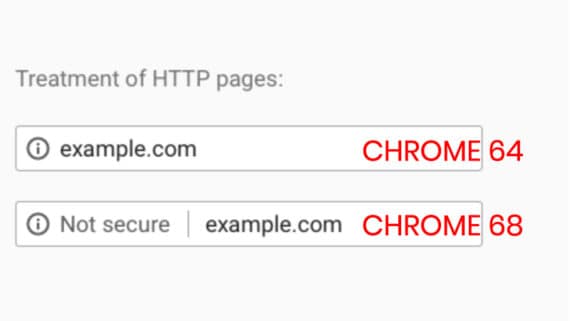 In 2018, there's no excuse for not having a functioning and updated SSL, and Chrome 68 is making that point with gusto. Furthermore, Google ranks sites far better which have an SSL, so indeed, the reasons to get one are numerous.
True, in the past, it has happened that honest folks have bought an SSL certificate, but that it turns out to be faulty and has to be revoked. This is the provider's fault, but it shouldn't deter you from buying an SSL just because some companies can't get their act together. 1&1 is known for good quality SSLs, but really, if you're a website owner who thinks it's more trouble than it's worth to get an SSL, then the fact that Chrome 68 users will be alerted to this safety hazard will only result in fewer page visits.
Also Read: 10 Best Web browsers for Windows 10
Over the next few months, the Chrome 68 update will move across all devices and platforms, but the enhanced security won't be the only change. It's said that Chrome 68 will use far less RAM by pausing websites which are not currently in use but can restart them when necessary. Good news for anyone who was never a fan of Chrome due to the draining of RAM from the device.