Android Messages is currently the default app for Android smartphones. This application is developed by Google and bundled on Pixel and Android One devices. Apart from that, we can also download the app from Google Play Store. There are various reasons that you should download the Android Messages app. Such as the ability to see Messages on the Web with Android Messages for Web.
Google has also bundled RCS feature inside this app so you can communicate with one another for free. RCS or Rich Communication System is Google's answer to iMessages from Apple. Now, we have got one more reason to get the Android Messages app. This is because Google has just started to roll out the Spam Protection feature on Android Messages.
Spam Protection feature on Android Messages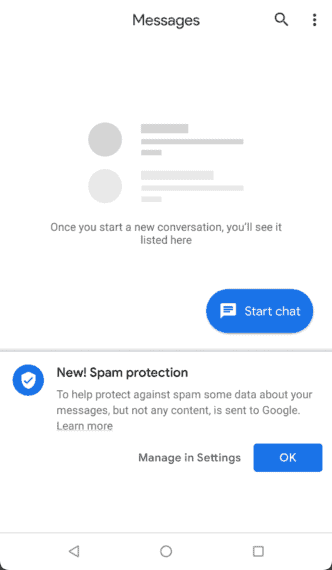 We already received reports regarding Android Messages and its Spam Protection feature. However, the details regarding them were few and far in between. Now, Google has finally started rolling out this much-needed feature on Android Messages. The rollout of this feature was first spotted by Android Police who noticed a change in their app.
It is also known that the Spam Protection feature is currently available for a selected batch of users. This is to ensure that the feature is working fine and there are no bugs. Also, Google will release this feature to all the users of Android Messages in the coming days.
Now, there is a prompt that you should receive if you have received the Spam Protection feature. This prompt tells you about the Spam Protection and its Settings.
However, there is a way to manually enable this feature as well. You have to enter Android Messages' Settings and go to Advanced Settings > Spam Protection > Enable Spam protection. Note that if you don't see Spam Protection in Advanced Settings, you have not received the feature and you have to wait for few more days.
Talking about Spam Protection, the feature will let you know whenever you receive Spam messages. It is obvious that the Spam Protection feature includes reading the received messages. Therefore, the privacy concerns are going to be pretty obvious. But Google has already stated that the Spam Protection feature does not read important data from your messages. This data includes the phone number as well as the message body. Only a part of the message will be sent to Google as soon as you receive the message so that the commonality in Messages can be found to prevent Spam. If you are concerned about your privacy, you can disable this feature as well.