Google Bard comes as a revolutionary approach for Artificial Intelligence in terms of providing results with its enormous data. The chatbot was launched in March of this year and was upgraded with significant features and improvements over time. Recently, Google has started integrating this AI chatbot into many of its internal applications for a seamless venture.
The Bard AI chatbot has the ability to provide versatile answers to the millions of users who question the chatbot. Furthermore, the chatbot has started to provide customized responses relating to the users which is improving with every iteration. Now, the company has rolled out the latest updates that will improve the experience with even more helpful responses.
Google Bard Extensions added on Other Google Products
The Bard Extensions has officially launched on the chatbot which will totally change the way users can interact with Bard. The Bard Extensions can help users get the relevant data from other Google products. The extensions will work on applications like Gmail, Docs, Drive, Maps, YouTube, and even Google Flights and hotels.
The integration of the extensions on these apps can provide multiple information about different apps in one place. For example, if you are planning a trip, the extension can provide data on hotel, flight information, directions, and dates that work from Gmail. It's a whole new experience and the extension can even provide you with a relatable YouTube video for the same.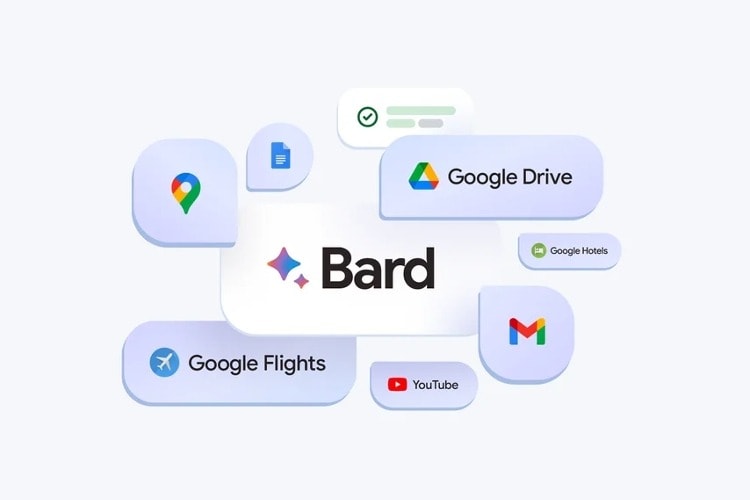 The extension has expanded to applications like Docs and Drive where users can take the help of the Bard to create new resumes to apply for a job. Moreover, the tool can summarize the resume into a shorter form and make a personal statement working up with your cover letter. In terms of privacy, the content will not be reviewed by humans and only AI has access to the data.
There's a new "Google it" button as well which allows users to recheck the answers provided by Bard. Also, there's a G icon that allows Bard to read the response and evaluate the content across the web to have a clear idea of the summary. The tool highlights the phrases and users can check for the relatable information from the Google search.
The Bard AI chat is now available in more than 40 languages alongside English. Other features include uploading images using Lens and much more for a better image search experience. Besides, the chatbot can now continue the conversation of chat which is shared through a public link, and any individual and resume the left chat.