How many times a video disappointed you for not having what you wanted? When you make a search and stumble upon one, there is nothing you can't do about to know what the video deals with. The only choice you have is to start playing the video.
But you don't have to do that anymore. Google announced a special feature on its mobile applications to help users get the gist of videos without playing.
Google Brings Previews for Videos on its Mobile Apps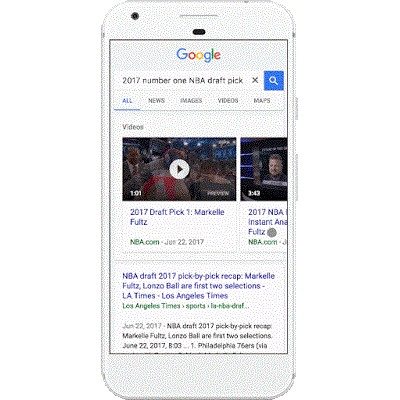 The search engine giant wants to make user experience to the next level. When you search for videos or you get videos on search results, it can now show 6-second previews. Even though they started rolling out the major update, it doesn't seem to have touched all the videos.
As you read in the title itself, you can only avail the feature on the mobile applications (including the Chrome). If you are an iOS user, you will have to wait to get the preview feature on your device. It is only available on Android right now.
You might have already noticed the preview feature on YouTube website. Google doesn't leave YouTube alone in its new update and you can obviously see previews on the mobile app once the update reaches your phone. The search engine titan made it clear that the update is available for other video hosts as well. Moreover, the preview feature is available for English videos only. They didn't say anything about bringing it for videos on other languages.
The company wants to release the same update to other platforms too. So, you won't have to wait much longer to get it on iOS.
From an audience's point of view, the preview feature raises a concern. What if the preview loses the essence of the video? Well, Google doesn't just show a random six-second clip from a video on the search result. Nonetheless, they use their exclusive machine learning capabilities to pour the core of the content into the previews.
Although every video, live on the internet, is eligible for previews, the new ones might not get it. The notable fact about previews is it works only when you are on Wi-Fi by default. But you can manually turn the option on for mobile data as well. In case you don't want it at all, it is possible for you to turn the setting off.
Did you get the new update? If not, check Google Play Store for the latest version of Google apps.