Garmin announces their latest set of luxury smartwatches as MarQ Gen 2 in India. These high-end expensive smartwatches from the brand come in five different models. The second-generation Garmin MarQ Athlete, MarQ Adventurer, MarQ Golfer, MarQ Captain, and MarQ Aviator.
The watches come with a sturdy build that includes Grade-5 titanium and a domed sapphire lens over the dial. Besides, the company has built MarQ Gen 2 watches to fulfill a different set of audiences with varied use cases. All of the watches from the lineup come with AMOLED displays and rechargeable Lithium-ion batteries. The watches have a longer duration of backup on a single charge with two different types of modes.
Let's take a quick look at the features, complete specifications, pricing, and availability of the Garmin MarQ Gen 2 smartwatches. 
Garmin MarQ Gen 2 Specifications
The whole lineup of Garmin MarQ Gen 2 smartwatches come with an AMOLED touchscreen. Besides, the batteries provided with the watches can last up to 16 days in regular usage. The watches can extend their battery backup in GPS mode, where the users can use the watch for up to 42 days. The unique feature provided on these smartwatches is the Jet Lag Adviser.
The Jet Lag Adviser feature on smartwatches can help users overcome the effects of jet lag. Moreover, the watch comes with other health-related features such as heart rate, respiration, and stress tracking, advanced sleep insights, Body-Battery energy monitoring. The build quality of all the watches includes high-end Grade-5 titanium and a domed sapphire lens over the dial.
Notable Differences of all the Garmin MarQ Gen 2 models
However, the five different models of the MarQ watch hold a unique place with different kinds of materials put in place. The Garmin MARQ (Gen 2) Athlete edition has a lightweight vented silicone rubber strap and brushed DLC-coated bezel for a snug fit. The wristwatch has sophisticated training tools like PacePro that enable users to track numerous sports and fitness metrics.
The rugged Explorer features a leather design, a long-lasting FKM rubber hybrid strap, cardinal directions, and 360-degree markings.
The Golfer edition features a color palette inspired by golf courses, a green ceramic inlay, a bezel with bespoke engraving, and a tritone green jacquard-weave nylon strap to represent its golf-focused goals.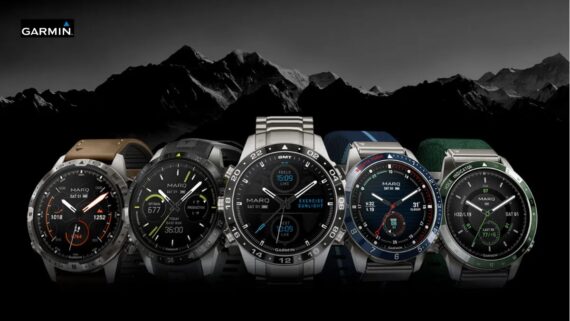 It has three Approach CT10 golf club sensors for automated club tracking and is preloaded with more than 42,000 golf courses from around the world. Besides, it also has auto-detect capabilities and golfing-specific features like Virtual Caddie, Hazard View, Wind Data, and PinPointer.
Whereas, the Captain variant gets a navy ceramic bezel with a regatta timer and a striped jacquard weave nylon strap with a racing theme. It allows tracking for water sports including windsurfing, kitesurfing, kayaking, standup paddleboarding, and kiteboarding.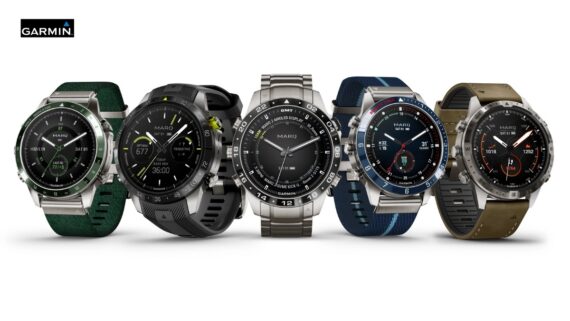 The Aviator version has a ceramic 24-hour GMT bezel and a bracelet made of brushed titanium with swept-wing links and a locking clasp. This enables users to find a place or waypoint in the global aeronautical database and travel to it.
Moreover, it may be used by pilots to define their personal comfort zones and to analyze the minimal crosswind and flying circumstances using a wristwatch.
Price and Availability
The following pricing ranges apply to the second-generation Garmin MARQ smartwatch lineup, which includes Garmin MARQ Athlete for Rs 1,94,990. The MARQ Adventurer for Rs 2,15,490; MARQ Golfer by Garmin at Rs 2,35,990; MARQ Captain by Garmin for Rs 2,25,990. Lastly the MARQ Aviator by Garmin for Rs 2,46,490.
Beginning on February 25, 2023, will start the sale of these high-end smartwatches. Interested customers can purchase the MarQ watches from Garmin Brand Shops. Other retail outlets like Just in Time Watch Stores, Amazon, Tata Luxury, and Synergizer