If you are getting an iMac, or have one, you might be wondering what exactly is Fusion Drive? When you plan to purchase a Macbook Air, the storage options are limited. But when you switch to an iMac or Mac Pro, your option for storage are expanded.
If you plan to get more performance while sticking to macOS, you either go for a Hackintosh setup or a Mac Pro. Many of you would prefer the Mac Pro, as it is an official solution from Apple itself. In addition to Mac Pro, you can also see the Fusion Drive configuration on an iMac as well.
While configuring your Mac, you might have seen the option to switch between a Fusion Drive or an SSD. But if you're new to these terms, you might be wondering about them. But don't worry, we're here to help you with the same thing. This guide will show you a comparison between the iMac Fusion Drive and an SSD.
Fusion Drive vs SSD (Flash Drive): Everything You Need to Know
Before understanding what a Fusion Drive is and how it works, it's best to understand what an SSD or Flash Hard Drive is, and how they work.
What is an SSD (Flash Hard Drive) and How does it Work?
In short, SSD (Solid-State Drive) is a new generation of storage devices that are usually used in Notebooks and Ultrabooks (usually seen in Macbook Air, Macbook Pro, Dell XPS 15, and others).
SSDs use Flash Memory to avoid using mechanical hard disks. In terms of speed, SSDs have better performance, reading times, and output speeds which makes them significantly faster than the older generation hard disks (HDD).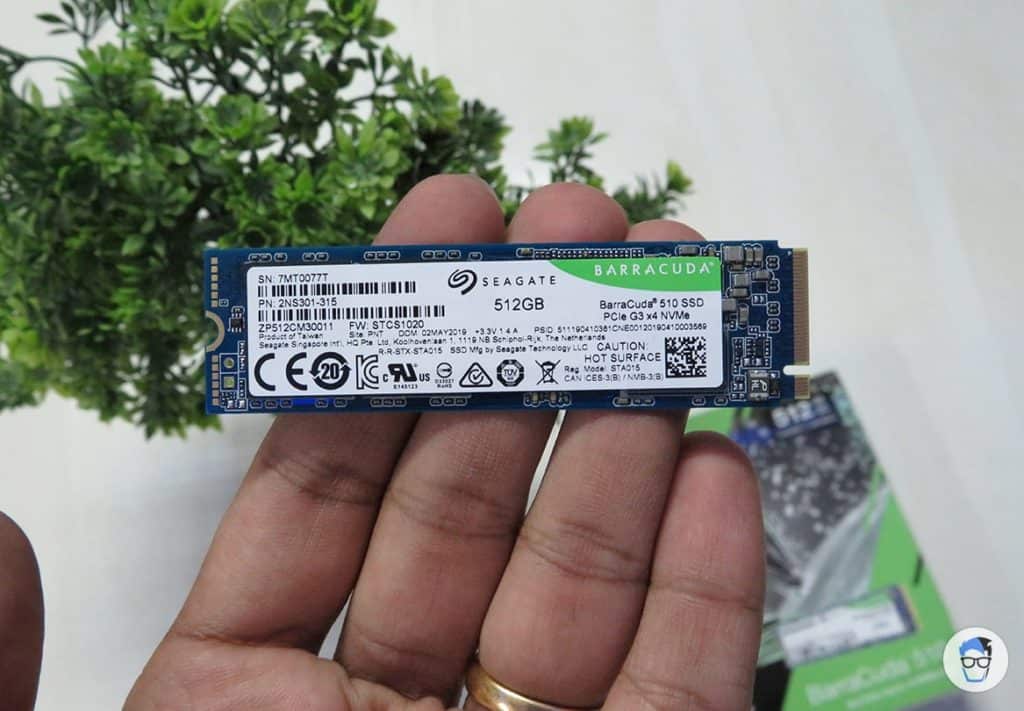 The SSDs work differently compared to the HDDs (Hard Disk Drives). The Flash Hard Drives use a small chip called NAND Flash memory.
A NAND Flash memory has no moving parts, and thus performs considerably faster with near-instant access times compared to HDDs.
The NAND Flash Memory chips on SSDs are similar to RAM (Random Access Memory). Files on an SSD are saved on a grid called NAND flash cell. Each NAND Flash cell can store data ranging from 256KB to 4MB in size. The SSD controller has addresses of all these grids, and when a PC calls for one, it is available instantly. Since the read/write speeds of an SSD are instantaneous. Its speed is generally measured in nanoseconds.
Advantages of SSD (Flash Hard Drive)
SSD is best for performance-oriented tasks and thus it gets a ton of advantages. Here are the major advantages of SSDs:
SSDs offer best in-class performance and speed.
Faster booting times since it uses Flash Storage.
Almost no noise generated when it works.
Less Power Consumption.
Doesn't heat up the device much.
Best for power-intensive tasks like Gaming, Video Editing, and others.
Disadvantages of SSD (Flash Hard Drive)
SSDs have a lot of advantages when it comes to performance and speed. But it has its disadvantages too. Here are some of the disadvantages you might have to face with SSDs:
SSDs (Flash Hard Drives) are really expensive compared to HDDs.
Higher storage options are not available easily.
Finite number of read and writers.
What is a Fusion Drive and How Does it Work?
Fusion Drive is a hybrid hard drive, and it is Apple's way of calling it fancy. Apple combined hard drive and flash drive to create a new storage type, which they trademarked as Fusion Drive.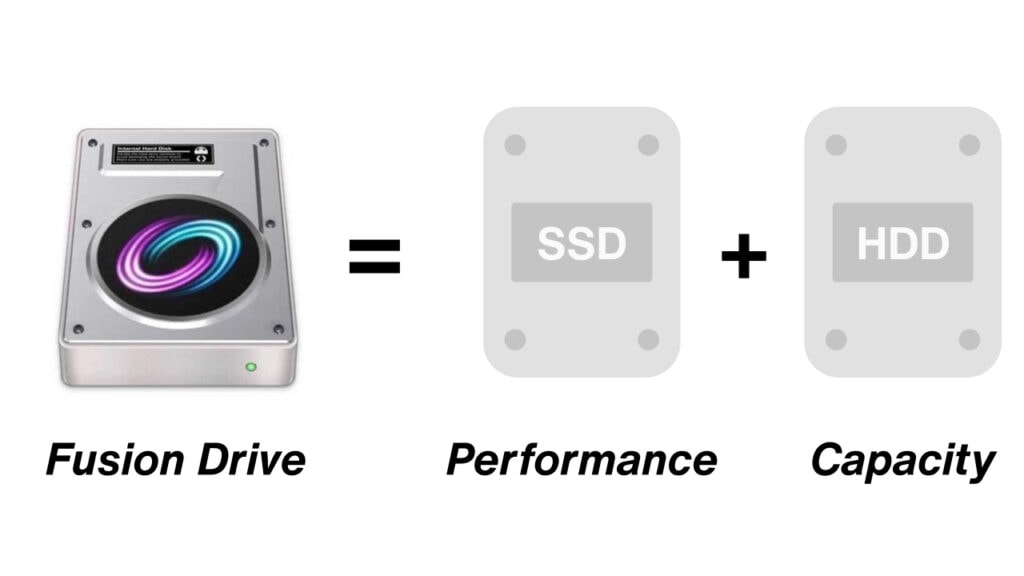 So when you're getting a Mac with a Fusion Drive, you are essentially getting hard drive storage with certain storage allocated as SSD storage.
For instance, if you have a late 2015 iMac, with 1TB of Fusion storage, then 128GB of the 1TB storage will be an SSD storage, and the storage left will be HDD storage.
Since an HDD and an SDD are merged together in a Fusion Drive, the functionalities are also merged together. You'll get the functionality of both a Hard Disk and a Solid-State Drive.
When it comes to the controller, every operation and function is designed and controlled by macOS. As for now, you'll see the Fusion Drive in older iMacs only, because Apple has completely moved to SSDs for better performance.
Advantages of Fusion Drive
As mentioned above, Fusion Drives are made by Apple. Being made by Apple, there are many advantages. Here are a few advantages of the Fusion Drive:
Low cost compared to traditional SSDs. But comes with a higher pricing than HDDs.
They produce very little noise compared with HDDs.
You can have it in higher storage capacities.
Uses Logical workflow to achieve faster load times without affecting User Experience.
These have better booting times compared to HDDs.
Disadvantages of Fusion Drive
As to be praised as an Apple product, Fusion Drive has its flaws too. Here are a few disadvantages that you can face when you choose a Mac with Fusion Drive:
Performance is not on par SSDs.
They have lower RPM.
Might create some noise occasionally.
Also Read: 2 Easy Ways to Use iMessage on Windows PC and Laptop
Comparison of Fusion Drive and SSD
When you compare a Fusion Drive and SSD together, you'll notice a significant difference in their speeds and performance.
If we take the read and write speeds into account, an SSD performs notably faster than a Fusion Drive. Here's a speed comparison between Fusion Drive and SDD when you transfer a 1GB file between these two.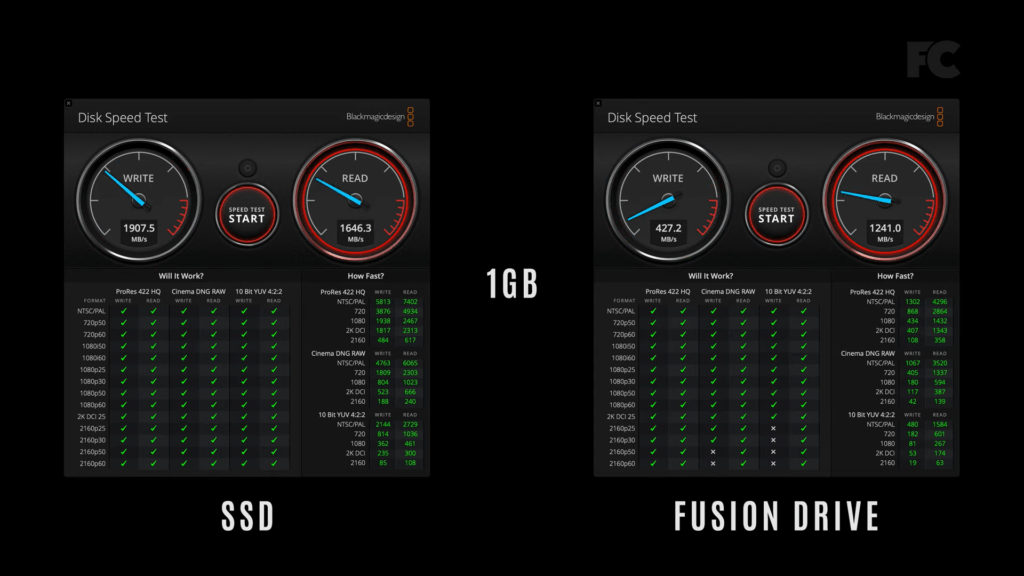 As you can see, the writing speed of an SSD is way faster than that of a Fusion Drive. However, the reading speed of a Fusion Drive is slightly slower (almost the same) compared to the SSD.
The SSD writes at a speed of almost 1900MB/s and the reading speed goes up to 1650MB/s. On the same side, Fusion Drive, you'll see writing speeds at 430MB/s while the reading speed goes up to 1250MB/s.
Similarly, when you compare the export times in Final Cut Pro X, the results are surprising as well. A study was conducted by 9to5Mac to see export times on the 2019 iMac with a Fusion Storage compared to an External SSD and an Internal SSD on the iMac Pro.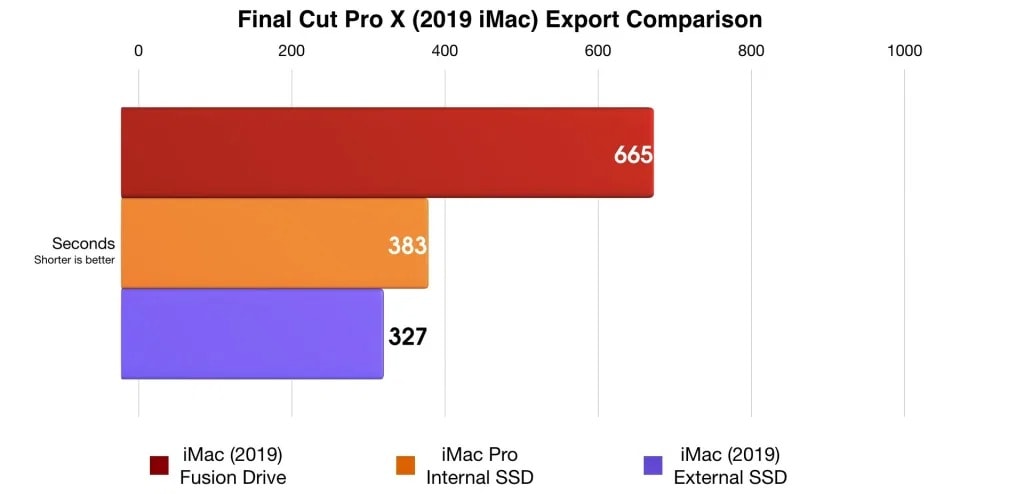 As you can see, using an SSD on an iMac exported the video in almost half the time that it took to export the video using a Fusion Disk. But you should also take into account that an SSD costs quite a hefty compared to a Fusion Drive.
To simplify things here's a table comparing speeds, cost of a Fusion Drive Storage, and an SSD side-by-side.
| Parameter | Fusion Drive | SSD (Solid-State Drive) |
| --- | --- | --- |
| Reading Speed | 2Gb/s | 2.5Gb/s |
| Writing Speed | 700MB/s | 1.9Gb/s |
| Cost | 2TB costs around $125 | 256GB costs around $60 |
Best Performance Comes With Great Cost
When comparing Fusion Drive to Solid-State Drives, the SSDs perform quite well. However, what is perfect for you depends on your workflow and your budget completely, and it will obviously vary from one person to another.
Let's say if you do a lot of video editing, then it's best for you to go with an SSD drive, which will cost you more compared to a Fusion Storage Drive but will improve your workflow by a lot.
On the other side, if you do just basic stuff like browsing, writing documents, etc., then you should definitely go for a Fusion Drive. This will save you a lot of money at the same time.
Now the decision is up to you depending on your use case. Apple has also switched to SSDs recently which is a big move, yet makes them good profits. So choose carefully before you get your Mac.