Days are gone for LAN's and the trend is changing to WiFi as the price of wireless routers came down to less than $20. Not everyone will set a normal name for their WiFi router but people like me who took an extra step to think out of the box try for a crazy and funny WiFi names. When I first configured my Wireless router a decade back, I named it as "Virus Found" and neighbors got a mini heart attack when they see virus found text on their mobiles while searching for WiFi and I used to have a good laugh. Today I decided to provide 75 funny WiFi names you can use to name your WiFi connection. The good news is, I'm also providing a tool called WiFi name generator which will automatically suggest you funny WiFi names.
Before getting started, let me show you how to change the WiFi name of any router.
Note down the IP address of your router. You can find it on the back side of the wireless router. Generally, it will be like 192.168.0.1
Now open the router admin page by entering http://192.168.0.1/ in any web browser.
Enter your username and password and click Login. By default username will be admin and password field is left empty
Go to Wireless tab and enter your funny WiFi name in Name(SSID) field.
Click Apply.
That's it, this is how you can change the WiFi name of your router to something funny.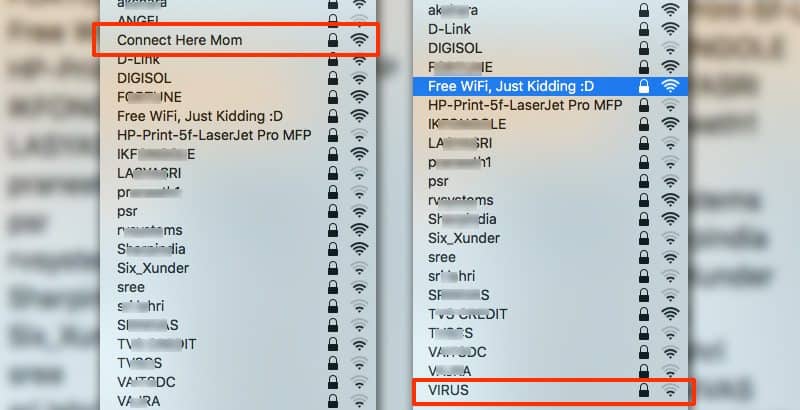 75 crazy and funny WiFi names for your wireless router
We searched a lot on the internet and here are 75 funny names for WiFi connection to have a good laugh.
Virus Found
Sorry, Wifi is in another castle
I have a boyfriend
No Signal
Selling my friend's kidney for iPhone 8
Don't touch me
BSNL too slow
No Network
Get the hell out of my WiFi
Ransomware Found
Buy bitcoins soon
Must love dogs
Cats vs Dogs
You are WiFizoned
FBI Vehicle #836
Android vs iOS
Only for poor people
Free WiFi. Just Kidding
Call me for password
Connect your Nokia 3310
Click here for Internet Mom
RIP LAN
GOT Fans connect here
Iron man vs Captain America
I'm Hulk
Y u no get Wi-Fi
FRIENDS Fans connect here
Installing virus, Please wait
Enter your ATM PIN for the internet
Recharge Rs. 100 to 9876543210 for password
Don't connect to this WiFi
This is a trap
You are under CCTV surveillance
I got you
This is not the WiFi you are looking for
You will die if you tap me
localhost
No WiFi for you
404 WiFi not found
I have WiFi but you don't
Look your face in the mirror before connecting to WiFi
Check your credit card bill. lol
Don't enter into my world
Our internet is faster than your's
Your music is annoying
Neighbors, please stop using my Wi-Fi
Praise the Lord for password
YouTube videos are buffering. Don't connect
You can't connect me
Connect for free Justin Bieber songs
Finding WiFi
Connecting…
WiFi Connected
Click to install ransomware
Free bitcoins
Shake your phone for connecting to this WiFi
Praise the Lord for password
Happy birthday stranger
_(-_-)_/
This is hotspot, not WiFi
It hurts when you use my Wi-Fi
Poor signal
Wi-Fi from Mars
Ask StackOverflow for password
Connect to Geek Dashboard
Free WiFi for Nokia 3310
Dad, I failed in maths exam
Please contact your ISP for free internet
Please Wait, Loading…
Connection lost
No internet access
D:virus.exe
Downloading virus
WiFi not working
Reboot to connect WiFi
Funny WiFi name generator (Online tool)
This funny WiFi name generator tool will randomly generate funny WiFi names and you can use them for your WiFi connection. To generate funny WiFi name, go to this tool and click on Generate WiFi Name button. It can instantly generate crazy WiFi names.

Also Read:

How to see saved WiFi passwords on iPhone
If you have any other funny WiFi name ideas with you, let us know in the comments section below.