Have you ever been into any kind of trouble with the partitions you have on your HDD? At times, we may change our mind regarding the way we need it. While partitioning, you either might keep the entire HDD space as a single partition (which most of the new Windows 8 users do), or you change it into 1 0r 2 more partitions according to your requirement. And the process you do it, is a bit tedious. If you do not have an idea on HOW, then the software we are going to review is the best, that perfectly suits you.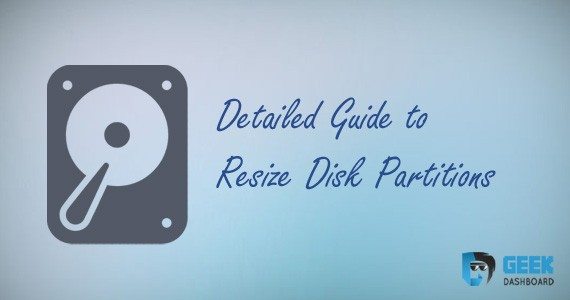 What Does EaseUS Partition Master Free Do?
No matter what kind of a software it is, the first and foremost point to understand is the type of work or activity it does on your system. This Free Partition Managing Software does all the work you can perform on your system HDD space. You can shrink the available partition into two, can Merge two different partitions into a single one, Resize dynamic volume, Create WinPE Bootable disk, Migrate OS to SSD without reinstalling Windows and all this without any data loss. Most of us might be needing it, as we may want to change the way our partitions are and without difficulty. Who wants to choose a difficult way to accomplish a task when there's a very easy way to perform the same task?
Also Read: How to Install and Dual Boot Linux on Windows PC or Laptop
Features
Let us have a look at EaseUS Partition Master Free Software features and capabilities.
Language Support
The Free Partition Manager software supports few very popular languages like English, Deutsch, Español, Français, Português, Polski etc. There are around 7 languages which is not really a small number and most people can make it through, with these languages.
User Support
The Free Disk Partition Software already had around 24,000,000 users using it happily. It also has around 4.8 rating from the users and a 5 star rating from the most famous software reviewer CNET. Apparently, this gives us a clear vision on the mettle this software possesses.
Supported OS
Support for the multiple Operating Systems is the prime way to get more users and this software had it already built. Luckily, Windows 10, Windows 8/7/XP/Vista Operating System's support this Free Partition Manager Software. Even before the release of Windows 10, the software comes with a bang into the market with Windows10 support.
Editions
The Free Partition Manager Software has three editions. One basic version that comes for free and the rest are a premium editions. The Free edition, as expected has less features compared to the other editions. However, that would be sufficient for individuals. The other two premium editions are named after Partition Master Professional and Partition Master Server. You can avail features/options like Resizing Dynamic Volume, Creating WinPE Bootable Disk, Support Command Line, Business Usage, Free Technical Support for both the premium editions. The additional feature that you get for Master Server is the Support for Windows Server 2003/2008/2012. The Partition Master Professional is priced at 31.96$ while the Partition Master Server is priced at 127.20$.
Requirements & Support
To get this software installed on your system, there are a few requirements which most of us or everyone of us will definitely have it, since they are the minimum that anyone could ever ask you for. A list of requirements to install the Free Partition Manager Software is given below. Make sure to check the compatibility before you download.
OS
The very software we are talking about has a support for multiple OS and they're listed below. Having support for Windows 10 is an advantage for the users who might update their systems to Windows 10 in the coming future.
Windows 10
Windows 8.1/8
Windows 7 32-bit or 64-bit
Windows 7 SP1
Windows XP Home Edition & Professional 32-bit or 64-bit
Windows Vista 32-bit or 64-bit
Supported Device Types
There are multiple device types supported by the Free Partition Manager Software. List goes a bit lengthy and thats how anyone would need it in case for the support. Isn't it?
Parallel ATA (IDE) HDD
Serial ATA (SATA) HDD
External SATA (eSATA) HDD
SCSI HDD
IEEE 1394 (FireWire) HDD
USB 1.0/2.0 HDD
All levels of SCSI, IDE & SATA RAID Controllers
Support of RAIDed Configurations (hardware RAIDs)
Support Large Hard Disk
Removable Devices: Flash Drive, Memory Card, Memory Stick & so on
Supported File Systems
The Free Partition Manager Software supports multiple file systems. NTFS and FAT32 are the most used File Systems today. However, this goes a way deep into the other types of File Systems which is an added advantage.
NTFS
FAT32
FAT16
FAT12
EXT3
EXT2
HardWare Requirements
Like every software, the Partition Manager also does have a very few & basic hardware requirements to install the software on your system. The list follows below.
RAM: Minimum 512MB
CPU: With x86 or Compatible CPU with main frequency 500MHz
Disk Space: 100MB free space
Bonus: Awesome Desktop buying guide for beginners 
How To Manage Partitons using EaseUS Partition Master
Fortunately, using this free Partition Manager Software is easy. You just need to follow few simple steps mentioned below.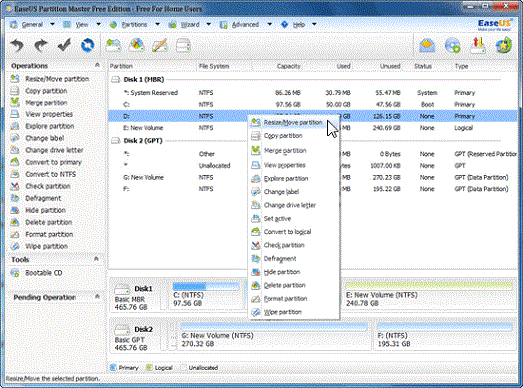 Open the software and the main screen displays an overview of common tasks and pending operations etc.
A tool bar on the top has multiple options that allows the users to access the most commonly used features easily.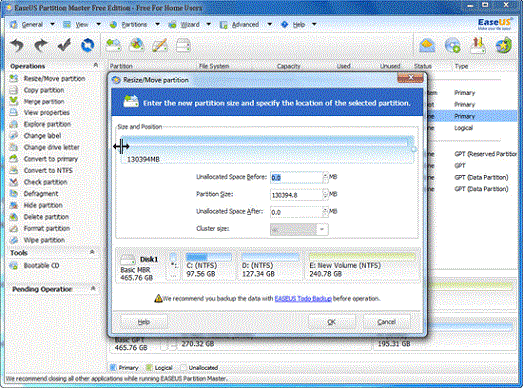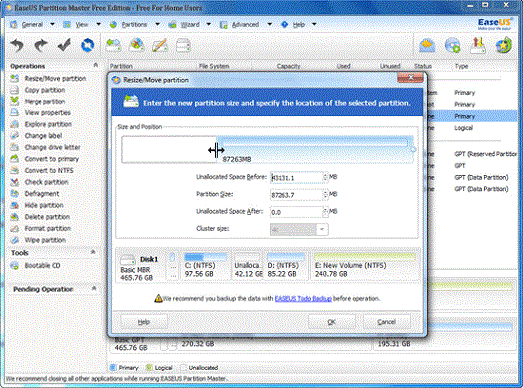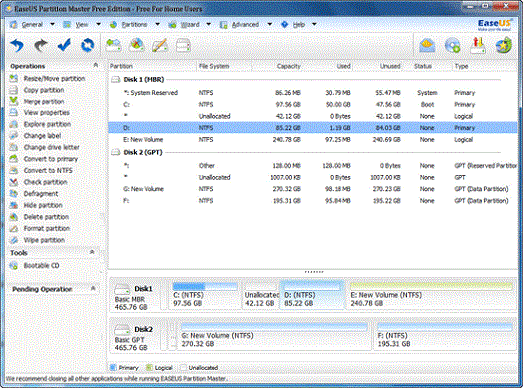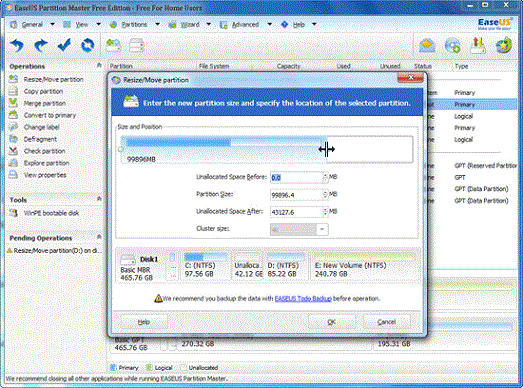 The above images show the process to resize the partition. However, if you still need detailed info. This is how you should do.

To Resize or Move the partition, hover your mouse pointer over a drive name and right click. You can get an option: Resize/Move that allows you to modify the partition size of your HDD.
The next step is to Enter the size by dragging a sleek bar with double arrow. Or you can simply enter the number through your keyboard.
Click on Ok, and the desired space will be cleared from the disk and that space adds up as a new partition.
This finally helps you to simply manage and organize your HDD space. This helps many users to simply partition their HDD drives without taking help from anyone else. If you find any problems during the process, do comment in the comment section below and we would try to solve your issue as fast as we can.