With the pandemic hitting our daily lifestyle, we found it quite challenging to crash into movie theatres and enjoy the latest blockbusters. Fortunately, there are a few amazing free movies apps for our rescue which don't charge hefty subscription fees to access them.
By the way, have you watched Black Widow yet? Comment down and be sure to let us know! We have switched our entertainment hub tight onto our couch and with the luxury of having no 'Boss' sneaking over my shoulders, I find it quite relaxing to binge my favorite movies, sports, and TV shows, even when I'm supposed to work.
Let me now bring some crazy statistics for you. According to market.us, Netflix has peaked its subscriber count at 220 million with American internet users spending 32% of their active hours binging on dozens of online streaming platforms.
On the other hand, HBO Max witnessed over 35% growth just in 2020 with over 55 million subscribers after adding 25 million in 2020. But hold on! Today's article isn't about Netflix, HBO Max, or any paid streaming service! It's all about free movie apps today.
Top Free Movie, TV Shows Streaming Apps for Android, iOS, and Firestick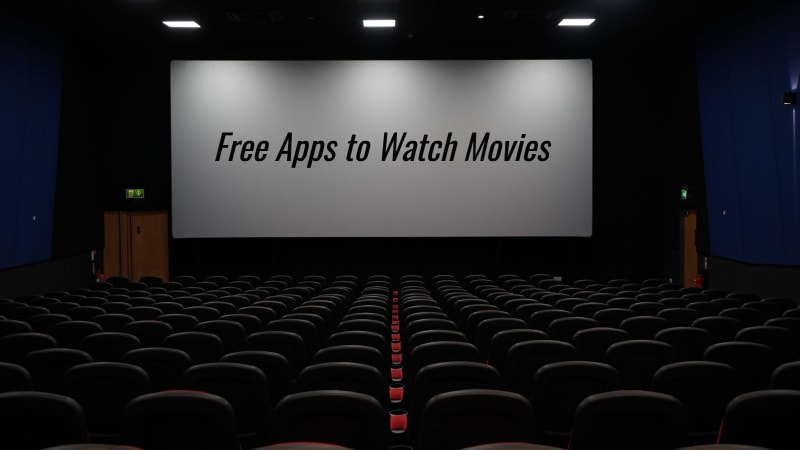 I will be highlighting 9 of my absolute favorites, and of course, free movie apps that have helped me to catch almost any movie I wish to watch. And if you are tired of paying heavy subscription fees, just like me, then I am pretty sure you will be enjoying it.
I checked out dozens of free streaming services during my leisure time in this lockdown and cherry-picked the best movie streaming apps. Let's now explore the top amazing free movie streaming apps:
1. Tubi (Netflix Alternative)
You may refer Tubi as an alternate knockoff version of Netflix, instead, it's absolutely free. Although Tubi does not feature next-day releases and high-profile titles like Netflix or Hulu, neither it offers original series, but still, its newly updated catalogs are distinctly impressive for being free.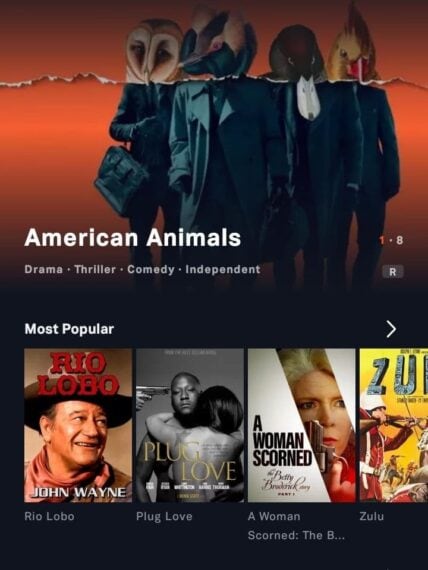 Tubi is free movie streaming app owned by Fox Corporation, built its content empire by partnering with Hollywood's heavyweights, including Paramount, MGM, and Lionsgate. Currently, with over 250 partners globally, Tubi offers over 20,000 movies, TV shows, and on-demand content, with some of the recent titles including The Terminator, Iron Man trilogy, Fruitvale Station, The Craft, and Foxcatcher.
Key points: 100% free, Legal, No credit card required, Ad breaks for every 15-minute intervals.
Availability: Android, iOS, and Web
2. Crackle (Best for Original Series)
Debuting in 2004, Crackle is the pioneer in free movie streaming apps, back when Netflix was still shipping DVDs. Now, standing in 2021, co-owned by Sony and Chicken Soup, Crackle is one of the best free movie apps for Firestick, Android, and iOS with an endless catalog of TV shows, originals, and movies.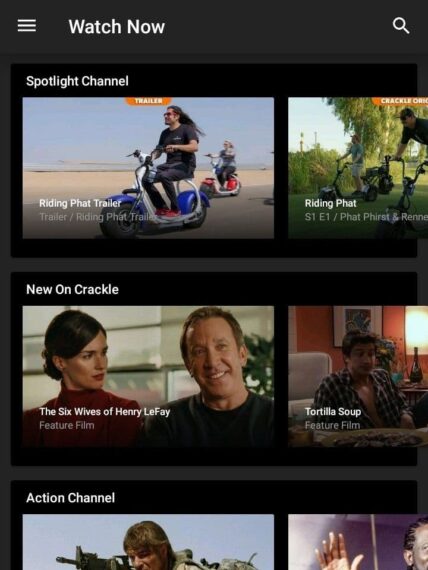 What sets Crackle apart from the competition is that it doesn't require any registration, alongside its free tier enabling you to add your favorite shows and save your progress while binging on the platform.
The reason why I find the Crackle app quite compelling is because it goes way further than the rest of the competition, with its original series, featuring top actors including Martin Freeman and Rupert Grint.
Key points: Not available in every region, Registration is optional, Completely free, and legal.
Availability: Android, iOS, and Web
3. Disney+ Hotstar (Mostly Indian Content)
You have probably heard of Disney+, and because it's subscription-based, we haven't included it in our catalog. But quite recently, it acquired the Indian streaming giant, Hotstar, following its merge-up with the Star Network.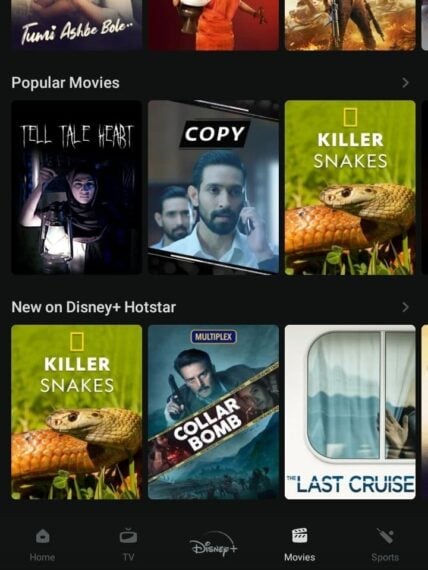 Disney+ Hotstar is ground-breaking with its digital media service. Your favorite movies and TV shows can be streamed live or downloaded for offline enjoyment. From the Harry Potter series to Indian movies, Hotstar boasts an ever-growing content library suitable for every age.
Just hit download options, and you can save your favorites. Disney+ Hotstar is one of the most popular movies and TV streaming apps in India, as much as being installed on 7 out of every 10 smartphones. The best part is you can download the movies and TV shows within the app and watch them later without WiFi or mobile data connection.
Key points: Good for Indian users, Freemium app, Also streams major TV shows and live cricket in different languages, Offline support.
Availability: Android, iOS, and Web
4. Plex (Watch Movies Without WiFi)
No matter how many streaming services you subscribe for, or how many hours of content you binge throughout your lifetime, you actually never own one single minute. To counter such restless minds and absolute movie-hoarders, Plex maintains a local collection of movies, music, and online shows. But where will you find the media? I'm glad you asked.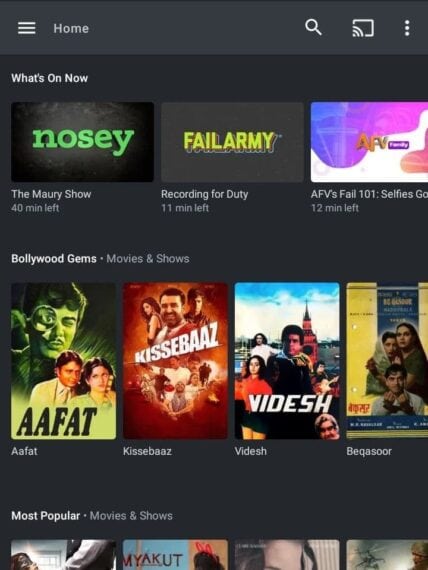 Alongside its media server, Plex also expanded its library of free movies, with pre-programmed channels, movies, TV shows, and even podcasts. With Plex Media Server, you eventually build your library of content, for streaming on your other devices which are connected with your home network, making it one of the best free movie apps without WiFi.
Key points: Free along with premium model, Live TV, Movies, TV Shows, Create your own media and stream on other devices.
Availability: Plex is available on a ton of devices including, Android, iOS, Chromecast, Amazon Fire TV, Roku, etc. You can find the entire list here.
5. Vudu (Best Movie App for Classic TV Shows)
Owned by Fandango (previously Walmart), Vudu is another competitive option for streaming movies and TV shows for free. For using Vudu, you just need an account (or you can login with your Fandango account) and you're all set.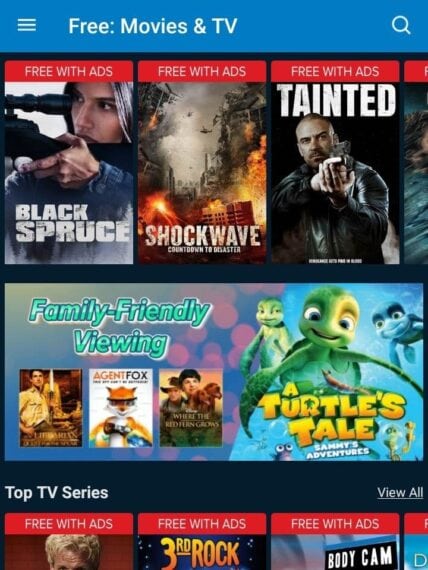 Now you can access over 10,000 movies and TV shows without ever typing your credit card info. Moving onto its interface, Vudu is shockingly simple with its neat and organized UI. The only caveat I see is the annoying and repetitive ads which sometimes become intrusively interactive requiring you to choose an option or hit some goofy button for closing.
Such annoyances apart, Vudu is indeed an incredible alternative for someone who is looking for an impressive catalog of entertaining movies.
Key points: No credit card required, Collection of over 10,000+ movies and TV shows, Neat and organized UI
Availability: Android, iOS, Web
6. ZEE5 (Streams Movies and TV Shows)
If Disney+ Hotstar is for Star Network, where can I watch ZEE Network movies? The answer is ZEE5. While surely it cannot compete with the chartbusters in our lists like Tubi and Crackle, but still, has decent selections of on-demand content and movies that made it up to the list of free movies streaming apps.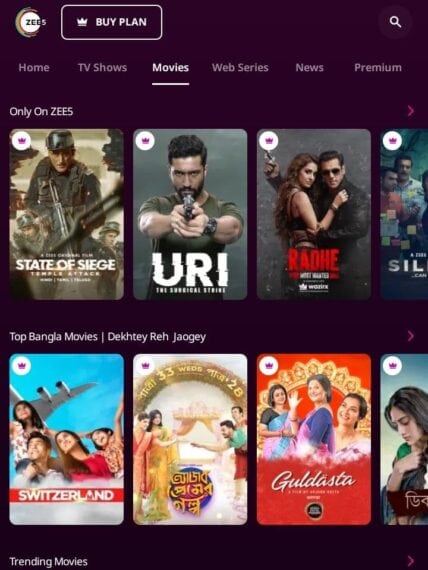 This online streaming platform, owned by ZEE Television Network shines in its live TV streaming service with the closest resemblance of being an actual cable TV subscription. Their library draws the majority of its content from ZEE's other properties, allowing you to easily tune into any movies or shows. ZEE5 can become one of the best free movie apps for iPhones, Smart TVs, and Android devices.
Key points: Has both free and subscription models, Content curated for Indian users, Suitable for users who love watching both movies and Indian TV shows.
Availability: Android, iOS, Smart TV, Web
7. YouTube (You didn't see that coming?)
Yes, my friend, you read that right! Although Google wouldn't allow YouTube in the club of streaming platforms, it's still our worthy choice. When the discussion is all about movie streaming apps for Android and iOS, most people may not think about YouTube.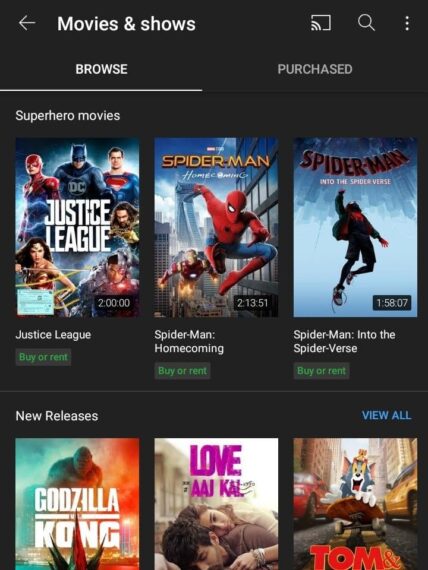 But there's literally an unlimited amount of content on YouTube, all coming for zero subscription. Even traditional production houses have switched on YouTube, seeking an enormous audience. And above all, you are welcomed with the classic benefits of YouTube, like up to 4K playback, offline downloading, playlists, and more.
YouTube is available on every platform, and its web UI is the best I have experienced out of all other free movie apps. Make sure you watch free movies only from official products channels on YouTube.
Key points: Few movie productions and TV channels started uploading their movies on YouTube for free, Worldclass apps and UI, Ad-supported, Completely free, Not all movies are from official sources (Caution required)
Availability: Android, iOS, Web, SmartTV, Firestick, Chromecast.
8. MX Player (Beware of Intrusive Ads)
If you are an Indian, there's no chance you don't have MX Player installed on your smartphone. MX Player, developed by J2 Interactive started just with its offline video player, and now offers everything from movies, web series, to MX Originals content.
And the best part is that you don't even have to create an account for binging the latest movies on the MX Player application. Speaking of which MX Player has also launched its short video platform, which you can definitely check out.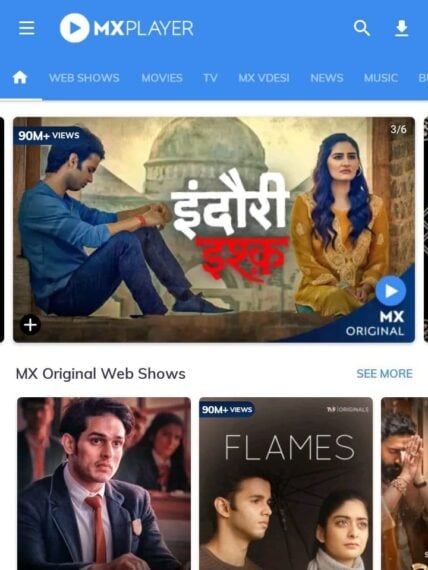 The UI, on the other hand, is unlike any free movies app I have used so far and includes a bucket-load of features such as its inbuilt media player for local content, neat content categorization, and even a dark theme for all-night watch parties.
Key points: Media play to play local videos, Good UI, Intrusive Ads, Neat content categorization, MX originals, No sign-in required, Completely free.
Availability: Android, iOS, Web
9. Airtel Xstream (Airtel Telecom Users Only)
As we progress through this article, we will be seeing more and more movie apps backed by tech giants. Xstream isn't an exception. Owned by the Indian telecom giant Bharti Airtel, Xstream is another option for streaming free movies and TV shows for the Indian audience.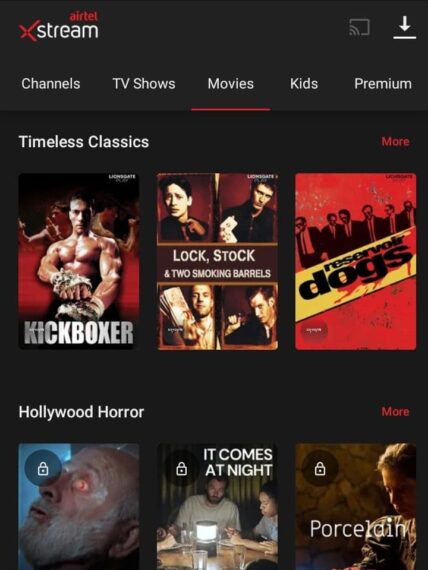 For using Xstream, you just need an Airtel SIM card with active unlimited recharge and you're all set. Moving onto its user interface, Xstream is shockingly simple with its neat and organized UI. The only caveat I see is the content preferences algorithm which sometimes becomes intrusive showing movies I do not like. Such annoyances apart, Xstream is an alternative for someone looking for an impressive catalog of entertaining content.
Key points: Works only for Airtel network users, Suitable for the Indian audience, Clean UI.
Availability: Android, iOS, Web
Switch Off Your TV For Free Movie Apps
Our rundown of the best, and of course free movie apps are an excellent alternative against the chartbusters like Netflix and Amazon Prime Video. We just sorted through 20 free movie streaming apps highlighting highly popular choices.
We considered the content, live channels, movie selection, and even the annoying commercials for determining which service deserves your attention. After all, every single one of them is free, right? So why not experience them all? Which few movie streaming app do you think is the best? Let us know your thoughts in the comments down below.