Infinite bootloop in LG Nexus 5X can be easily fixed by following our detailed step by step guide. LG Nexus 5X bootloop is the most common issue faced by a lot of LG users and luckily a developer from XDA found the solution for the issue. Tough this solution might not work for everyone, It is suggested to try it on your device before taking it to the service center.
If your LG Nexus 5X is still covered under warranty, then immediately visit the nearest service center and you'll either get the full refund or motherboard will be replaced at free of cost. In case your Nexus 5X struck in the bootloop while updating the operating system/all of a sudden and your device is not covered under warranty then you should better follow this guide to fix Nexus 5X bootloop problem.
Requirements for Nexus 5X Bootloop Fix
Let us see the requirements before getting into the solution for Nexus 5X bootloop.
Update (18-01-2018): Many people asked, how to enable OEM Unlocking if the device is in bootloop. One possible way is, you need to wrap your mobile in a plastic cover and freeze it in the refrigerator for an hour.
I'm not kidding, the bootloop issue in Nexus 5X is due to overheating of hardware. Many people cooled it temporarily and they can switch on the device normally and access the Developer options for sometime after taking out of the refrigerator. Try this little trick carefully to enable OEM Unlocking.
Make sure you already unlocked the bootloader before trying out this fix. If the bootloader is not unlocked, then you need to somehow enable OEM Unlocking first. If you're able to briefly boot into your phone, then go to Settings, Developer Options and enable "OEM Unlocking".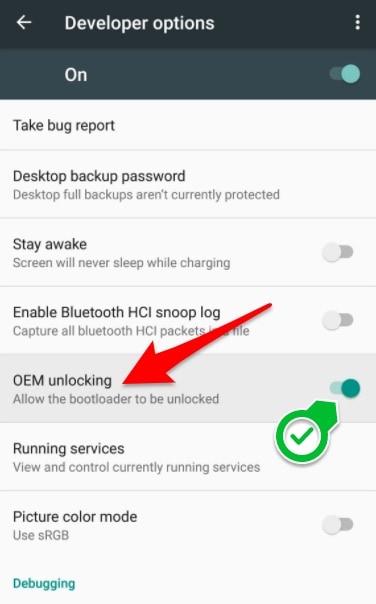 Install ADB, Fastboot and LG USB drivers on your computer/laptop (Check the download's section for links)
You will lose entire data on your mobile, try to back up all important files before following this guide.
Charge your LG 5X and it should have minimum 50% battery backup.
Downloads Section
You need to download the following files to your system to fix LG Nexus 5X bootloop problem.
Disclaimer

Flashing .img files or unlocking bootloader or installing a custom recovery is not an official process. We're writing this guide just for educational purpose. Either Geek Dashboard or developers are not responsible if anything goes wrong with your device. Try this process at your own risk.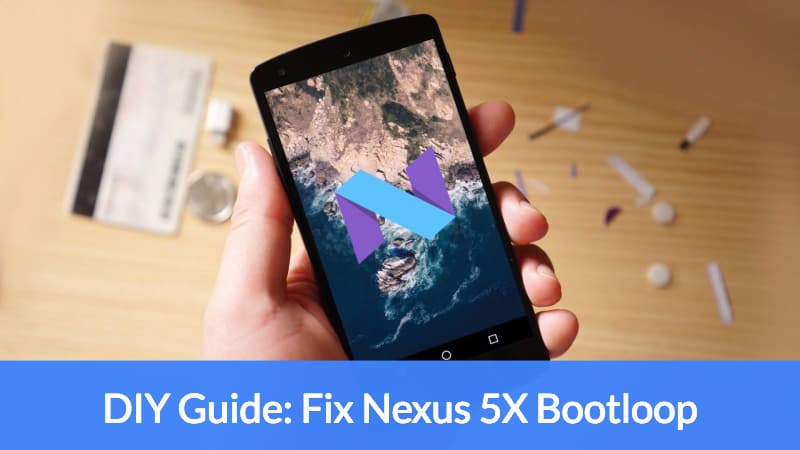 Step by step guide to fix Nexus 5X bootloop issue
Extract the ADB zip file downloaded earlier and keep it a suitable place of your choice.
Now copy "N2G47Z_4Cores.img" and "TWRP3_1_1_5X.img" files to the extracted folder in step 1.

This step is very important

.
Install the USB drivers you downloaded earlier.
Connect your LG Nexus 5X to the computer using the USB cable.
Open the command prompt (Windows) or Terminal (Mac and Linux) and navigate to the folder where you extracted the ADB and Fastboot files in step 1. Windows users can simply open the folder, right click while holding the shift key and select "Open command window here".

Run the command adb devices and check whether your device is detected by the PC.
Once your PC/Laptop detects LG Nexus 5X and displays its serial number, reboot the mobile into fastboot mode by press and holding Power and Volume down buttons at the same. You can release the buttons once you see the fastboot menu on LG Nexus 5X.
If your bootloader is not yet unlocked but you managed to enable OEM unlocking from developer options, then run the following command fastboot flashing unlock to unlock the bootloader of LG Nexus 5X.
Follow the on-screen instructions to complete the bootloader unlocking process.
After unlocking the bootloader of LG Nexus 5X, paste this command fastboot flash boot N2G47Z_4Cores.img and press Enter.

Once the above command is executed successfully, run the following command fastboot flash recovery TWRP3_1_1_5X.img
Reboot your device using the command fastboot reboot
Now your LG Nexus 5X will start rebooting. Wait for few minutes till you see the lock screen.
That's it. You have successfully fixed the bootloop issue of Nexus 5X.
Optional step:
If you want to improve the performance of Nexus 5X after solving the bootloop issue, then copy the "EX4_10_5X.zip" file to the phone memory. Reboot the device into TWRP recovery and flash "EX4_10_5X.zip" by choosing "Install zip from SD card".
Update: (03-03-2018)
We received plenty of messages on the Facebook page and comments on this article. The method we mentioned here is working only for a few devices.
After trying a few more methods from XDA, we found the Unblod tool to fix Nexus 5X bootloop problem. It is recommended to check our new article here which is using the stock Android image and Unblod tool for fixing the bootloop issue.
Alternatively, you should also check this comment from Alfonso Palacios. He clearly mentioned a different method which fixed the Nexus 5X bootloop.
Conclusion
After following and running all the above commands carefully, you must have fixed the Nexus 5X bootloop issue. Let you know if you face any problems while following this guide LG Nexus 5X bootloop fix and we'll help you with the possible solution.