If your LG Google Nexus 5X has stopped booting or rather is ending up stuck in an infinite bootloop sequence? Then we're sorry to say, your Nexus 5X is stuck in bootloop. But, we have a guide lined up for you to fix the Nexus 5X bootloop issue.
If your Nexus 5X is refusing to boot, then you are not alone. Most of the software bootloops are easily fixed. However, in case of hardware bootloop, there is not much you can do.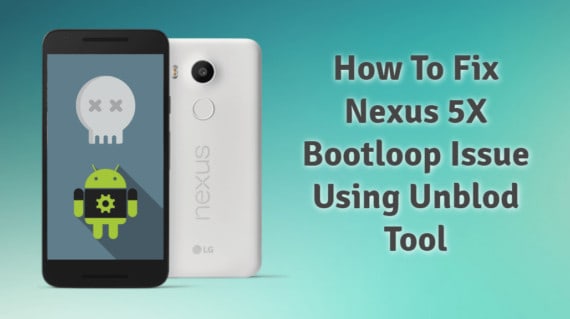 Before proceeding with the guide to fix Nexus 5X bootloop, there are some points you should reconsider. If your Nexus 5X is under warranty then quickly take it to the service center. The customer support team will certainly replace the motherboard and give you the full refund. If your phone has crossed the warranty period then this method is for you. Furthermore, there is no turning back after proceeding with the guide.
Disclaimer

Flashing .img files or unlocking bootloader or installing a custom recovery is not an official process. We're writing this guide just for educational purpose. Either Geek Dashboard or developers are not responsible if anything goes wrong with your device. Try this process at your own risk.
Requirements to fix Nexus 5X Bootloop:
Firstly, a Windows PC. (Ublod tool is not available for Mac yet)
Secondly, make sure you already unlocked the bootloader before trying out the fix for Nexus 5X bootloop. If the bootloader is not unlocked, then you need to somehow enable OEM Unlocking first. If you're able to briefly boot into your phone, then go to Settings, Developer Options and enable "OEM Unlocking".
Note: Are you wondering how to enable Nexus 5X OEM Unlocking if the device is in bootloop? Don't worry, there is few possible way.Completely drain the battery of the device and as said in our previous article, wrap the device in a plastic bag and cool it down by placing in the freezer. Quickly connect to the charger and try to Power On the device normally.
The phone will work for 2-3 minutes and you have to quickly access the Developers Option to turn on the OEM Unlocking and USB Debugging.
Downloads Section:
Also Read: How To Fix Showbox Captcha Not Working Issue
Flashing Stock Image to Fix Nexus 5X Bootloop issue Using Unblod Tool
After downloading the stock factory image of Nexus 5X from above link, extract the zip file on your Windows PC/Laptop.
Switch off the Nexus 5X and start it in Fastboot mode by pressing the Power button and Volume Down button altogether.
Connect the Nexus 5X device to the Windows machine with the USB connector.
Now navigate to My Computer -> Local Disk (C:) -> adb Folder. (Make sure you already downloaded and installed the ADB drivers)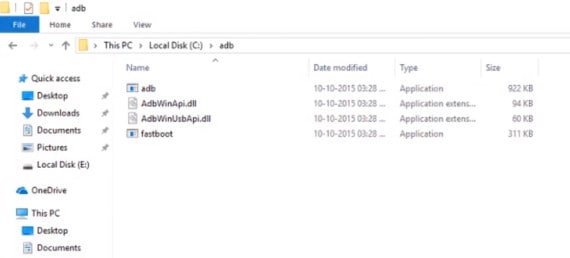 Press CTRL + SHIFT and right-click on blank space. Now select Open Command Window here from the drop down selection.
A command prompt will open. Type adb devices and it will display a message shown in the picture below. This will indicate that your Nexus 5X is successfully connected.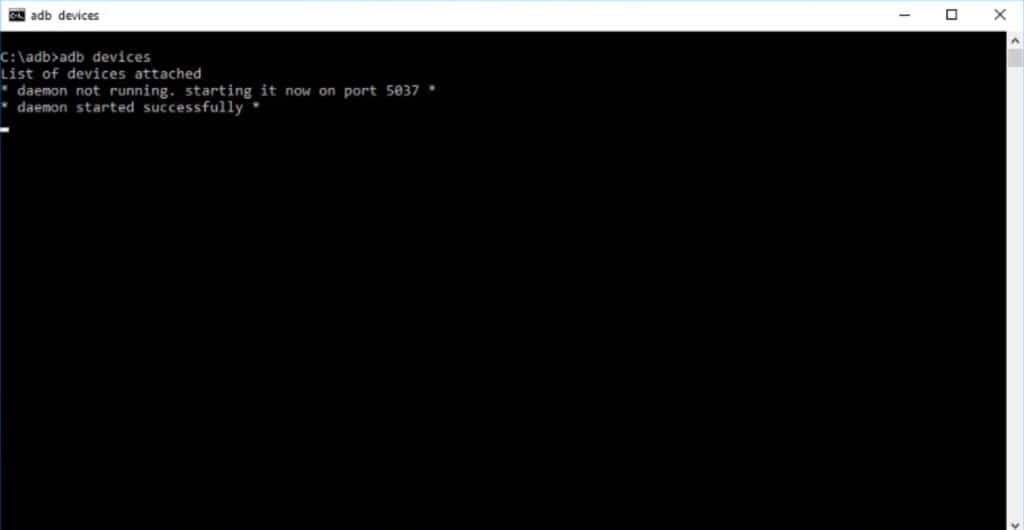 Press Enter and unlock the device bootloader by running the command, fastboot oem unlock in the same command prompt window.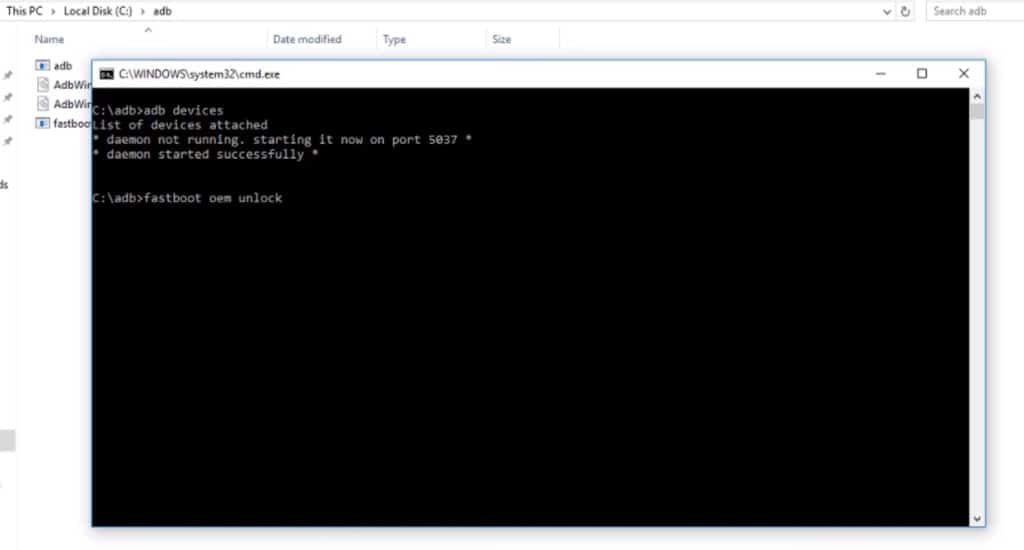 On the Nexus 5X device, use Volume Up/Down buttons and give access to unlock the bootloader.
Next, the script execution will complete and the device will reboot.
Now we have successfully unlocked the bootloader of Nexus 5X.
Disconnect the device and again start the device in Fastboot mode to start flashing the stock image to fix Nexus 5X bootloop problem.
Now, navigate inside the extracted zip file and again extract Bull-head-<build no.>.zip file. (Here <build no.> will be any number)

After extracting the zip file, you will find boot.img file. Copy and paste it on the desktop. We need to access it later.

Extract Unblod.zip file on the desktop which you already downloaded.
Double click the Unblod.exe file to open the Unblod tool.
Tap Load and select the boot.img file you copied in the previous step.
Check Auto-flash after build box.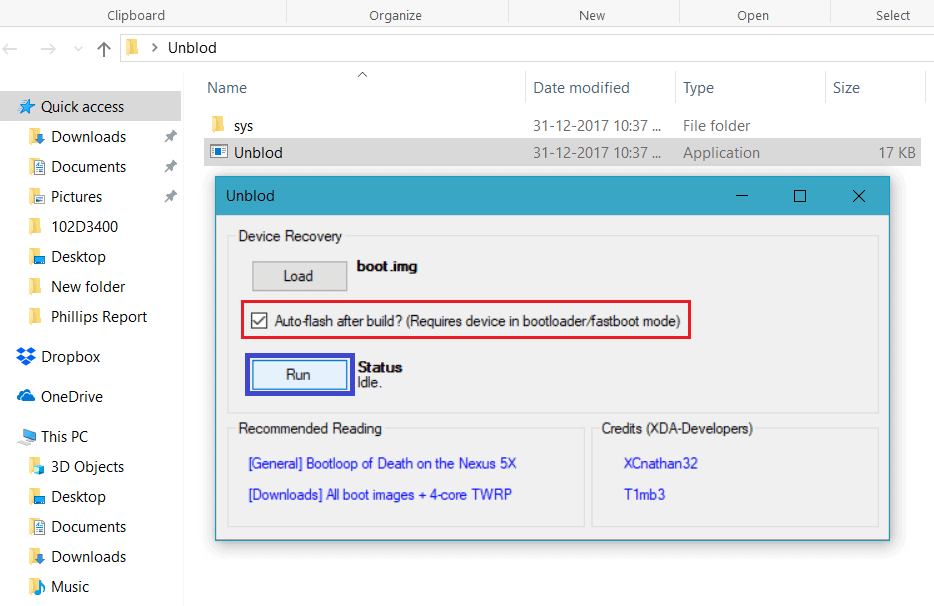 Connect Nexus 5X in bootloader/fastboot mode to Windows machine.
Tap Run and wait for a couple of minutes.  You need to wait until Status turns Idle.
Finally, your device will restart and you will observe that the nexus 5X bootloop problem has been fixed.
Also Read: How To Install Bluestacks Without Graphics Card In Windows
Important things to remember after fixing Nexus 5X issue using the Unblod tool:
After flashing the boot.img file, it would take more time for the first boot. Don't panic and give it some time to do its work.
If your Nexus 5X is rooted previous, you need to root it again since we flashed the stock image. This method will remove the root access. (Check root access with this app)
You need to unlock the bootloader again (if needed) by following the above commands.
Follow this guide to install the custom recovery on Nexus 5X.
Final Words
After implementing the above set of steps, you should be able to fix Nexus 5X bootloop issue. The method is drafted after going through various threads of discussion. Therefore what may for others other doesn't guarantee that it will work for you as well. However, this method was also discussed on various forums and the solution to Nexus 5X bootloop issue should indeed work. Nonetheless, you can always flash the stock images that Google provides if you want to restore all files.
Do let us know if this method worked for you or not. Feel free to share any other method to fix nexus 5X bootloop issue in the comments section below.