The most important aspect of our daily work is now the Internet. We need the internet connection for our daily work, especially for the bloggers who owns half of this internet for providing valuable information to the users. Today, this is no hoax that everybody living in a house does not need an internet connection. We have been solving various internet connection error in our previous guides. And, in this article, we'll show you how to fix Internet Connection is Limited error on different devices.
Before getting into the article, you must know this is not an error every time. Sometimes there might be a problem with your internet service provider where the internet is actually down due to various technical or hardware issues. Even in this case, you will see internet connection is limited or no internet access message on your device. Contact your service provider and they can only fix it. If you are sure there is no problem at ISP side, then there must be an issue with your device configuration and follow this guide to solve "internet connection is limited" error in Windows, Android, and Mac.
Solving "Internet Connection is Limited" Error on Windows/Mac/Android
As we have seen our previous articles the error is caused by either the system or server side of the website or even your DNS servers. But, here the chances might be that there is some issue with your internet connection or with your router.
Fixing Internet Connection is Limited Error in Windows
Here are 4 ways to troubleshoot no internet access error in Windows laptops and PCs:
1. Restart your Router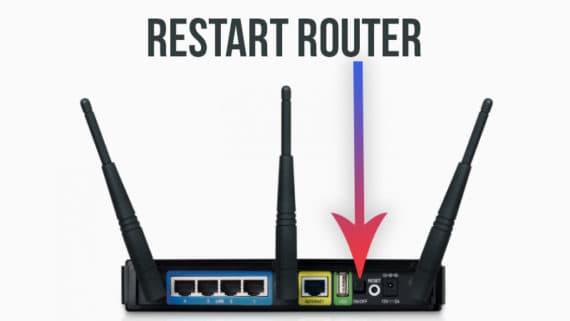 A router is responsible to manage the traffic and route the internet to all connected devices. But sometimes due to fatal errors, the router fails to route the traffic to connected devices. In such cases, the router cannot take and handle the requests and you will see internet connection is limited error. Restarting the router will reset the conjunction and packets will start flowing normally across devices. Simply switch off the power connection to router and power it on again after a couple of minutes.
2. Re-enable Network Adapter
If internet connection is limited problem still exists even after restarting the router then you should try disabling and re-enabling the network adapters. In few cases, you may need to reinstall the network adapter drivers to get them working again.
Steps to re-enable network adapter:
Right-click on the My Computer and select Manage.

Select Device Manager from the left side menu and expand Network Adapters.
Right click on your network adapter and click Disable.

Reboot your Windows device.
After restarting the PC or laptop, again go to Network adapters and re-enable the network adapter you disabled earlier.
Wait for a minute and it should remove the yellow triangle symbol on the ethernet/WiFi icon.
3. Change DNS
If you are still struggling with "Internet Connection is Limited" error, you should try an alternate DNS. Using custom DNS also makes your internet connection a bit faster but you should be very careful while picking a DNS provider. Always make sure you use secure and trusted DNS servers for serious security reasons. Follow the steps below to change the DNS servers to solve limited internet errors.
Right-click on the network icon in system tray and select Open Network and Sharing Center.

Open the Properties of your connected device.

Open TCP/IPv4 properties and set the DNS server to Google's DNS or Open DNS as shown below.

Google DNS: 8.8.8.8, 8.8.4.4
Open DNS: 208.67.222.222, 208.67.220.220


Click OK to save changes.
Reboot your computer and router to apply the changes immediately.
4. Troubleshoot Network Problems
Windows has their own amazing tool called Troubleshooter which automatically detects and solve the problems. No internet access is one of the error Windows can easily troubleshoot and suggest the solutions.
To troubleshoot the problem automatically: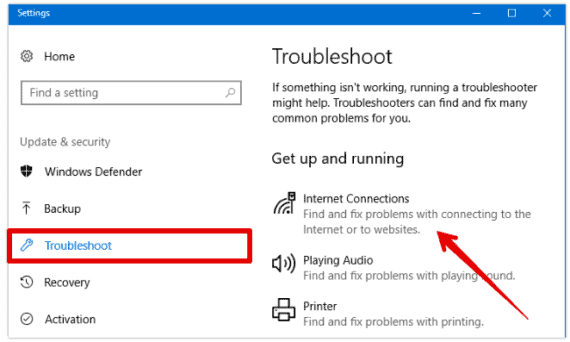 Right-click on the connectivity icon from the system tray and choose to Troubleshoot Problems. Once you click on it, it will start detecting the problems. If Windows is able to detect the error, it will automatically suggest you the possible solutions and you can apply them in a single click.
Solving No Internet Error in Android Smartphones/Tablets
If you are unable to access the internet or mobile apps on your Android device, then you might have a bad or poor internet connection. You will either see a cross mark (x) or (!) mark depending on your Android version if there is limited internet connectivity. On Android, it is very easy to troubleshoot as there are only a few things you need to check and solve this error.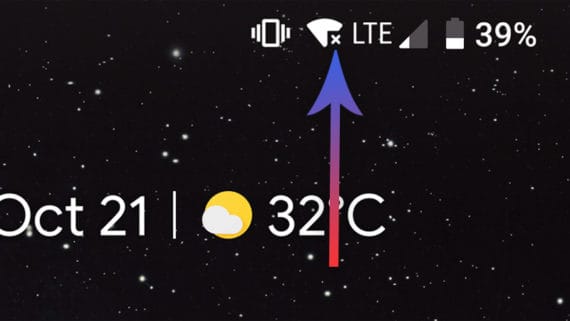 1. Check Mobile Data and Roaming
The first fix is to check whether your mobile data connection is turned ON. Many times we forget to turn ON our mobile data and try to browse the internet which never works. If mobile data is turned off, enable it and make sure that you have sufficient mobile data balance to browse the internet. If you are in roaming, you must enable Data Roaming as well to access the internet.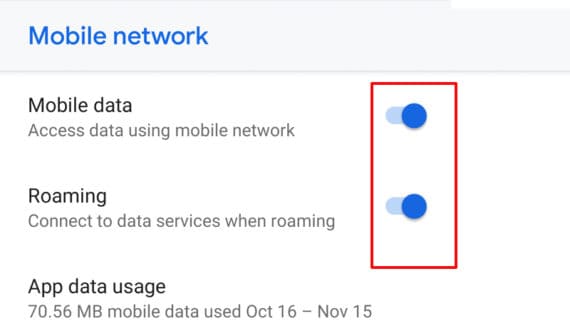 Additional charges might apply if you access mobile data when you are on roaming. 
2. Ask your ISP
Okay, you have a broadband connection and a WiFi router. Now, you have the internet connectivity or no internet error all the time. I myself have faced these situations many times. Yes, my internet is working but it does not load any website and sometimes shows "Internet Connection is Limited" error.
And I have to contact my ISP to solve this problem every time. Contact your ISP to confirm whether they had any problems with their network. This issue can also occur with normal SIMs.
For instance, Airtel these days had problems with their network at my area and I'm frequently seeing "No internet" message even with good signal. You need to either port to different network provider or move to some other area with good network conditions. I prefer former.
@Airtel_Presence At Office: Full Signal but receiver can't hear anything.
At Home: Half Signal but says out of coverage Area.
Mobile Data: 90% of times it shows No Internet (Check the screenshot attached)
It's 2018, and I'm getting Edge or No Internet. Call charges too high pic.twitter.com/VD1wQVXbHz

— Amar Ilindra (@AmarIllindra) October 19, 2018
Fixing Internet Connection is Limited Error on Mac
Apple recommends the users to keep their systems and their drivers updated to avoid such errors. So before trying to fix limited internet problems in Mac, make sure your device is updated to latest firmware with all the network drivers.
Also Read: How to stop flash SMS on iPhone after updating to latest iOS version
1. Check Your Connection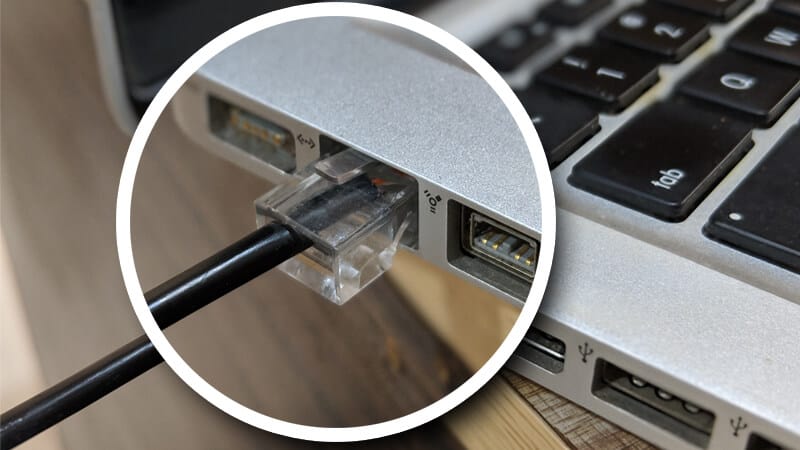 Just like we did above for Android device, here also you need to check whether your connection is working fine. You need to make sure you have properly connected to a network via Ethernet cable or WiFi router. If you are using Ethernet, try to unplug the cable and plug it back after cleaning the dust at ports and cable pin.
2. Restart Your Network Devices
You can fix most of the network related problems just by restarting the devices. Simply powering down your modem or router for few seconds and then again turning it on will fix limited internet access without any additional troubleshooting. Also, contact your ISP if there is some network problem or downtime they are encountering.
3. Checking TCP/IP, DNS Settings
If you have everything working fine and still unable to surf the web because of this limited internet access or no internet error, you must check your TCP/IP and DNS settings.
Go to System Preferences by clicking the Apple icon on top left.
Choose Network.
Select the WiFi and click Advanced.
Switch to TCP/IP tab.
Click Renew DHCP Lease to update IPv4 and subnet mask.
Now switch to DNS tab and add custom DNS servers by clicking the plus icon.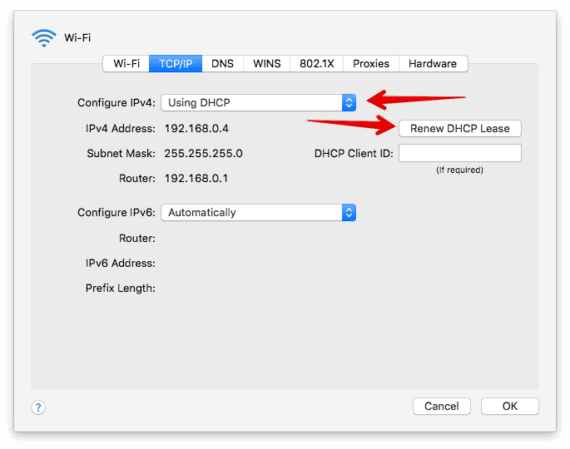 Conclusion for limited internet access problems
There will be plenty of ways to solve internet connection is limited or no internet access error in Windows, Mac, and Android devices. But before you try to troubleshoot the problem, you must make sure it is not due to your ISP downtime by contacting them in the first place. Rebooting the router and PC/Laptop will solve limited internet access errors in most of the cases. If you are seeing no internet messages on Android devices, move to an open place for strong signals.