If you are the one spends a lot of time in the gym then you must have fitness applications on your smartphone to keep track of you body. This is the place for you to find best fitness apps for your Android smartphone. People have become very conscious of how they look. Of course with changing lifestyles, this is very important. Developers are constantly trying to get the most out of a mobile platform and entice the end consumer to use the software for his own good. One such venture by the developers has been into fitness apps which have become a huge hit on the android market. With millions of end users downloading and developers vying for the top spot, here's the list of the best fitness apps from the android market.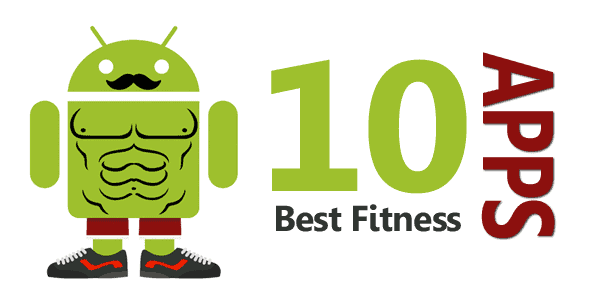 10 Best Fitness Apps for Android Smartphone and Tablets
Here is our list of best fitness applications for Android devices. Keep your health in good condition and stay healthy by making use of these fitness android apps.
Bonus: 15 Time Killing Lightweight Android Games for your Smartphone
1. Calorie Counter
Tracking your calories as you burn it may be more assuring for quite a many people. The features of the app are very useful and the user interface is simple enough to get a first timer into the groove.
Download on Google Play
2. Adidas MiCoach
MiCoach is the official app of fitness major, Adidas. The app features extensive workout regimes for the user. The user can also customize the workout schedule according to his/her personal needs.
Download on Google Play
3. My Tracks
Google launched this app a while ago. Of late, it got a major update and is finally fully functional. This app uses the Google Maps and tracks the distance you have covered. The methodology can range from walking to cycling. You can also define a route and use the phone to race through that route for the fastest time! Yes, the app records time and give you options to break your own lap times. So, strap on and ride!
Download on Google Play
Update (20 February 2016): If My Tracks if not available in your country, you can consider trying Google Fit.
Download on Google Play
4. Run Keeper
This is basically a Jogging app and is useful for the early morning joggers. The app records the steps taken and the distance covered. The app also uses geolocation via your phone's GPS. You can record lap times or challenge yourself with your own configuration.
Download on Google Play
5. Fooducate
Enlighten yourself with the food around you. This app tells you about food, what you should have during an exercise regime and how to lead a healthy life. The app gives you vital information about a nutritious diet. You can also record the amount of food intake and accordingly calculate the calories gained.
Download on Google Play
6. Endomondo Sports Tracker
This is one of the best-selling apps on the android market. The app features various exercises and customization. This app is helpful if you are already enrolled in a gym. Try the free app. If you like it, then move on to the paid version.
Download on Google Play
7. Jefit
Plan your work out and record every minute's data on this app. This app is specifically designed for the fitness savvy consumers. You don't need to be enrolled in a gym. The instructions in the app are sufficient enough to help you out with your workouts. If you want to track every minute detail of your workout, try this app.
Download on Google Play
8. Sports Tracker
Improved user interface and various modes make this app a sure try out one. You can record the distance you have covered and update the same in real time on social networking websites. One of my best fitness app in the sports category. You must try this application if you play sports very often.
Download on Google Play
9. Instant Heart Rate
Get real-time updates on your heart rate with this app. The app calculates your heart rate while the course of a workout. This is my best fitness app to monitor my heart beat rate.
Download on Google Play
10. Noom Cardio Trainer
This app is a good outdoor trainer. With the most essential features and voice output, this app is fun to use. With geolocation enabled, you can also compete with your friends during workouts comparing the results in real time.
Download on Google Play
With the android market full of fitness apps swelling in such a short span of time, it's hard to point out the best. Try out the apps from above and you'll surely find the one which suits you the most.