If you are following my recent articles, you must have already aware of my mid-2012 MacBook Pro crash and how I copied my Time Machine backup to Windows laptop to access my important files and data. After a couple of trips to the Apple service center, technician concluded it as a motherboard failure. Shockingly they quoted almost the same price of my MacBook Pro for repair.
Obviously, I decided to say final adieu to my 2012 MacBook Pro and purchased a refurbished MacBook Pro 2017. One of the important things I looked before getting a refurbished MacBook is the battery cycle count to determine its usage and health.
Battery cycle count of MacBook is a powerful indicator to find out the usage of the previous owner. Luckily the battery cycle count is just 3 when I purchased it and the device is only 2 months old. This is the clear sign that the previous owner has not used the device regularly and I decided to buy it.
In this guide, I'll show how to find out the battery cycle count of your MacBook Pro or MacBook Air easily. But before getting straight into the process, you must know the meaning of battery cycle count and how it is calculated.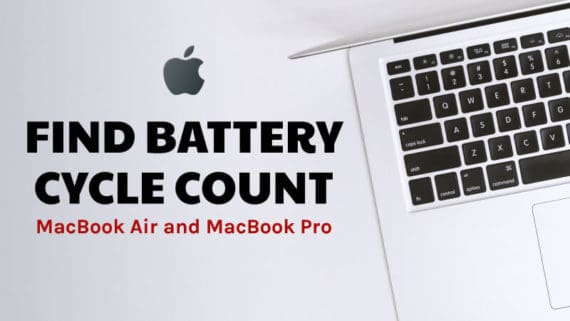 What is Battery Cycle Count
The battery cycle count is not rocket science and it is very easy to understand. Every battery of an electronic device discharges while using it without power supply and charges when connected to the power source.
Similarly, all Lithium-ion batteries of MacBook's will go through charge cycles and one cycle is considered as completed when 100% is discharged. This doesn't mean 100 to 0% in a single charge.
For instance, let's say you charged your MacBook completely to 100% and used it for a few hours until battery discharges till 75%. At this stage, you have completed 0.25 battery cycle since 25% of the battery is discharged.
When you charge it again to 100% on the other day and after a few hours of usage when the battery comes down to 25%, your MacBook will complete one battery cycle. This is because 75% of the battery is discharged now and already 25% of the battery is discharged on the previous day making it 100% discharge.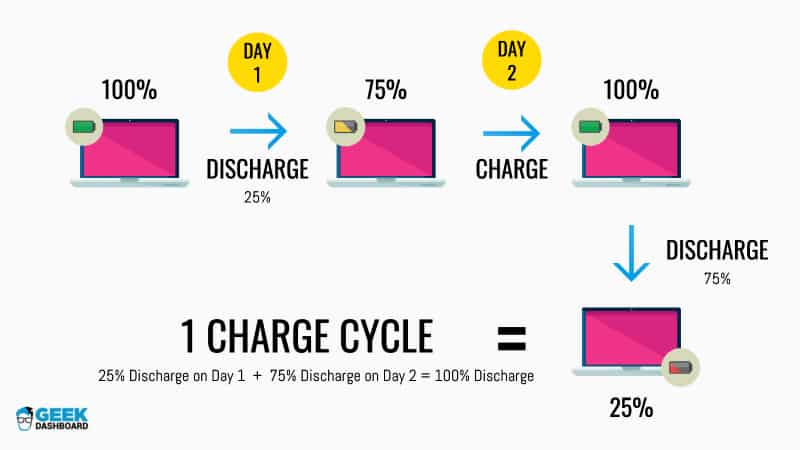 So it would take many days to completely discharge the battery to complete one cycle count. Keeping track of battery cycle count in MacBook is very important to know when you need to replace the battery.
One battery cycle count is the 100% discharge of a battery either in a single or multiple battery charges.
Check Battery Cycle Count in Apple MacBook Pro and MacBook Air
Since all Lithium-ion batteries come with limited charge cycles, you must periodically check the cycle count to find out how many cycles are left before going for the battery replacement. Follow below instructions to find out battery cycle count in any MacBook:
Hold the Option key and click on the Apple logo located at top left of the screen.

 Select System Information…
Choose Power under the Hardware section of System Information.
Cycle Count of the battery is listed under Health Information section of Battery Infomation header.

From the screenshot, you can see the battery cycle count of my MacBook Pro is just 6 as the device is pretty new. It indicates the battery of my MacBook Pro has discharged completely only 6 times which is really good.
Bonus: The alternate way to access "System Information" is opening the Launchpad and choosing System Information icon in Others folder.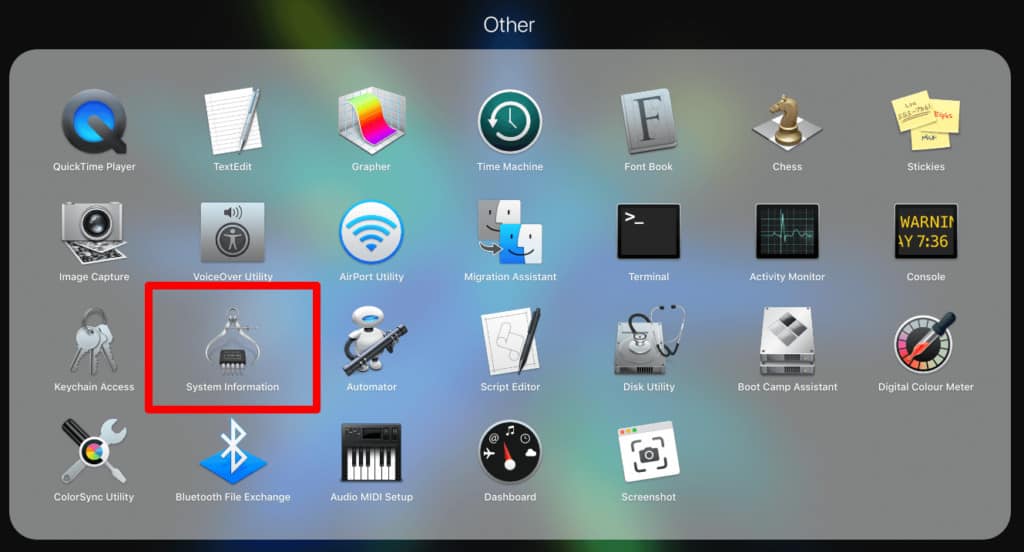 When should you replace your battery?
Apple devices use Lithium-ion batteries since they charge faster, holds power for more time and lasts longer in life. However, every Lithium-ion battery comes with a limited cycle count and you should consider replacing the battery once it reaches its limit.
Though you can use the battery after reaching its maximum cycle count, you will notice drops in battery backups and in the long run, it may affect the hardware parts of MacBook due to the uneven power supply. In short, your MacBook battery will drain too fast and you may need to charge it frequently to keep it alive.
But how do you determine the status of your MacBook battery and when should you replace it? Don't worry the answer lies again in System Information. Below the Cycle Count, you can see the condition of the battery. If it says Normal, you are good to use the battery for more days.
What is Maximum Cycle Count of your MacBook?
Did I say every battery has a limited cycle count? Yes!
All latest MacBooks will have a cycle count of 1000 and you are recommended to replace the battery once you reach the limit. Though the number seems small, it will literally take 3-5 years to reach the limit. One of my office laptop which is 2 years old had the cycle count of 463 and I'm sure that device is charged for a few thousand times.
On average if it takes 2 days for one charge cycle s0, latest MacBooks need minimum 2000 days to reach the limit. To makes things even clear, you need more than 5 years to reach the maximum cycle count. However, not all MacBooks comes with 1000 cycle count limit. Older laptops have fewer cycle counts as low as 300.
Here is the table you are looking to find out the maximum cycle count of your MacBook:
| MacBook Pro | Maximum Cycle Count |
| --- | --- |
| MacBook Pro 13, 15 and 17-inches (Early 2009 to 2018) | 1000 |
| MacBook Pro 15-inch Late 2008 | 500 |
| MacBook Pro 15 and 17-inches till Early 2008 | 300 |
| MacBook Air | Maximum Cycle Count |
| MacBook Air 11 and 13-inches (Late 2010 to 2018) | 1000 |
| MacBook Air Mid 2009 | 500 |
| MacBook Air till Late 2008 | 300 |
| MacBook | Maximum Cycle Count |
| MacBook 12 and 13-inches (Late 2009 to 2017) | 1000 |
| MacBook 13-inch Late 2008 | 500 |
| MacBook till Mid 2009 | 300 |
Can we reset the cycle count of the MacBook battery?
No, you can not reset the battery cycle count of MacBook unless you replace the battery. Since the count of charge cycles are logged inside the battery itself, it is impossible to increase or decrease the cycle counts both at software and hardware levels. The only way to reset the count to 0 is removing the existing battery of MacBook and replacing it with a brand new one.
Once you replace the battery when it reaches the maximum charge cycles, cycle count again starts from 0 and it helps in determining the health of new battery easily.
Wrapping up
If you notice your MacBook is draining quickly or to know when to replace the battery, the first thing you need verify is battery cycle count. If cycle count exceeds the maximum capacity of your MacBook or if the status of the battery is not normal, you should immediately consider replacing it before it starts harming your device.
Periodically check the cycle count of MacBook to figure out when you need to replace it and to have an idea about how many cycles are still left. Always connect MacBook to the power source to prevent the battery from discharging. Don't worry, connecting to power every time is actually good for MacBooks.
Hope you now have a clear picture of what are charge cycles, how it is calculated and how to check battery cycle count of MacBook using System Information. If you end up liking this article, consider commenting down your views and subscribing to our newsletter.