If you are using two SIM cards, you know how convenient it is to have a dual SIM device. You don't have to carry two devices just for the sake of using two numbers. It isn't too smooth for iPhone users. Being an ardent fan of the iOS ecosystem, you can't leverage the possibility of using two SIM cards simultaneously.
We all know Apple is overprotective of their platform. I don't know how dual SIM functionality affects the security or any significant aspect. Maybe, that's one of the main arguments Android fanboys have been ranting about. However, it may be changed soon.
Apple to Release Dual SIM iPhones in 2018?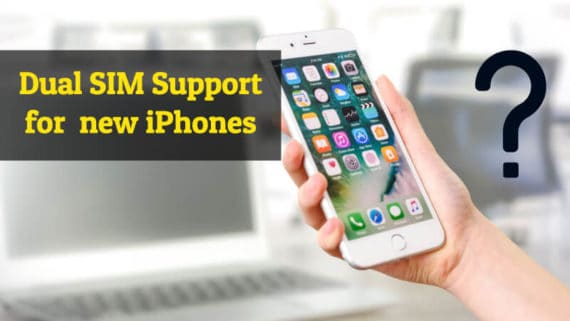 Before getting into details of the speculated feature, let us analyze how the dual SIM feature influences our lives. Take an example of a person who constantly has to travel for his work purpose. When he is abroad, he has to use an international SIM card. Being an iPhone user, he has no choice other than swapping the SIM. What if he has a dual SIM device? He can always keep the secondary SIM in the slot and use it when needed.
Also Read:- WhatsApp for iPhone Now Allows Users to Send Group Messages Using Siri
One of the main reasons behind Apple's indifference towards phones that supports dual SIM is people in the US or Canada don't crave for it. On the other side of the spectrum lies countries like India, Brazil, and Egypt, where people consider it mandatory.
The rumors on dual SIM iPhone became active just after Apple released iOS 12 developer Beta 5. As we dig deep into the codes of the platform, you can see two strings, saying 'secondSimStatus' and 'secondSimTrayStatus'. As you can see in the image given below, there are two other commands indicating the presence of primary SIM as well.

In the light of the above proof, we think Apple is moving towards a dual SIM device. If the rumors turn out true, we will see such a phone this year itself, but in selected markets.
We all know India is a large smartphone market. Still, Apple holds only 2 percent of the share. Considering the popularity of dual SIM devices here, the company may be thinking about upping the market share by implementing the same feature.
Going by the speculations, Apple is planning to launch three iPhones this year, with one, carrying a comparatively low price tag. Most probably, the dual SIM feature will debut on the most premium model that may feature a 6.5-inch display.
Apart from the dual-SIM reference, the iOS 12 beta 5 brings features like increased wallpaper saturation, darker control center, new AirPods case imagery, etc.