Is your PS4 internet slower than what your ISP provides? Do you have a noticeable lag in your PS4 or are you facing problems even connecting to PS4 servers? Then the problem might lie in your DNS configuration and you need the fastest DNS servers for PS4.
Your DNS is mostly provided by your Internet Service Provider (ISP), but you can and you should change them to custom DNS. A bad DNS can greatly affect your internet speed in a negative way. To remove PS4 gaming lag and slow internet problems, you need to configure the best DNS servers for PS4 and you can do it very easily.
Before jumping in, you should have basic knowledge about DNS servers and what happens when you use custom and fastest DNS servers for PS4.
What is DNS?
The Domain Name System (DNS) is like the phonebook of the internet. We access websites by their domain names like geekdashboard.com, whereas web browsers access them through IP (Internet protocol) addresses. DNS translates domain names to IP addresses. It converts a hostname like www.geekdashboard.com to an IP address like 45.76.166.196
What is Public DNS?
DNS servers provided by companies whose services you use are mostly private. If you use Airtel, then they'll provide you with their own private DNS servers, and you cannot use any other DNS server. DNS servers that are available to everyone are called Public DNS servers. These servers can be faster and much safer than private DNS servers. Google's public DNS server is a good example.
What is Router DNS?
Many routers set themselves as your DNS server. When you make a request for a new website URL or domain then your router's DNS server asks your ISP's DNS for the respective IP address and then completes your request. The next time you make the same request, your router remembers the IP address and results in a faster response.
What is Custom DNS and why should we use it?
Custom DNS servers are set up by private companies. Some are free and some are paid. These servers are generally faster and safer than your default DNS servers. Custom DNS servers also help you avoid censorship over the internet.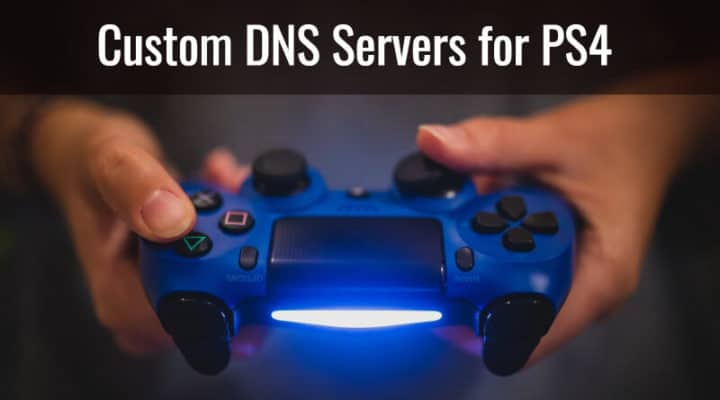 With Custom DNS you can also regulate other people's usage of the internet and can be used as parental control. You might've noticed that sometimes you cannot access a particular video or website because it's not available in your location. A custom DNS server can help you bypass that.
15 Fastest DNS Servers for PS4 in 2023
How to Configure Custom DNS Server in PS4
Open PS4 Settings and go to Network

Turn on your PS4 and go to Settings menu and select Network option.

Select "Set Up Internet Connection" 

Under Network menu, you will be many options and you need to open Set Up Internet Connection screen.

Choose either LAN or WiFi and click on "Custom

You need to select either LAN or WiFi depending on how you connect your PS4 to the internet

Set IP Address as "Automatic" and DHCP as 'Do not specify

Change the IP Address to Automatic and set DHCP as Do not specify

Select Manual in DNS Settings 

Now change the DNS Settings to Manual to set custom fastest DNS on PS4.

Enter Primary and Secondary DNS

Choose any custom DNS of our choice and type the Primary DNS and Secondary DNS. Click Done to update the DNS.


Update MTU and Proxy Settings

Se6 MTU as Automatic and Proxy Server as Do Not Use. Try out different DNS from the above table until you find the fastest one that works for you the best.
Frequently Asked Questions About Custom PS4 DNS Servers
Here are popular and frequently asked questions about changing DNS servers in PS4.
How do I find my DNS server?
You can contact your ISP, or you can enter your router IP address in the URL bar and go to your router settings panel to see your DNS server.
What is the best DNS server for PS4?
There is no specific best DNS server. Each one has its own shortcomings and some may work better for some people and work slowly for others. The key is to try out as many as possible to find the right one for you.
Is there any harm in changing my PS4 DNS server?
There is no harm in changing your DNS server and the process is completely safe. You can easily revert back to your default DNS server if nothing else works.
The DNS server I tried has made my connection slower
This happens when the particular DNS server is very far from your current location and is experiencing heavy traffic at the moment. Just try a different one from the list and you'll stumble upon the fastest DNS server for PS4.
Conclusion for Fast DNS Servers for PS4 DNS Servers
At the very end, I would like to say that, don't lose hope if one DNS server isn't working for you. Try another. Keep trying. There might be a number of reasons why a particular DNS server isn't working for you and is not the fastest DNS server for PS4.
Keep trying all the above-mentioned DNS servers and you'll find the best one. Comment below for any issues you might be facing and tell us which DNS worked for you.