Fairywill has got a great reputation when it comes to electric toothbrushes. Having Chinese roots for manufacturing electronic products, Fairywill managed to establish its brand among the competitive market of electric toothbrushes.
Today, we're going to take a look at one of the electric toothbrushes from their budget range of toothbrushes — the Fairywill D8. There are many reasons to choose other toothbrushes in the market. Albeit, Fairywill D8 is a complete value to the price you're paying here.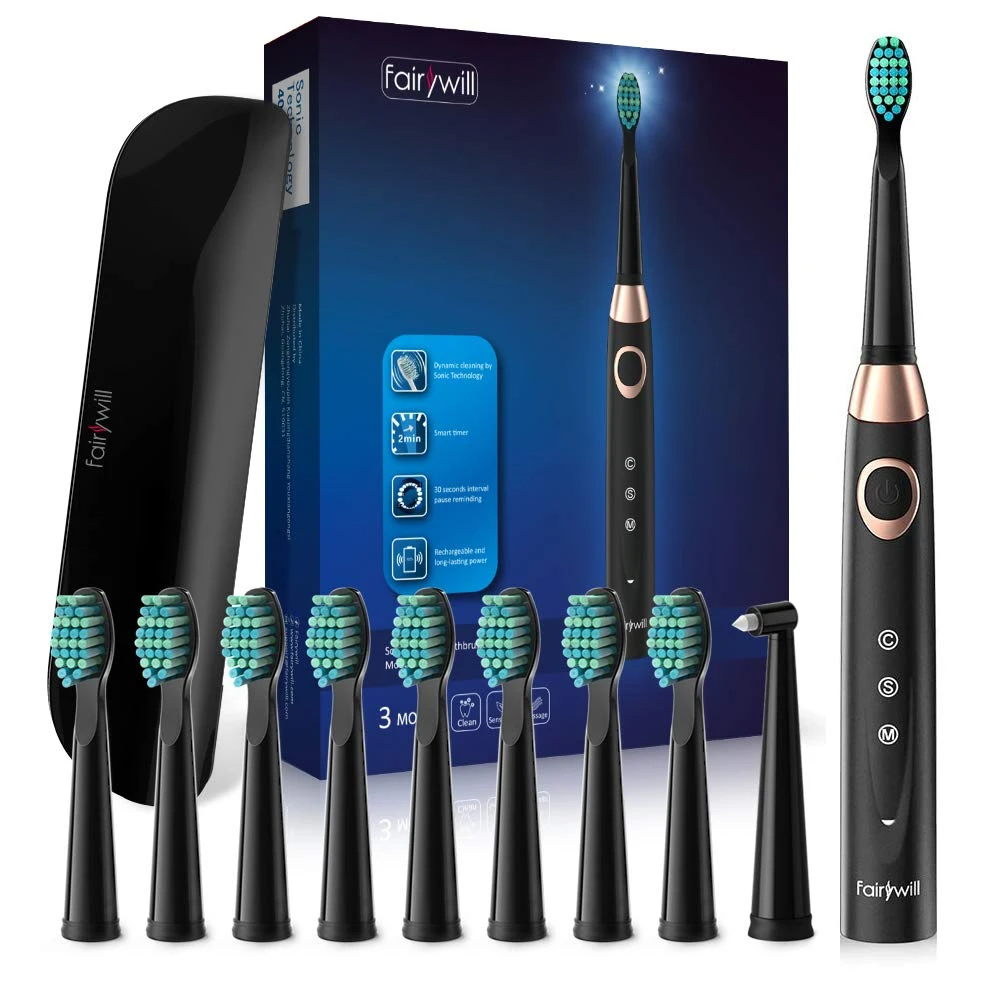 Today we will take an in-depth look at the Fairywill D8 electric toothbrush. We'll go through all the features that it offers under great pricing. Let's take a deep dive into it.
Fairywill Electric Toothbrush D8 Review
Design
Once you take the Fairywill Electric Toothbrush out of the box, you would realize it feels quite lighter coming at only 55 grams. In terms of design, the Fairywill D8 Electric Toothbrush is much similar to its higher variant, the Fairywill 507, which we reviewed recently. There is only one thing where the Fairywill D8 falls off, we'll see that in the later section.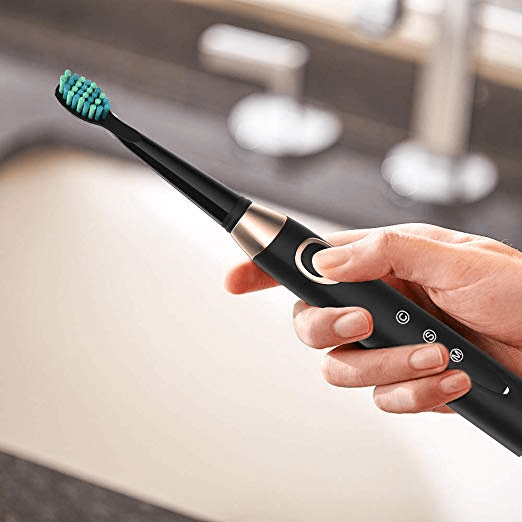 Even though they're similar, the Fairywill D8 has subtle aesthetic changes that differentiate it from the Fairywill 507. You get a longer neck here which can reach the corners of your mouth to clean them thoroughly.
Furthermore, you get the same level soft bristles on the Fairywill D8 to avoid scratches on your gums or teeth.
Features
Fairywill D8 comes with an excellent set of features. There's a Two Minutes Smart Timer on this electric toothbrush. It reminds you to have a healthy two-minute brushing as recommended by the American Dental Association. This is what Fairywill offers on all of its lineup of toothbrushes.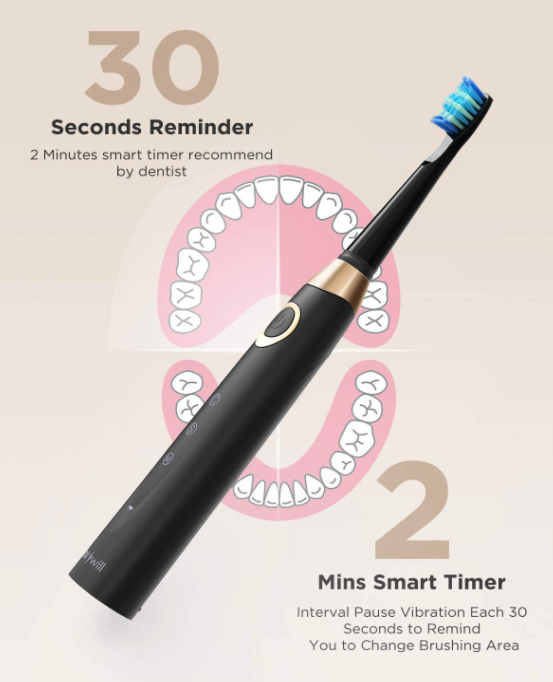 The one feature that distinguishes the Fairywill D8 from the 507 is the number of cleaning modes. Instead of five, we have only three cleaning modes here — Clean, Sensitive, and Massage. You can change the mode based on your purpose. If you have sensitive teeth, go for the Sensitive mode. You also get four extra brush heads along with it, so you won't have to worry about buying new ones sooner.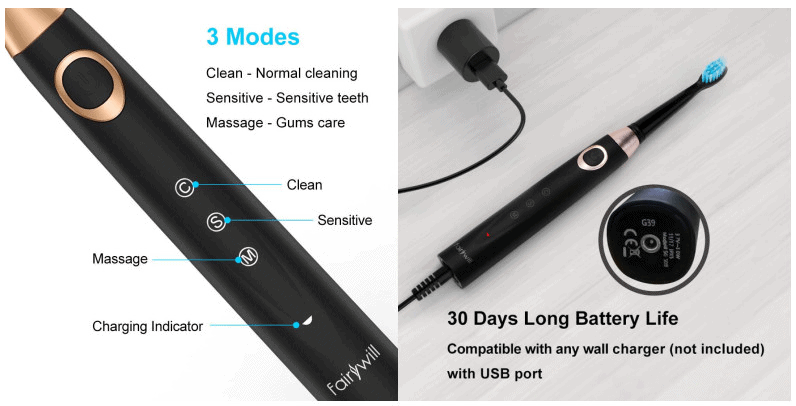 Similar to that of the Fairywill 507, you see color-changing bristles that remind you to change your brush heads when it is time to change them. The Fairywill D8 comes with ultrasonic deep cleaning with up to 40,000 micro brushes vibrating per minute. This helps in removing stains on your teeth effectively.
Similar to other electric toothbrushes from Fairywill, the Fairywill D8 is also approved by the American Dental Association; and their results show that it is good at removing plaque. At the same time, the research also states that it helps in preventing and reducing gingivitis if you use it directly.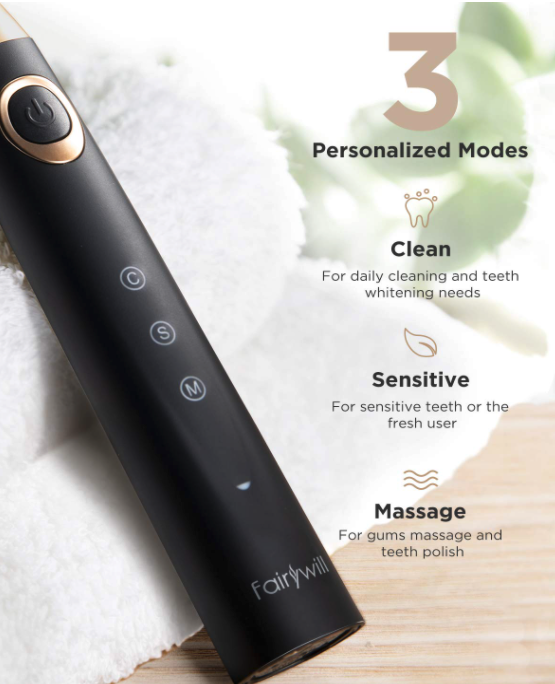 Battery Life
The battery life on the Fairywill D8 is similar to the 507 as well. The Fairywill D8 lasts up to 30 days, and that speaks for itself. The Fairywill D8 uses the typical USB charging, so you charge it wherever you want. It takes about 4 hours for the Fairywill D8 to completely charge itself.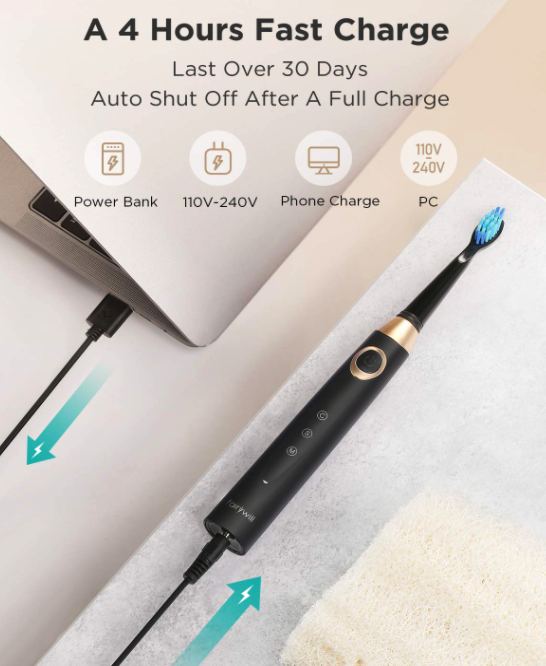 Pricing
The Fairywill D8 is priced at $22.99 in the US. If you are planning to buy the Fairywill D8, then you can find it on Walmart.com. Keep reading further to know about the exclusive deal we've got for our readers of GeekDashboard.
Verdict
The Fairywill D8 is one of the best budget electric toothbrushes out there in the market. It's quite easier to handle and gets your teeth clean with regular toothbrushing. Considering the pricing, the quality of the toothbrush is astounding. It works so well and looks elegant and sleek at the same time. We're impressed with the Fairywill D8 electric toothbrush, but if you want a few more modes for selection, you can pay a little extra and go ahead with the Fairywill 507.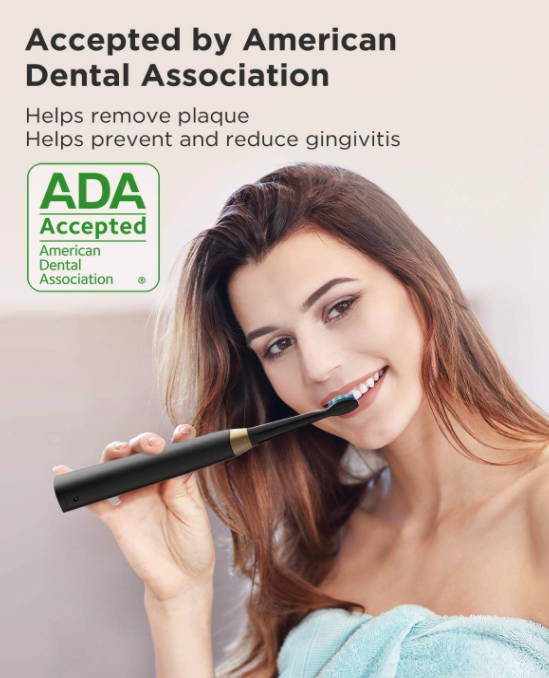 Exclusive Coupon
Before you go ahead and buy the Fairywill D8, we have got an exclusive for our readers of the GeekDashboard. If you use the coupon code "Q9OUWHHS" while making the purchase, you'll get a flat 42% discount on the Fairywill D8 electric toothbrush. As a result, the effective price of the product will be $13.39.
Frequently Asked Questions
1. Is this toothbrush recommended for kids?
Yes, the Fairywill D8 electric toothbrush is suitable for adults, teenagers, and children over 8 years old.
2. How long do the Bristles last on the Fairywill D8?
You won't see the wearing of the bristles, usually. Yet, it is recommended to replace the brush heads every 3 months, and not more than 6 months. This is to stop the growing bacteria on the toothbrush.
3. What is the warranty on the Fairywill 508 electric toothbrush?
All Fairywill toothbrushes come with a one-year warranty. Fairywill says they'll take responsibility for any quality problem.
What Users are Saying about Fairywill D8 Electric Toothbrush?
Here's what a user on Amazon has to say about the Fairywill D8:
I finally made the switch from a manual to an electric toothbrush, and I couldn't be more pleased. I love that this one charges via USB and not with a base that has to be constantly plugged in in the bathroom. You can charge this once and it lasts for about a month! This set also came with a year's worth of replacement brush heads which is amazing. I can definitely tell that my teeth are getting cleaner with this sonic brush and won't go back to using a manual toothbrush again. It's great for travel too since it comes with a travel case and holds a charge so long. The timer function is also very nice so now I know exactly how long I should be brushing.
Here's what another Amazon user says:
I own a total of 3 electric toothbrushes and this by far is my favorite! Has a 3-minute timer so it will shut off after the 3 minutes (which is great)! Fits perfectly in its case for travel (which I love as it's so easy to pack)! So far, since I've opened it for it's first charge I haven't had to charge it again so it really holds its charge! I love that I can just pop the charger cord into my laptop for a quick recharge if necessary too!
OMG…there are so many positives about this brush. It neatly packed a very nice, EASY open box. It came with 6 additional brush heads with different color bases so you can share this with other family members (which I do)…my son LOVES this brush! I have sensitive gums so I was a bit hesitant using this. My gums tend to bleed when brushing too hard so I have to use a soft brush head. After and while using this toothbrush, my gums did NOT BLEED at all! I was amazed. Additionally, my teeth felt and looked extremely clean and smooth! I highly, HIGHLY, recommend this toothbrush! BEST one I've EVER used!!!!"