Many Xiaomi users have reported they are facing awkward contacts merging issue on their phones. The phone perceives the saved contacts in a weird manner that it combines two contacts incorrectly.
Are you facing the issue? The company has officially acknowledged the issue now and they said some third-party apps are the villains here. As a temporary workaround, Xiaomi India Vice President has posted the link to an APK file on Twitter.
Solve Incorrect Contact Merging Issue on Xiaomi Phones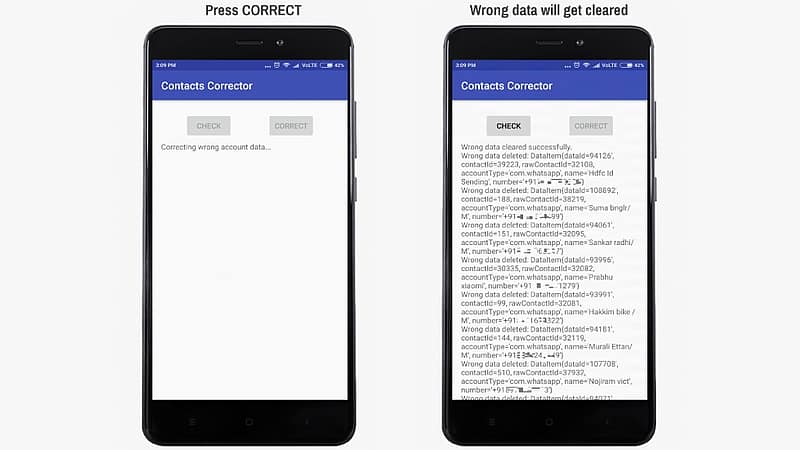 Many users have tweeted out and posted on the forum about the bug. Given the number of people causing the issue, Xiaomi couldn't go earless.
We have found a post on the forum that said the contacts app has bugs. When we check the contacts, it shows the real name. By the time you select a contact to send a text message, it will show an incorrect name for the required phone number. Some users complained on Twitter that their contacts are missing numbers.
Once the issue went online, we have seen many users coming out. It now seems like a significant portion of the users experience the incorrect merging problem on Xiaomi phones.
The company, as the issue went viral, carried out an internal investigation and found third-party apps are the culprits. (The unique environment of MIUI might be incompatible with such apps). Manu Kumar Jain, on Twitter, shared a link, which brings you to downloading an APK for Contacts Corrector.
You have to download the file and install the application on your phone. Then, open it up and hit Check to search for the errors. Finally, you need to tap Correct to resolve all the contact related issues on Xiaomi devices.
If you don't find this method helpful, you will have to uninstall and reinstall WhatsApp and Truecaller. Maybe, disabling syncing for WhatsApp (Setting > sync > disable WhatsApp sync) also works. Don't forget to backup your chat data before you proceed to you uninstall the WhatsApp.
You must bear in mind that this is a temporary workaround. The company promised its users to come with a permanent solution for the issue. They have even approached Google and WhatsApp for this purpose.
Xiaomi is one of the top smartphone manufactures in India. They even sold a fifty million Redmi Note 4 units here. Given the massive number of users in the country, we hope they will release the permanent fix for the issue very soon. Delaying it will only deteriorate their reputation among their millions of users.
Do you own a Xiaomi device? Are you facing the incorrect contact merging issue? Let's know whether the workarounds given above helped you or not.