The Facebook turned out to be a shameless copycat of Snapchat in August last year. They incorporated disappearing stories into Instagram, mimicking the original Snapchat feature.
Later the company went on to release the same facility for WhatsApp too. On the day before yesterday, Facebook rolled out another Snapchat-like feature, geo stickers for Instagram.
So, we got a clear idea about where the company heads to. And, the tech world was eagerly waiting for the next Snapchat clone from Facebook. Without making us waited for so long, here it comes.
Facebook Messenger Gets Snapchat-like Stories, Dubbed Messenger Day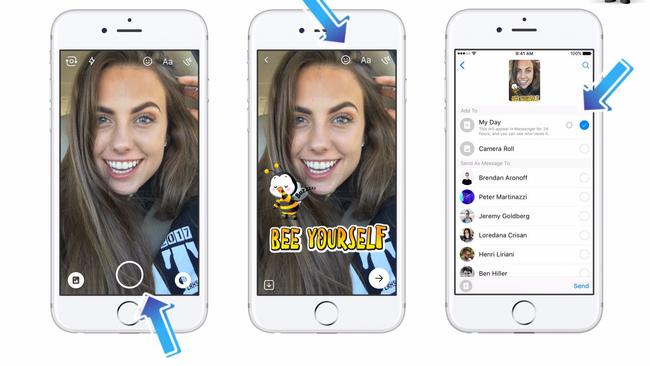 The Messenger Day feature got rolled out with yesterday's Android and iOS app updates. And, you can see 'Days' on chat boxes of web version as well.
If the new feature goes viral, it will open a new visual method for the conversation that we are not yet familiar with Facebook. The company's vice president of messaging, David Marcus hinted that they would most probably insert ads between Messenger Day updates in order to make it one of the significant revenue streams.
You have to update your Facebook Messenger to get this feature. In case you don't see any updates, waiting for a day or two will do the trick. Or, just download the APK file of the latest version.
In December last year, Facebook rolled out an important update to Messenger with the enhanced camera. Day feature works on top of the same. To create a day, tap on the camera button on the bottom-center, take a picture or video and select My day under Add to section. There you go!
You can also apply specific stickers that match the capturing occasion. It is possible to create a day using a picture or video from your gallery or a media shared in a conversation.
As far as the privacy goes, Messenger did it much better than Snapchat. You can choose between friends or everyone on the latter whereas the former can blacklist people so that they don't see your updates.
Though you can't send reactions to others' Day updates, Facebook allows us to send private reply quoting them with custom or pre-filled messages.
Once you update your Messenger app, you can see others' day on top of all your conversations. The green circle under the name indicates whether a person is active or not at the moment. You can share pictures, 10-second videos, and GIF as Messenger Day.
What does Facebook roll out next? Stories for parent Facebook app?? And, what will Snapchat's combating technique given that their popularity is declining? Let's wait and see.