Facebook is testing dark mode for its mobile applications. A user on Twitter has claimed that he can now enable dark mode on his Facebook application. The company has rolled out dark mode features for some users. Facebook has already rolled out dark mode for Facebook Lite app in February and for Messenger in April 2020.
As mentioned above, the dark mode is already available for many apps including the apps from the Facebook Family such as Instagram, WhatsApp, and Messenger. Now, Facebook is testing the feature for the Facebook app but before getting into that, let's take a look at the Dark mode.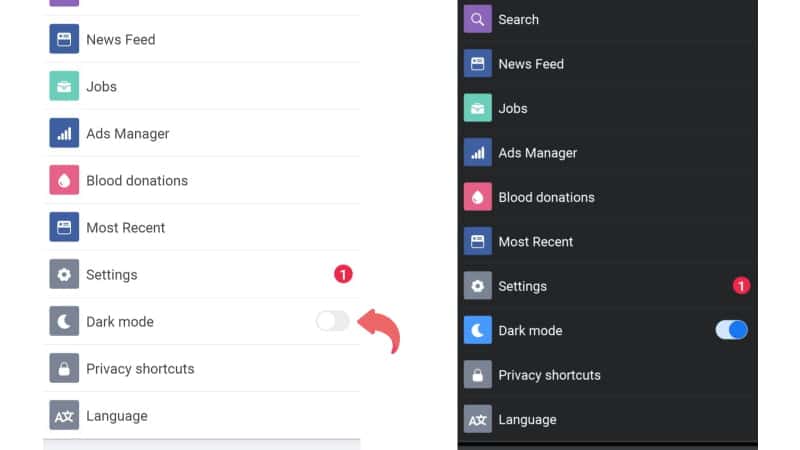 What is Dark Mode?
The dark mode or dark theme or night mode converts the background color scheme of an application to black shades. The feature helps users to use the application in low-light environments or at night, along with lower contrast and vibrancy. Thus, not giving too much strain to your eyes.
Dark Mode on Facebook
A screenshot shared by a @NotFridayCraig on Twitter shows the new dark mode setting for the Facebook App for iOS. The update is rolled out for a few iOS users globally. The dark mode setting will be available on the 'Menu' right above the 'App Language' settings.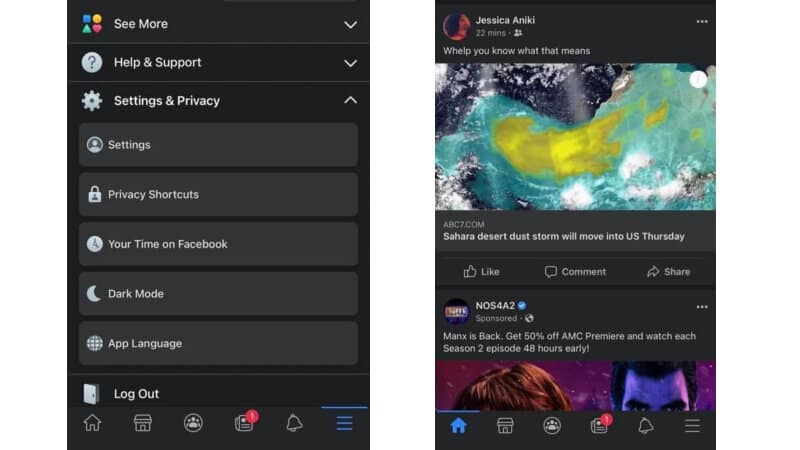 When You will Receive the Update?
For now, the company hasn't talked anything about the global rollout for the Facebook dark mode or when the feature will arrive for Android users. However, we can expect the feature in the beta version of the application in the coming weeks.
The dark mode feature was the most requested feature for WhatsApp and the most awaited feature came this year in January for Beta users, and now everyone can use it. To enable dark mode on WhatsApp, Go to Settings > Chats > Theme > Dark.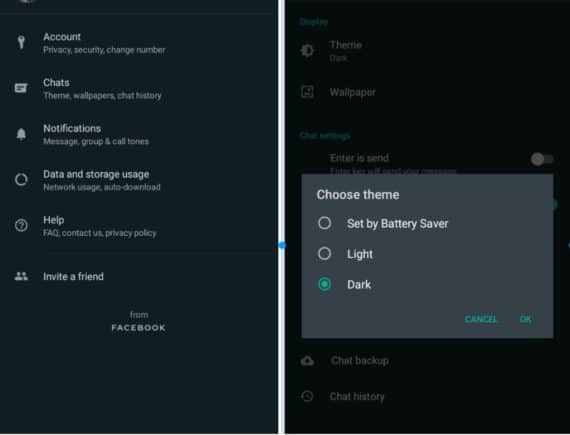 For the Facebook Lite users, the dark mode can be enabled from the Menu section, the option is right below the Settings option. Enabling the feature is easy, users just have to click on the option the 'Dark Mode option'.
Recently, Facebook introduced 'Collab' an application for short video creators. With Collab application users can create, watch, and mix and match original videos, starting with music. The application is developed by Facebook's new product experimentation (NPE) team. Further, as its name suggests "collab", these are a mixture of three independent videos playing in sync.