It seems Facebook employees are working overtime. They have regularly working on new features to make the platform optimized for users. Snapchat-like stories for Facebook and reactions for messages were some of the recent features they came up with.
One day ago, on 06/04/17, Facebook has launched an AI assistant named 'M' for the Messenger. It offers suggestions for the users on the messaging screen itself.
Facebook's 'M' AI Assistant Offers Suggestions on Messenger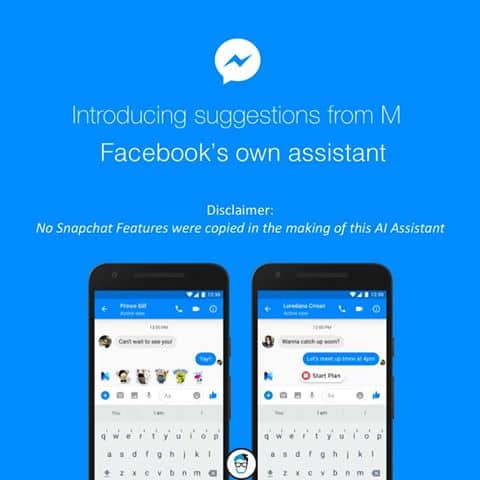 Actually, 'M' isn't a new thing. They have announced it about a year ago. At that time, it was an AI experiment from the company powered by humans. In a blog post, Facebook says that they have learned a lot from the experiment and the experience made them develop an automated AI assistant named 'M'.
They have been testing the feature on a small percentage of users in the past few months. As the experiment was successful, they are launching the service globally for everyone.
'M' offers helpful suggestions on your conversation screen. It often tells you to contextually use features on Messenger you rarely do.
'M' comes handy in different types of conversations. When you send a message on daily life interactions like bye-bye or thank you, it will display suitable stickers you can send to the other person.
The AI assistant is so smart that it can show the paying or requesting money buttons on the screen when an interaction on payments is going on. So, you can use them with a click rather than typing a whole message.
'M' can also help you share your location without even touching the specific option for it. The AI assistant learns your conversation and shows it if needed.
If people plan to get together, 'M' shows an option to create a plan. You and your friend can stick to the plan then.
Do you ever find it impossible to get opinions from a group? Facebook's 'M' assistant can show an option to create a poll whenever needed. You can collect opinions without digging into the endless stream of messages.
'M' comes into play when you want to go out without someone as well. It displays 'Get a Ride' with an option of Uber.
'M' uses machine learning techniques to come up with contextual suggestions. We already experienced it when it comes to events. Messenger shows an option to create events when we talk about doing something at a specific time.
As of now, the AI assistant is available for the US users only. It has started rolling out on 06/04/17 for iOS and Android. We hope that they will bring it up for the global users soon.