Are you looking for a keyboard that becomes your gaming companion as well as fulfills your professional needs?. Look no further as EvoFox Fireblade TKL Wired Gaming Keyboard will fill that void. This Amkette keyboard with EvoFox branding comes with high-quality backlit membrane keys at affordable pricing.
There's a lot of competition in the gaming components space, especially in the PC world apart from the gaming consoles. Selecting a specific keyboard for a definite purpose such as gaming is an important decision to make for a better experience for your desired purchase.
In this excerpt, we will give you an in-depth review of the Amkette EvoFox Fireblade TKL Wired Gaming Keyboard along with its Pros and Cons. Without further ado let's jump right into the review.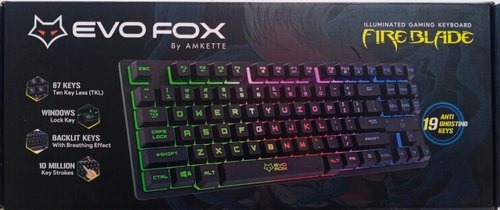 Amkette EvoFox Fireblade Features and Box Contents
The in-box contents of the EvoFox Fireblade product include only a gaming keyboard covered in a wrap, stickers, and a warranty card. At first glance, the EvoFox Fireblade gaming keyboard features a membrane design with elevated keys that mimics the mechanical keyboard feel.
While the membrane key design grabs the attention, the Tenkeyless Space Saving Design is a significant asset on the gaming keyboard.
The Tenkeyless design provides more space while keeping the form factor small and practical for any size of the desk. That is because the keyboard doesn't come with a full-fledged number keypad which gives a compact sizing.
On the other hand, the company has even provided an RGB backlit key called Rainbow Backlit. This backlit RGB system on the keyboard features a single mode that we will discuss in the latter part.
The connecting cable or the wire with a USB plug-in at the end comes with a 1.5 m length covered in a braided design.
| | |
| --- | --- |
| Dimensions | 35.8 x 12.7 x 1.3 cm |
| Weight | 492 gm |
| Color | Black |
| Connector type | Wired USB Plug and Play |
EvoFox Fireblade Specifications
Amkette EvoFox Fireblade Build and Performance
As mentioned above, the Amkette EvoFox Fireblade keyboard comes with a Tenkeyless space-saving design, giving it a more compact and comfortable feel. The keyboard quickly fits into tight spaces and feels comfier for long gaming sessions.
In addition, the inclusion of the membrane elevated keys gives a tactile feel and more of a mechanical keyboard experience while typing and gaming with an authentic clickity-clackity sound.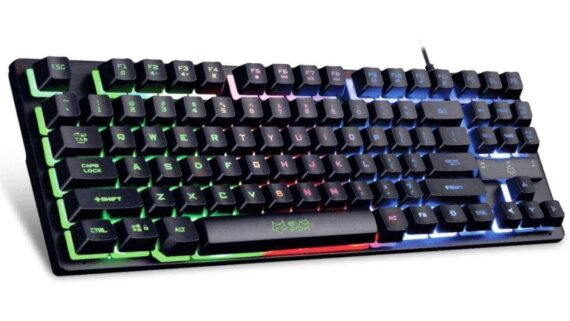 The keyboard performs well in every gaming aspect and gives a good feel while in intense gameplay. The so-called Rainbow backlit system on the keys shows many colors and features a lone breathing effect.
However, there's no customizability provided on the RGB system, which is a bummer as we cannot change how the LEDs run. We can either use it in static or breathing mode or turn it off completely.
There are 12 multimedia keys provided alongside the function keys on the Amkette's gaming keyboard. These multimedia keys help in easily toggle the media controls right away.
Conversely, the keyboard comes with anti-ghosting, and at this price point. This keyboard, with its 19 anti-ghosting keys and a mechanical feel, gives tough competition to other keyboards in the segment.
The Pros and Cons of the EvoFox Fireblade Keyboard
Take a look at the advantages and disadvantages of the EvoFox Fireblade Keyboard mentioned below. This way, you can quickly decide whether to purchase the keyboard or not.
Pros
Durability for up to 10 million keystrokes
Braided USB cable with magnetic ring
Elevated Membrane keys
Anti-ghosting and multimedia keys

Cons
The laser-etched keys don't serve the purpose of showing keys when its turned off.
Only one RGB mode and no customizability

Frequently Asked Questions
Here are some of the answers to the questions mostly asked by the users before purchasing a gaming keyboard.
Final Thoughts on the EvoFox Fireblade Keyboard
The Amkette EvoFox Fireblade Keyboard, although with its average build quality, gives a mechanical keyboard experience at feasible pricing.
However, if you are looking for a full-fledged keyboard with a number keypad and a customizable RGB lighting, you can skip this and look for other options. But those will come at more premium pricing.
The EvoFox Fireblade keyboard comes as a perfect fit for gamers with less desk space and who are looking for an RGB backlit keyboard with a mechanical feel at an affordable price.