What we think about
EMCO Remote Installer
EMCO Remote Installer is best tool to remove install or uninstall hundreds of software's in your office remotely. It will make your work easier than ever.
Installing and uninstalling software or apps on a Windows PC is as simple as ABC. But when it comes to doing the same for tens and hundreds of PCs, nothing else can be a more laborious and mundane job. Above all it takes hours and sometimes days (depending on the installation size) to do the work. Thanks to the brainy software developers, they have always minimized our work by finding automated alternatives to such boring and time gulping tasks. One widely used alternative is deploying a remote installer. EMCO Remote Installer is one such great remote installation software from EMCO Software, a pioneer in software development and distribution solutions for Microsoft Windows. EMCO Remote Installer allows network admins to install or uninstall software remotely on PCs that are connected to a LAN.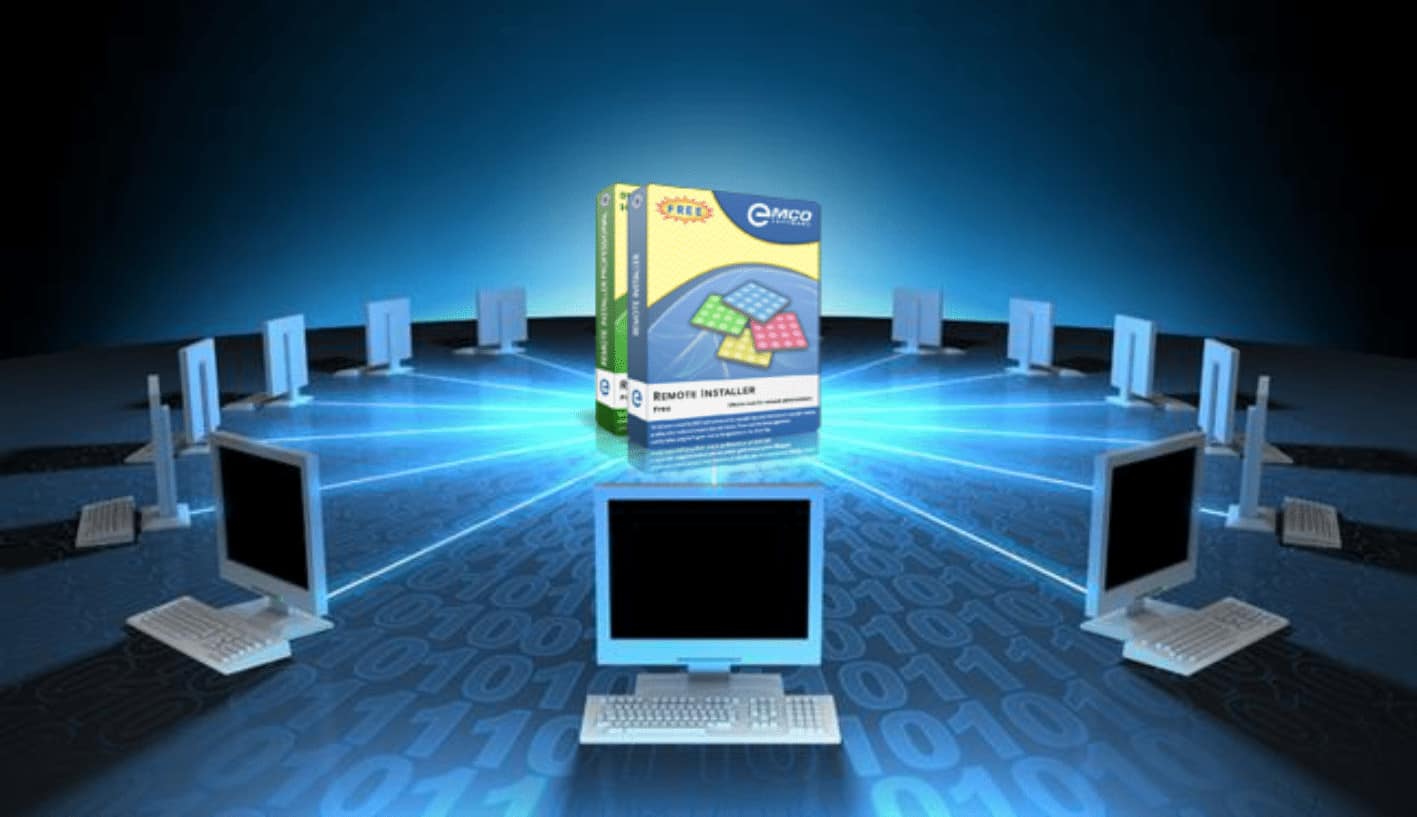 Unlike what the name implies, EMCO Remote Installer is an integrated solution that not only handles remote installation of software on networked Windows PCs, but offers a lot more. Here is what one gets with EMCO Remote Installer –
Features of EMCO Remote Installer
Batch deployment of EXE installation and MSI patches on multiple PCs.
Perform installation and uninstallation of multiple software on multiple PCs at once in a matter of few mouse clicks.
Scheduling automated installation or uninstallation of software on a certain date and time.
Extract installed applications log from the networked PCs and maintain a database of the same to simplify the auditing process.
Monitor the software installation changes on the networked PCs collectively or per PC.
I have used a couple of remote installation software before giving EMCO Remote Installer a shot. I could see that EMCO Remote Installer was a clear winner with the number and kind of tasks I could perform(as mentioned above) on my network of Windows PCs with the EMCO Remote Installer. Here is why I've turned into an advocate of EMCO Remote Installer :
Why EMCO Remote Installer?
Time saving – The whole purpose of using a remote installer is to save time for other organizational tasks, and EMCO Remote Installer helps one save the most time with features such as batch installation of two or more software at once and creating a database of software installed in one or more of the networked PCs.
Trustworthy –  Needn't mention, EMCO Software has emerged as a reputed brand when it comes to providing corporate software solutions for managing Microsoft Windows. No wonder EMCO Remote Installer has an illustrious clientele comprising of brands such as Pepsi co, Ferrari, FedEx, Boeing,  HSBC and Sun Microsystems.
Ease of Use –  EMCO Remote Installer makes all the technical sounding tasks such a cake walk that an admin with the minimum knowledge of remote operations can manage the process. The interface is designed so as to make the software self explanatory to the maximum extent.

Lucid Manual –  EMCO Remote Installer comes with an online user guide made available at all times on their official website. A user manual just can't get any more simple and comprehensible. Every aspect and process is explained in fine detail with screenshots.
YouTube Channel – To demystify any further complications, EMCO software's official YouTube channel uploads how-to videos which show screen-cast tutorials for simple to complex tasks that one can perform with the remote installer.
Economical –  When compared to other paid remote installers, surprisingly,  EMCO Remote Installer turns out to be a cheap deal considering all the features it is packed with. One can save huge by buying as per requirement depending on the number of systems that will be networked, starting from 25 nodes to unlimited nodes. A discount of 30% can also be availed if the purchase pertains to an educational, government or non-profit organization.

Compatible – The remote installer is compatible with the latest of Windows versions. So you need not worry about any unwelcomed compatibility issues popping out of nowhere.
Support –  Apart for indirect support like providing an in-depth user manual and how-to videos, EMCO Software provides other reliable forms of support. EMCO Software lets you approach them through multiple ways such as online support, E-mail support or phone support just so that can serve you at your convenience.
I have tried to cover this review in detail. I could not find any mentionable problems with the remote installer. If this EMCO Remote Installer review did not sound convincing enough and you are still skeptical about the software, you may try the free version of the remote installer. That is what I have done before shelling cash and I have never repented. The free version supports only 5 networked PCs at once. But that would help you get a better picture.
What we think about
EMCO Remote Installer