eBay is back again with Rs. 79 16 GB Pendrive. They already made a successful campaign few months earlier and made more than lakh sales of 16 GB  Sandisk pen drives for 79 rs. Actual MRP of this 16 GB pen drive is Rs. 449 but in this promotional offer, eBay is selling the same 16 GB Sandisk USB pen drive for just 79 INR.
This offer is limited only for few people and user should register their mobile number to avail the 79 rs pen drive offer. The user should register their mobile number from the offer page and on December 22, they will receive the coupon code to buy the 16 GB pen drive for just Rs. 79.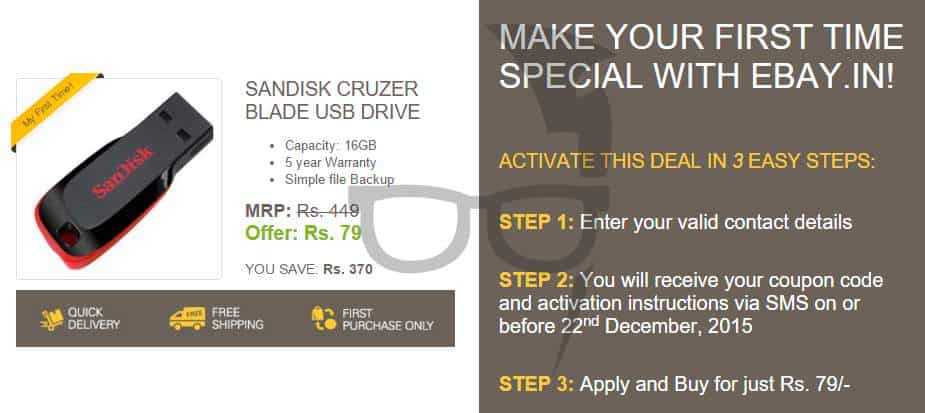 Here are the details on how to use this offer.
16 GB Pendrive for 79 Rs. [eBay Promotional Offer]
I suggest you read the terms and conditions at the end of this article first and then follow the steps mentioned here to get a 16 GB pen drive for 79 Rs with free shipping.
Step 1:
Go to the offer page by clicking here. (Offer expired)
Step 2:
Enter your 10 digits mobile number and PIN code of your area. Tick "I agree to receive SMS from eBay.in regarding promotional campaign." box and click on Submit.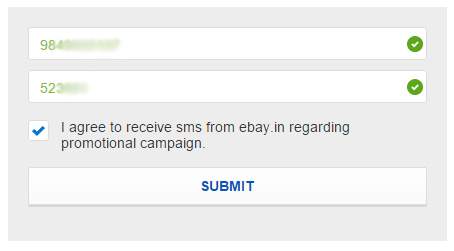 Only one registration is allowed per number. If you have multiple numbers, then you need to create multiple eBay accounts to get the 16 GB pen drive for 79 rs.
Step 3:
You'll receive a confirmation message from eBay asking to wait till 22nd December 2015 for the coupon code.
Step 4:
On December 22, you will receive one more message with the coupon code. Open this link (Deal Ended) and add the pen drive to your cart. At the checkout page apply your unique coupon to get maximum discount. Once you apply the coupon, you can buy the Sandisk pen drive for 79 rs.
Once you make the payment with debit card/credit card/net banking, pen drive will get delivered in 2-8 business days depending on your location.
Terms and Conditions 
Offer valid once per mobile number
Offer valid only once for account
COD not available
16 GB pen drive @Rs. 79 offer details:
Manufacturer warranty for 5 years
Free Delivery
Original Product