This software is exclusive for movie lovers. I have seen lots of people who are waiting to for download links for any movie in the very next day of its release. While some people are interested to watch those movies on the first day and even first show. I don't know in which category you suits perfectly. Leave them aside, I'm the one who comes in neither in first case nor in the second case. I always prefer to watch movies or videos in Blue-ray, but one problem always irritates me. Whenever I played them on my DVD player, it stop/start frequently. I always miss fun mainly due to this problem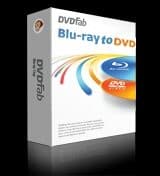 Then I started to find a permanent solution for this and wow, I found a DVDFab Blu – ray to DVD Converter. After using it, till now I have never seen such problem with my DVD player. It was fast and user friendly too. This tool helps us to convert videos without loss of resolution and sound quality
About DVDFab Blu-ray to DVD Converter
DVDFab Blu-ray to DVD Converter is one and only tool till now available in this entire world which is capable to Copy Blu-ray to DVD in simple steps.
Features of this tool
Decrypting
Decrypting power of DVDFab Blu-ray to DVD Converter tool is simply awesome. As this tool has a powerful decrypting tool it is capable to convert any Blue-ray DVD's even if it is password protected
Playable in DVD players 
It will convert the entire video in Blue-ray in DVD format. So, it can play on DVD player without any noise and disturbance
Intelligence  
DVDFab Blu-ray to DVD Converter is self thinking tool. It can take its own decision without 1% involvement from you. It can analyze the entire format and details of a Blue-ray disk while converting to DVD format. Only one thing we have to do is clicking Convert
Saving capacity
It can backup and save data in Blue-ray to your local disk.
Merging
If you have Blue-ray disks and you're thinking to make all those disks into one DVD, then DVDFab Blu-ray to DVD Converter is capable to full fill your need
Selecting particular part 
What? Not thinking to convert the entire DVD? Not a problem, you can select a particular part of video for converting. This helps you to save your time and energy
No need to count seconds
Almost 90% of people do these kind of converting while going to bed. So, what after completion of converting? Your computer/laptop still awake till you wake-up. Waste of power, right? But, DVDFab Blu-ray to DVD Converter has auto shutdown feature i.e., after converting computer/laptop automatically turns off
Availability
DVDFab Blu-ray to DVD Converter works on both Windows and MAC
Requirements 
Windows XP or Higher operating system
512 MB RAM
Internet connection
100 MB+ free space in hard drive
A Blur-ray drive