What we think about
Jihosoft Free Eraser
Even after deleting files from Recycle bin, they can restore by making use of recovery tools. Hence your confidential date can be restored by someone without your 1% involvement. Hence there is an urgent need to remove files completely without leaving any traces. Jihosoft Free Eraser software let you delete files permanently from your computer easily without any difficulties.
I have seen lots of people who are willing to sell or donate their old computer but worry about others access or view their personal data. Technically speaking, when hit the "Delete" button attempting to delete a file from computer, it doesn't actually delete files permanently. The deletion action does is only unlink the file so it is neither visible nor accessible. Even when empty the recycle bin, the file is still there and has a big chance to be recovered with data recovery software. If you are worry about leaving important information on your computer and want to truly and securely delete a file or folder, or all contents of an entire drive, you need cleanup program that will overwrite the space the file once sat more than just deleting it. Making use of software's we can delete files permanently from our computer. So when we sell our PC to someone, there are 0% chances to recover our important data even with the data recovery tools.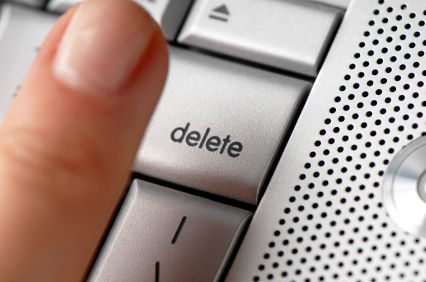 Fortunately, it is now a big deal to delete files permanently when so many wonderful file shredder software programs available online. Among them, Jihosoft Free Eraser shows very intuitive and user-friendly interface with quite simple visual guidance. It is free so you don't have to pay a penny. I tried it and everything worked fine. The program download is quite simple and there's no difficulty to install it on the computer. It is very easy to use and even a newbie can delete files permanently easily without any difficulty.
Also, Jihosoft Studio recently introduced the updated version of this free eraser – Jihosoft Eraser Pro, which added the ability to erase content from iDevice like iPhone, iPad and iPod Touch. Here in this Giveaway, you can get free registration keys of this Jihosoft Eraser Pro(Starting Soon).
Jihosoft Free Eraser Review
Jihosoft Free Eraser is a top-rated data destruction software application exclusive for data security and privacy protection. It provides Windows users with an easy, quick and safe solution to delete files permanently and confidential information with carefully selected patterns. Not only files and folders, but also content of entire drive or partition can be wiped out with ease. And its advanced data overwriting algorithms ensures it impossible to recover deleted files and folders.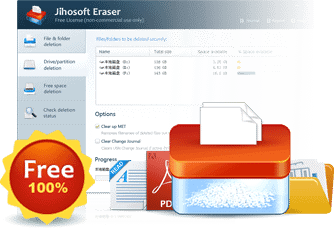 Main Features of Jihosoft Free Eraser
Cleanup All Sensitive Information
Jihosoft Free Eraser is simple but professional data wipe software which enables Windows users to delete files permanently. This program runs well on all popular Windows operating systems and supports wide Windows file systems like HFS+, FAT12/16/32, NTFS, USF, XFS, EXT2/3, etc.
Advanced Data Overwriting Algorithms
Jihosoft Free Eraser software provides multiple levels of data overwriting algorithms for ensuring data security and privacy protection, including Random overwrite; US DoD 5220.22-ME; High – German standard; US DoD 5220.22-M ECE; and Peter Gutmann standard.
3 Data Deletion Modes Provided
Different from other free eraser software, Jihosoft Free Eraser is a single program that can serve three data deletion modes, including File & Folder Deletion, Drive & Partition Deletion, and Free Space Deletion. Users can choose one deletion mode to delete files permanently as needed.
Free of Cost, 100% Clean & Safe
No one would like to spend $ for erasing data from hard drive or other storage devices. This program is totally free for personal use which enables users to perform file eraser free of cost. It doesn't contain any spyware or malware. And you needn't worry any damage to your PC hard disk or any storage medium.
Besides the above mentioned highlights, the program also record data wipe history and product usage journal for users' further review. To sum up, among all free data destruction software applications, Jihosoft Free Eraser really stands out for its powerful functions, excellent performance and beautiful & intuitive user interface.
Jihosoft Studio is hosting
Play Dice and Win
promotion this month. Don't miss the chance to win discount or free copy of any Jihosoft product. Go play it and win before it expires.
How to delete files permanently using Jihosoft Free Eraser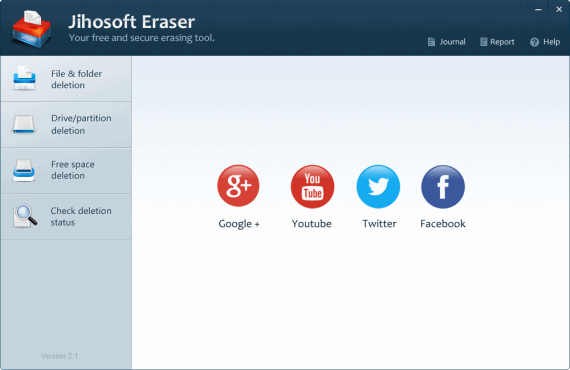 Select "File & folder deletion" mode
Click on "Add files" or "Add folders" to load specific files or folders. From the drop-down list of "Security level", choose one as your desired deletion method. Finally click "Start deletion" and "Yes" in the popup window.
Select "Drive & partition" mode
Select the partition you would like to wipe out all data included in it, then click "Start deletion". Once you selected the data destruction pattern, the deletion will begin promptly.
Select "Free space deletion" mode
Select the drive where its free space you'd like to erase from the detected drive list. Then click "Start deletion" and choose a data destruction method to begin cleanup.
Hope this make sense and it helps you to delete files permanently from your computer. Now you can sell or give your hard disk to anyone and your confidential data is perfectly secured and they even can't retrieve them using any recovery software's.
What we think about
Jihosoft Free Eraser