Tata Sky, one of the popular DTH providers in India now lets you deactivate your Tata Sky account or subscription temporarily. The new temporary account suspension option is very handy and saves a lot of money.
The traditional local dish networks work on a postpaid model which lets you use their service and collect the amount at the end of the month. But Tata Sky is a prepaid model where you recharge your Tata Sky account with any amount you like and money will be deducted every day. Your account will remain active until your account balance becomes zero.
This postpaid model of Tata Sky and deducting money daily has a lot of advantages. You can change the packs, add or remove channels anytime and you will be charged accordingly without waiting for next month's billing cycle. This gives you a lot of control over your account.
Why Should You Suspend Tata Sky Account Temporarily?
The balance in your Tata Sky account will be deducted daily no matter if you watch the TV for 1 hour or 24 hours a day. Even though you are not switching on the set-top box for the entire day, the amount will be deducted for the day. This sounds fine if you are not using the Tata Sky service for a couple of days randomly in a month.
But what if your TV needs repair or you are going on a vacation or preparing for exams where you know in advance that you will not use the DTH for a lot of days.
Do you need to pay daily?
No, you can temporarily suspend your Tata Sky account to save money. When you deactivate the Tata Sky subscription, the balance in your Tata Sky account will not debit until you reactivate it again.
Step by Step Guide to Deactivate Tata Sky Account Temporarily
The easy and quick way to temporarily suspend a Tata Sky account is by using Tata Sky mobile application. Download the Tata Sky app (Android | iOS) first and follow the steps below to know how you can deactivate the Tata Sky account temporarily:
Open the Tata Sky app and log in to your account.
Tap on the Profile icon and select Contact Us.

Click on the Get Help button.

From the chatbot, choose Account & Profile.

Now tap on Suspend my services and then choose the Suspend complete account option.

Select the reason to temporarily suspend your account and hit Submit. In my case, I have chosen "Going on Vacation".
Lastly, enter the Start Date and End Date.

Hit Submit to confirm the details.
The steps to deactivate your Tata Sky account are the same for both Android and iOS apps. The only difference is, the profile icon on iOS is placed on the top left, and in Android, it is on the top right. You can also suspend your account from the official Tata Sky website by following the same steps.
How to Reactivate the Suspended Tata Sky Account?
If your Tata Sky account is suspended due to insufficient balance, you can reactivate the account by recharging for at least 1 day. The charge for the day varies for each account depending on the chosen pack and channels.
However, if you have temporarily suspended the Tata Sky account voluntarily, you can reactivate it anytime as shown below:
Turn on your TV and Set-Top Box.
Log in to your account using Tata Sky mobile app.
Tap the Profile icon and choose Contact Us.

Click on the Get Help button.

Inside chatbot, tap on Account & Profile.

Now select Resume my service.

Tap on Continue to reactivate the account.

Your Tata Sky account will be activated instantly. If the services are not resumed even after 5 minutes, give a missed call from the registered mobile number to 9040590405 or to the phone number displayed on your television.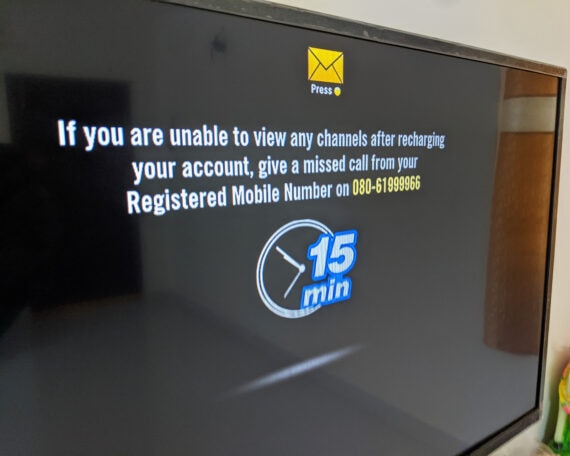 Frequently Asked Questions
Here are popular and frequently asked questions about temporarily suspending a Tata Sky account.
How long can I deactivate my account?
You can suspend the services for any number of days you want. There are no upper and lower limits. At the time of writing this article, I tried deactivating my account for 700 days and it worked.
How many times can I use the temporary account suspension option in a year?
You can use temporary account suspension unlimited times in a year.
Are there any hidden charges for activating and deactivating the Tata Sky account temporarily?
No. activating or reactivating a Tata Sky connection or Tata Sky Set-top box is completely free of charge.
Why can't I select today's date as the "Start" day?
The start date can not be today's date. You can pick any other future dates as the start day. It can be 1 day from today or 1000+ days from today's date. You also need to make sure the end date must be greater than the start day.
Can I reactivate the account before the end date?
Yes, you can reactivate your Tata Sky account whenever you want to. If you wish to reactivate the account early for any reason, follow the reactivation steps above.
Conclusion
The temporary account suspension feature in Tata Sky is one of the handiest features available. Earlier people used to recharge only required amounts monthly but due to various cashback offers, Google Pay games, etc, people started recharging their Tata Sky accounts randomly and maintaining enough balance for few months. So suspending the Tata Sky account temporarily when you are not using it saves a lot of money and gives you more watch time.
Though this temporary account suspension feature is not going away anytime soon, the steps to do it may change or the UI of apps may revamp. We'll update the steps accordingly if anything changes in the future. Alternatively, you can also contact Tata Sky customer care at 1800 208 6633 from your registered mobile number to request temporarily deactivating your Tata Sky account.