Photo graphics like infographics, posters, and social media art are getting popular. There are many online user-friendly websites to create infographics, posters, and social media art for various topics.
Here I'll show you an online photographic maker called DesignCap with which you can achieve this easily and quickly.
Creating Infographics, Posters, and Social Media Arts
With so many art resources and flexible editing tools, DesignCap will help you create a variety of graphic designs, including infographics, posters, social media art such as YouTube channel art, Facebook covers, Instagram posts, and even a print catalog, all with just three simple steps.
Step 1: Choose a template
As I mentioned before in this article, DesignCap offers a large number of professionally designed templates for all kinds of needs. Select the right category, browse the templates and pick the substitute one to start your design.
Step 2: Customize the design
According to your requirements, you can retouch the design with your own words and images. Make adjustments to the text, image, icon, backgrounds, and so on with a few mouse clicks.
Step 3: Save and download
DesignCap has multiple options for you to export your graphic design. Since it is could based service, you can save your project under your account online for later editing. Also, it allows users to download the finished designs in JPG, PNG, and PDF formats. The share option is very convenient for you if you wish to share the design anywhere online you want.
That's it. It is very simple to design a poster using DesignCap. Before concluding the article, let's have a close look at the specialties of this online tool:
I. Clear interface
With an intuitive and straightforward interface, anyone can easily create photo graphics with DesignCap in just a few clicks. As you can see, the left part is all the objects you can use in your design. Besides is a list of professionally designed templates divided into multiple categories. The main page is the editing area.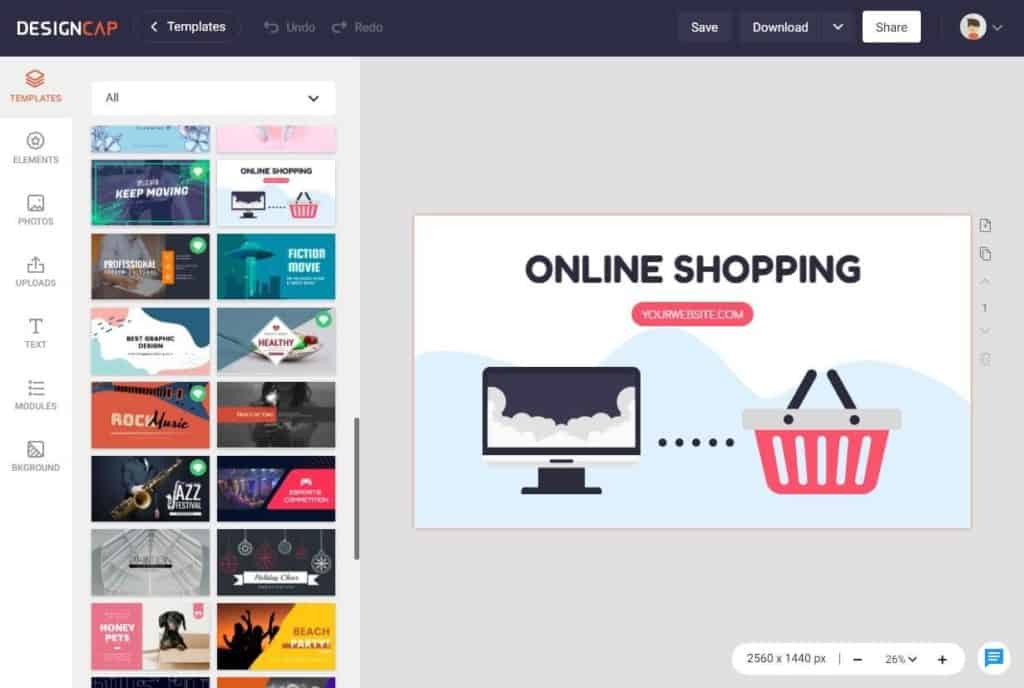 II. Art Resources
DesignCap offers countless pre-designed templates which can be used for many platforms like blogs, websites, social media, and others for different topics like tech, education, vacation, holiday, sport, etc. There are several template categories like infographics, posters, logos, YouTube channel art, Facebook cover, business card, menu, Instagram, Pinterest graphics, and much more.
In addition, you can find many shapes and icons under its Elements tab in the DesignCap app. For the shape section, there are abundant lines, dots, and arrows, separated into several categories. Besides the preset shapes element, it allows you to search for all kinds of icons online. DesignCap has millions of online icons for you to search and use.
Besides, DesignCap allows users to search for photos online in the app. It integrates stock photo resources that contain millions of free photos. Like the icon resources, you can just type your keyword into the search bar and press Enter to find the image you want to use.
The text should be one of the most important things for graphics. DesignCap has a wide selection of built-in font styles. You can apply your text with the preset style or just adjust the text color, font, size, etc. yourself.
III. Modules
The last great thing I'd love to mention is its Modules tab. If you are going to make amazing infographics, this is very helpful. It's also great for those who want to make professional content to their website banners, an author introduction, etc.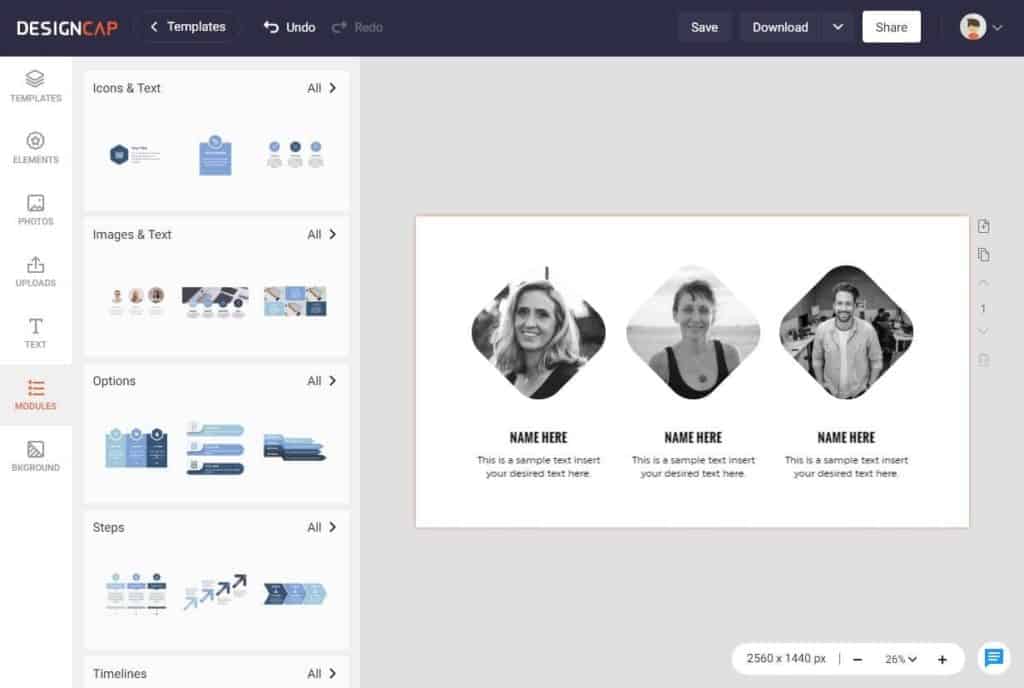 There are nine different categories like Icons & Text, Image & Text, Options, Steps, Timelines, Diagrams, Comparisons, Statistics, and SWOT. Under each category, you can find many preset modules.
Like many other photographic makers, background resources can be a must. It's can be found in DesignCap as well. Besides the color background, DesignCap offers a list of classic image patterns for you to choose from.
IV. Flexible functionality
With countless resources, you can easily customize your photography with its candy editing tools. Apply photo effects to your photo and crop, flip, rotate, and change other filters freely.
Text can be also easily edited by changing its color, font, size, alignment, spacing, etc. The latest version of DesignCap introduced Group functionality which makes DesignCap more flexible. It's easier to deal with so many objects in one design and manage their layers.
Conclusion
If you don't have any skills in Photoshop or Adobe Illustrator but still want to create infographics, posters, social media art, and other photo graphics like a pro, DesignCap is a great choice. DesignCap is a great easy-to-use and powerful graphic maker for users of all levels. Go ahead to take a look at its newest look.