How many of you are actually waiting for Cortana for Android and iOS release news? Good day, the wait is now over! Microsoft's Cortana applications are available for download to android/iOS mobiles and tablets. Cortana is a voice assistant for Windows mobiles like Google Now in Android.
While comparing popular voice assistants SIRI in iOS, Google Now in android, and Cortana in Windows. SIRI is really intelligent and powerful, next, comes Cortana followed by Google Now. Many android users dream to use Cortana and SIRI on their devices. Unfortunately, SIRI is not yet available but Cortana is one step away to get installed on all Android/iOS devices. Here comes the Cortana for Android and now for iOS too.
Cortana is powerful when compared with Google Now in voice assistant. But Google Now is doing a great job with cards. Using Cortana and Google Now together makes your device more automated.
Microsoft already announced that they are releasing Cortana for Android very soon but surprisingly, this app is released, or better to say leaked before the expected date.
Cortana is officially released for iOS and Android. You can download them directly from the respective store. You can find download links at the end of this article.
You can try Cortana on any of your android or iOS devices just by installing the application for the store. This app is not yet uploaded to Play Store as it still needs some improvements.
Check these best android apps on the store ever
Download Cortana for Android/iOS Smartphones and Tablets:
We have tried this app on Motorola Moto G 2o13 and it is completely stable. All it needs is some improvements to improve its performance.
Here are some screenshots from our mobile: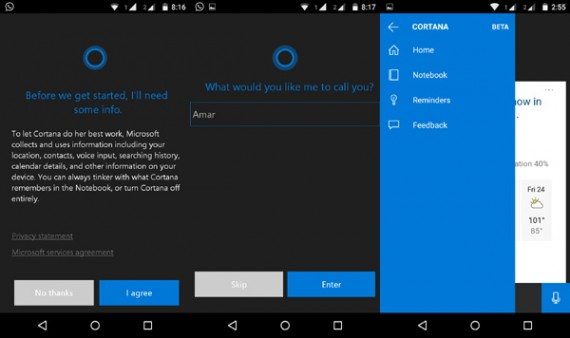 Requirements to install Cortana on Android devices:
Cortana Download Links for iOS and Android
Update: Microsoft has shut down Cortana for both Android and iOS. Cortana app is no longer available for download on both App and Play Stores.
Setting up Cortana:
Open Cortana
SignIn or Signup with your Microsoft Account
Have fun!
Over to you:
How is Cortana working on your device? Are you facing any errors or found any bugs? Let us know. Hope Cortana, SIRI, and Google Now make our smartphones ever more powerful.