According to stats on Microsoft's website, more than 1.2 billion people use MS Office for work or private purposes. The popularity of Microsoft's software for data analysis, creating presentations and word processing is unsurpassed even by OpenOffice, one of the most popular open-source alternatives to MS Office.
As we know, MS Office suite is packed with neat features. Users can perfectly format their book manuscripts in Word, create professional-looking presentations in PowerPoint, and analyze complex data in Excel spreadsheets. They can also choose from a variety of helpful templates that the software provides for quick document creation.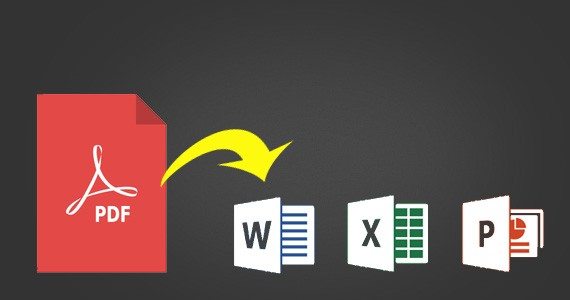 When sharing digital files created in Word, Excel, and PowerPoint, people usually print them to PDF first. That's the standard, professional way of ensuring the document's formatting stays intact when opened on a different computer. The PDF is only a medium that safely transfers information.
However, when it comes to modifying received information in a PDF, business professionals usually have another type of software at hand – a PDF converter. PDF conversion tools are often necessary because it is otherwise difficult to work with data trapped inside the PDF.
One such tool that encompasses all main features that a PDF user might need is the recently released Able2Extract PDF Converter 9. It offers to create and securing PDFs, and a wide range of conversion options, but it is most commonly used for converting PDFs into popular MS Office documents. The process is easy and adjusted for any computer user, amateur or tech-savvy.
The following three tutorials will show users how to quickly turn their PDF files to editable files.
Convert PDF to Word
First, download and install Able2Extract 9.
Open a PDF by clicking on the Open button, or File > Open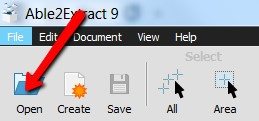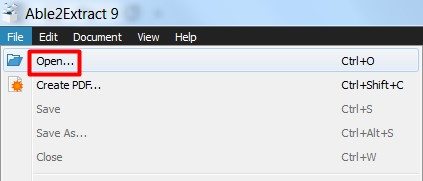 The PDF document for conversion will open in A2E application. You now have the option of selecting the whole document, or only one page, range of pages, specific part of a page (table in a spreadsheet or paragraph in a lengthy text)…
Select All or Select Area

Convert to Word

Choose where you want to save your file and click on the

button. Depending on which MS Office version you have, Able2Extract will either save your Word file as .doc or as .docx file. If you want to make sure it is saved as .docx, you can do the following:
Go to View > Conversion Options
Click on Word and then select Word 2007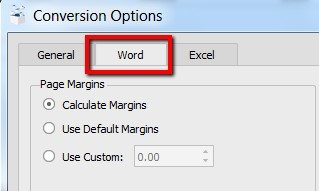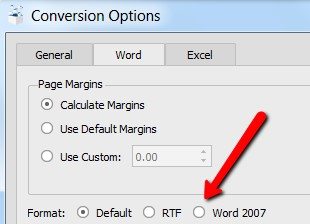 As you can see, you also have the option of saving your file as RTF, or leaving the default setting, which will allow the software to save your document either as .doc or .docx, depending on your MS software version.
Convert PDF to Excel
The process of converting PDFs to Excel is the same as in the previous tutorial, up to the point when you're choosing your output format. Instead of Word, you'll choose Excel

This will prompt you to choose whether to automatically convert the file, or customize your PDF to Excel option. Customization is recommended for complex files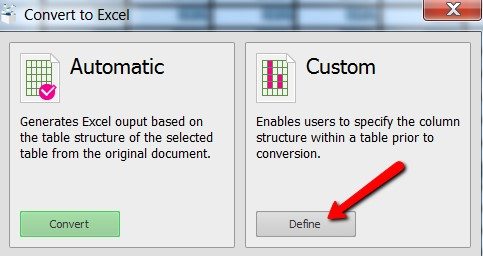 Users will now be able to manually tweak their columns and rows and set additional options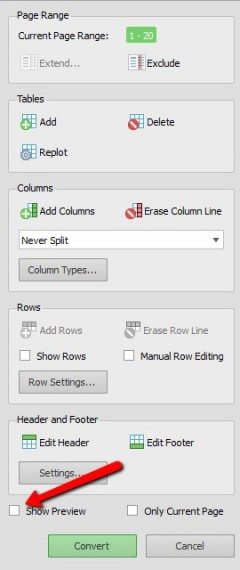 If you check the Show Preview option, you'll be able to see what your converted document will look like after customization. This option is very useful for spreadsheet users who are working with a large amount of data.
Convert PDF to PowerPoint
Similarly to previous tutorials, here you will need to open the PDF file, select the whole document or a specific area, and convert to PPT

In addition to these three formats, Able2Extract 9 converts to Publisher, OpenOffice formats (Writer, Calc, and Impress), HTML, AutoCAD (DWG and DXF) and Images (JPG, TIFF, PNG, GIF, BMP), and it can also create and secure PDF files.