Many of us have our own collection of DVD movies that we have collected over the past decade. Buying and renting DVDs to watch your favorite movies on the go was the raging trend a few years ago. But with the age of digital media, hard drives, and external drives taking a major place in the market, the use of DVDs for entertainment and media storage is fast declining. Most laptop manufacturers are not including optical drives even on their high-end flagship devices.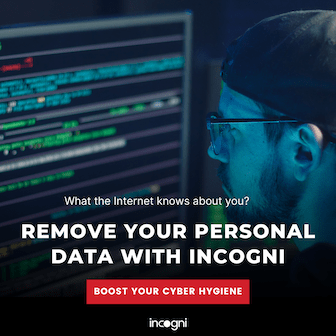 DVDs are highly unreliable. Their content can easily get corrupted with just a few accidental scratches. They also don't have the longevity of storage devices such as the hard drive, and repeated use of a DVD can easily corrupt the data inside it. Your weekend plans can go waste when a perfectly working DVD just stops playing and you cannot watch your favorite movie anymore.
Even more annoying and frustrating would be that your movie plays, but some parts are corrupted and you can not enjoy it to its full potential.
Why can't you play your DVD?
DVD read error is a common error that old time media consumers are familiar with. After prolonged usage, many people encounter playback errors with their DVDs. Some users also report that their DVD won't play on Windows 10 but is compatible with an older version of Windows.
Often times your optical DVD drive might collect dust and dirt and won't work properly and with many manufacturers shipping their products without optical drives, this is a persistent issue in the upcoming future.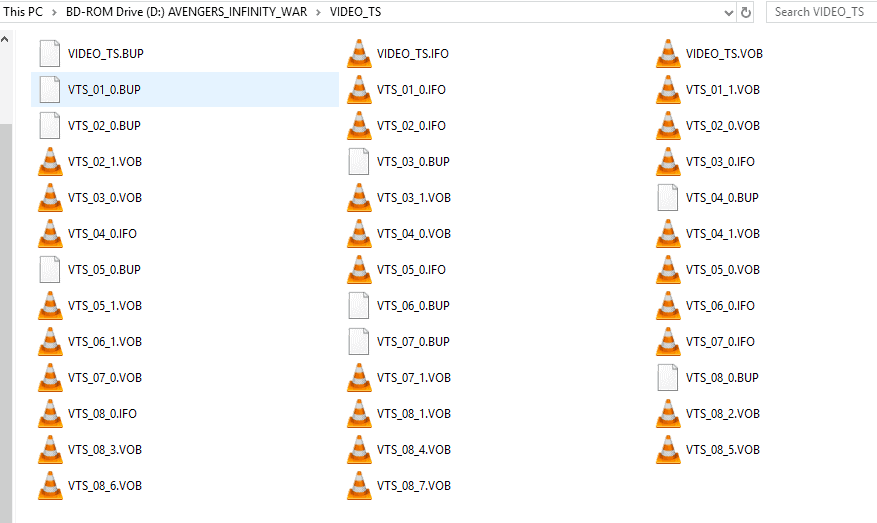 Some DVDs have built-in encryption that prevents, them to be played outside the region that they were brought from. Did your friend living in the US just bought you some nice movies, but you cannot play them as you are living in India or any other country outside of the US?
Well, you need to learn how to rip your DVDs to your hard drive or any other storage so that you can bypass the restrictions and encryptions and enjoy your favorite blockbuster. Ripping is the process of simply copying the contents of your DVD to your internal or external storage media. This will help create a secure copy of the data inside a DVD which is highly unreliable.
WinX DVD Ripper
If you have a copy of a DVD but cannot play it smoothly then you can use WinX DVD Ripper to solve DVD playback issues easily. WinX DVD Ripper is available for all versions of Windows that include Windows 10, Windows 8/8.1, Windows 7, Vista, XP, 2003, 2000 (32 & 64 bit).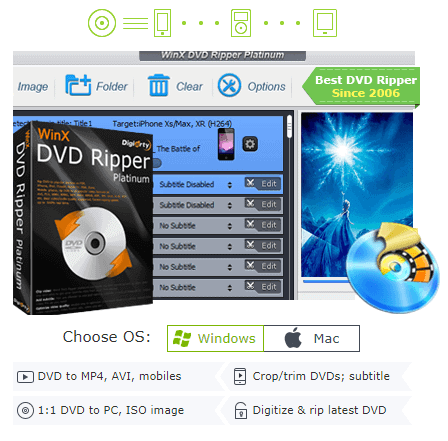 It can easily rip DVD to MP4 and many other additional formats like MPEG, MOV, etc. and stores it in your hard drive regardless of the DVD purchase location or country. It also features direct conversion for playback in mobile devices including both iOS and Android.
You can convert your DVD disk to an ISO image for easy transfer. You can copy the contents i.e rip DVD to MP4 and store it on your hard drive for direct viewing. It also features creating a full MPEG2 file that stores all the DVD content including the subtitles.
WinX DVD Ripper has level-3 hardware acceleration that effectively utilizes your computer's processing and graphical prowess to deliver the optimum output.
You can get WinX DVD Ripper Platinum for free right now as part of their 9 million downloads campaign! You also get a chance to win the Epson Projector. Click this link to download the WinX DVD Ripper for free instead of its usual price tag of $67.95!
How to fix DVD playback errors with WinX DVD Ripper
WinX DVD Ripper can rip DVD to MP4 in just a few easy steps. You don't require any technical knowledge or wizardry to use the software. Read on to know how you can decode DVD with this free DVD decryptor.
1. Downloading and Installation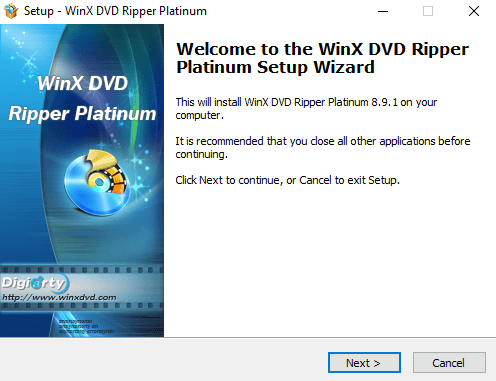 Download and install WinX DVD Ripper platinum from the official website. You can get the platinum version for free right now as part of their 9 million downloads campaign. The installation is pretty easy and you just need to specify the installation location or leave it at the default settings.
2. Setting up the DVD

After you have finished installing the software make sure that you have a DVD in your DVD writer if you are using a desktop or your optical drive if you are on a laptop computer. I'm going to rip my Avengers Infinity war DVD to my storage.
3. Running WinX DVD Ripper Platinum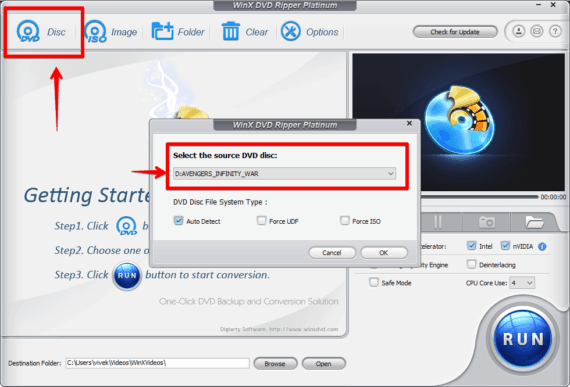 Open WinX DVD Ripper Platinum from the desktop icon. You'll be greeted with a simple interface. On the top left corner, you'll find the Disk icon.
Click on it and select the DVD that you want to rip. Since your DVD is already in your drive, WinX will automatically detect it. If not click on the drop-down menu and select the specific DVD that you want to rip and click OK.
4. Selecting Output profiles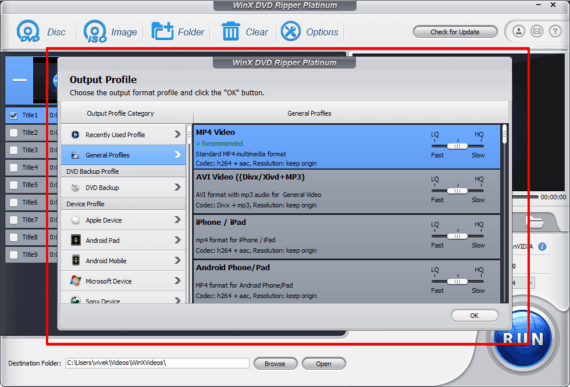 You'll get another window displaying all the different output formats that you can export the contents of the DVD into. You can change the quality with the slider given in front of every output preset.
There are tons of presets to choose from. If you are going to watch the movie in your mobile device, you can select any of the device profiles that list out the different Android, Apple, Sony, and other mobile devices.
I have selected the standard default MP4 preset with the quality set to high. Click on OK after selecting your desired preset.
5. Selecting titles and editing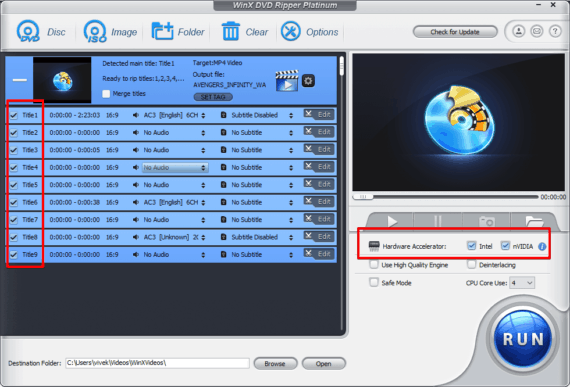 You'll get all the different titles in your DVD listed out in front of you. Remember to select Hardware Acceleration and if you have a graphics card from Nvidia you can select both the options for faster ripping speeds.
WinX DVD Ripper will automatically select the right title that contains the correct movie content in the DVD disc. Your DVD can have multiple different titles and multiple titles, especially 99-title is one of the main reasons that cause a lot of rippers failing to convert DVDs. Thanks to the powerful DVD decoding kernel, WinX DVD Ripper can find the exact one.
Apart from this WinX DVD Ripper also has an inbuilt video editing tool. Click on Edit on any title and you can crop, trim, add/remove subtitles, change audio and play around with many other settings before ripping.
6. Converting DVD to MP4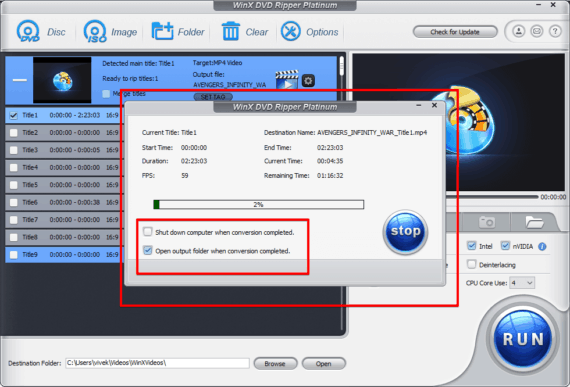 Finally, click on the big Run button in the bottom right corner to start ripping your DVD. WinX DVD Ripper will now rip your DVD.
You can also select the option to shut down your computer once the rip is done but it is completely optional. Since this process can take quite some time for bigger files, the auto shutdown feature can come in handy.
7. Playing your movie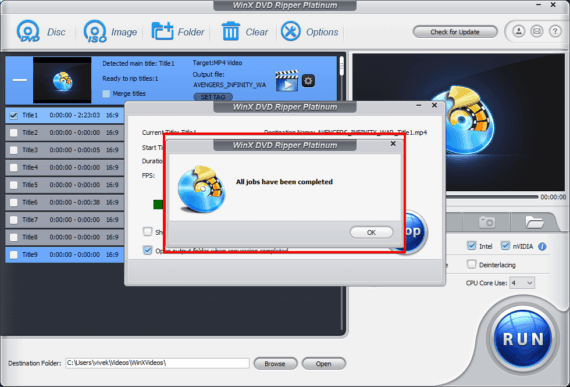 After WinX has ripped your DVD, it will flash an "All jobs have been completed" window. You can close this and it will automatically open the directory where your movie has been saved. Enjoy your favorite movie anytime, anywhere.
Additional features
WinX DVD Ripper is a truly powerful ripping tool that comes with a lot of additional tools and features to help you rip your favorite DVD at record time with no issues while simultaneously making the process very user-friendly and easy to understand.
1. Disk Support
It's got a phenomenal Disk Support and analysis kernel. It can automatically detect the titles in your DVD files. It supports a lot of DVD formats. Even if you have a DVD lying around in your home that is a decade old. WinX will be up to the task of ripping it successfully.
2. Hardware acceleration
WinX DVD Ripper Platinum features a unique Level-3 hardware acceleration technology. This utilizes all the cores in your CPU and graphics card to produce an output in the shortest time possible. A decent HD movie will take about just 5 minutes to be ripped.
3. Output profiles and quality
WinX has a huge amount of output presets to select from. It features all the standard movie outputs as well as mobile devices if you want to watch your movie on your phone.
The output quality is lossless and there is not compromise. WinX is truly powerful in the sense that the output files have no common issues faced by other ripping software such as out of sync audios, random FPS drops, aspect ratio errors and subtitle sync error.
The output formats include the popular MP4, MKV, MOV, FLV, MP3 formats that can be used on both computers and TVs. It also features Android and Apple devices.
4. Remove DVD Encryptions
Many DVDs come with in-built encryption to prevent the DVD to be used outside the area of purchase. Some DVDs have read and write protection enabled. WinX DVD also acts as a DVD decryptor.
It can bypass region locks, handle CSS encryption which is the most popular encryption used in DVDs, bypass user operation prohibition (UOP) which can restrict the user from performing certain functions on the DVD, filter Sony's ARccOS as well as Disney's X-Project encryptions.
Get WinX DVD Ripper Platinum for free!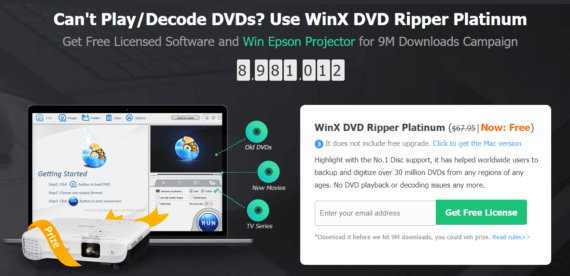 You can get your free copy of WinX DVD Ripper Platinum as part of their ongoing 9 million downloads campaign. WinX comes with a price tag of $67.95 which you can now get for free.
Hurry and click here to go to their website and claim your free copy before they reach 9 million downloads! You just need to enter your appropriate email address and you'll receive the product key from them which you can then use to activate your product!
Conclusion
DVD is soon going to be an obsolete technology. With cloud storage and digital storage options on the rise, which are faster, more secure and less susceptible to damage, the future of DVD is bleak.
This is the perfect time to take all your old dusty DVDs and rip them to MP4 and store them for future use and securely in your own storage medium.
WinX DVD Ripper makes the process very easy and seamless and lets you rip any DVD to any format that you want. It can future proof your purchase so that you don't feel like you wasted your money on buying those movies.
We strongly recommend to keep the ripped file for your personal use and do not distribute it to any other parties as it is illegal. But you can watch it on your own computer without any second thought. Enjoy your movie weekend!