Do you have a DVD file that you want to convert to MP4 because the DVD file is too large and won't work on your iPad, iPhone or your Android device? We all have been in the situation where we wanted to convert DVD to MP4 or convert DVD to HEVC which is another popular format, to enjoy our movie on the go.
Out of all the video conversion software that I found, MacX DVD Ripper was the best one and the easiest to use with the fastest conversion speed due to its unique level 3 hardware acceleration tech.
Therefore we'll be using MacX DVD Ripper Pro to rip all DVD movies, TV shows DVDs, Disney kids DVDs, Old DVDs, etc to MP4 and various formats for playback on Android and iOS devices.
The output quality is also lossless and extremely good when you convert DVD to MP4 format.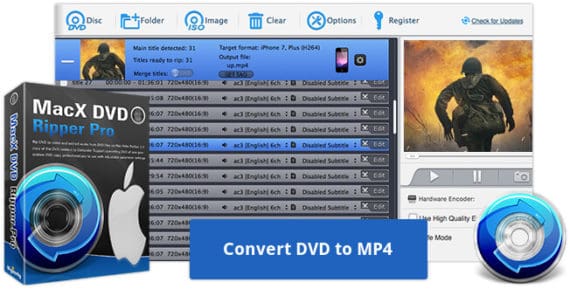 Why should you Convert DVD to MP4/HVEC?
You plan a trip. And what better way to pass time with your friends and family, than to watch a movie together. But what if the movie is from a DVD and you don't know how to watch it on your iPhone or Android device?
We'll show you how to covert traditional DVD to MP4 using MacX DVD Ripper Pro and turn your iPad, iPhone or Android mobile to a portable DVD player, making it possible to watch DVD movies on the go.
Advantages of converting DVD to MP4 or HEVC
MP4 file format takes up less space than other formats and still keeps the video quality sharp and clear.
The MP4 file format is widely supported by almost all portable devices and storage mediums.
The MP4 format is convenient for online streaming.
Mp4 is very easy to store in storage devices and is very hard to corrupt, unlike DVD files which easily get corrupted.
Also Read: How to use VLC Files to MP4 format
Step by step guide to convert DVD to MP4 or DVD to HEVC for free
I personally loved MacX DVD Ripper Pro as the best tool especially due to the fast conversion rates and it's exclusive level-3 hardware acceleration tech which as high-tech it sounds, works insanely well. The quality I got was also lossless and the tool is overall easy to use. There's even a free trial for you to try it out and convert DVD to HEVC or MP4 for free.
To get starting you need to first download MacX DVD Ripper Pro here and follow the steps to convert DVD to MP4 videos: 
1. Import all Disc Files

First, you need to open MacX DVD Ripper Pro and select the "Disc" button. This will import all the DVD files and listed on your screen.
2. Select Output Format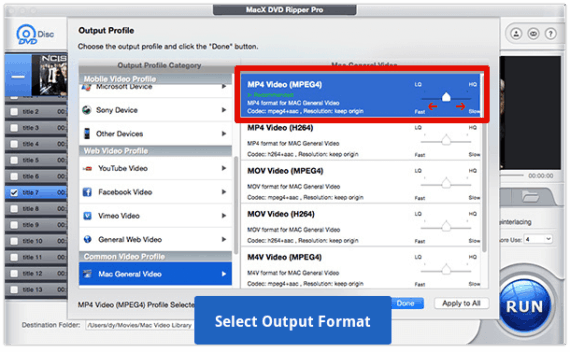 Then we need to select the format in which we want the output file to be created. For wider support, select MP4 Video encoded with H264 + AAC from General Profiles as the output format. You can adjust quality and speed using the slider. The slower the speed, the better will be the quality.

3. Add Subtitle or Audio Track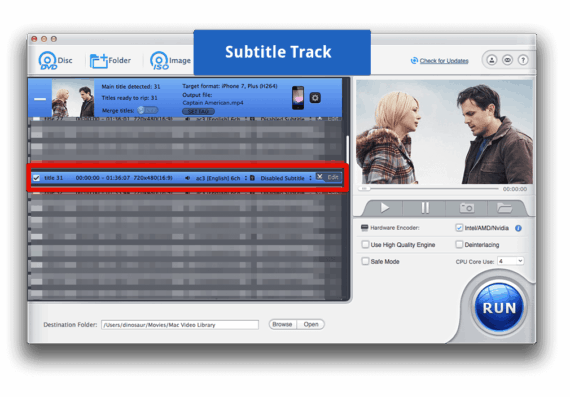 You can also add your own subtitles or audio to the DVD file if no audio is present. Tap the expand icon at the selected main title to open your choice of the subtitle file. You can also specify the subtitle position.
Select Bottom position if you want the subtitles to be displayed at the bottom and click Done.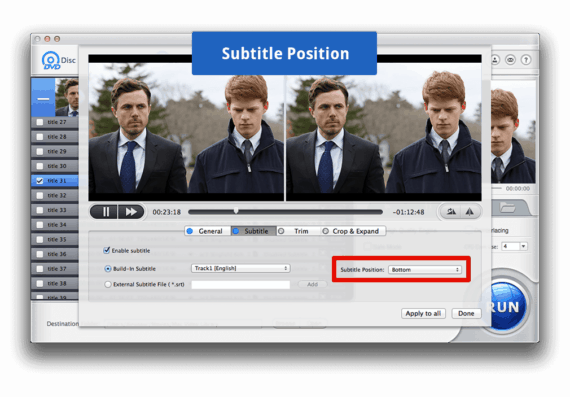 You can also choose the audio track that is next to the subtitle option. On the lower right corner of the main interface, tick "High Quality Engine" and "De-interlacing" if you want output quality to be highest.
4. Specify Output Profile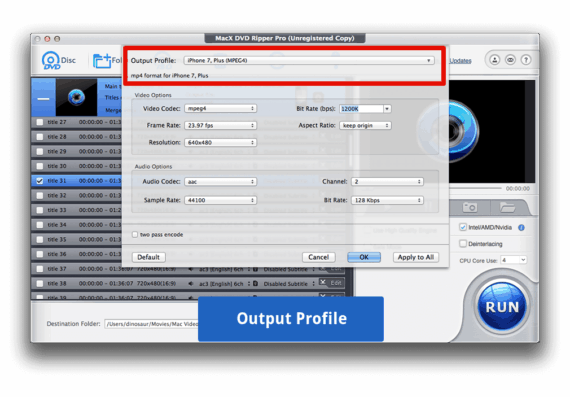 You can even select specific Output profiles for specific Devices. Now you also need to select the output folder where you want the converted file to be saved. The output folder is shown as the Destination Folder at the bottom of the screen. Click on "Browse" to choose the output path.
5. Start Conversion
Now select "RUN" to start the conversion. A pop-up DVD conversion window will show up to tell you the necessary details and the processing percentage of the conversation. After converting DVD to MP4 format, you can transfer it to your portable devices like iPhone or Android devices.
Why Use MacX DVD Ripper Pro?
I used MacX DVD Ripper Pro because it performed way faster than any other converter that I used. It was also fairly easy to use and the output quality was almost perfect. MacX DVD Ripper Pro is the first ever software with Level-3 Hardware Acceleration to convert files in just under 5 minutes where other tools would take over 2 hours.
It also has a wide range of file format support including the most used MP4, HEVC, and even MOV, H.264, AVI, MKV etc. It can also perform many additional functions usually found in video editing software like trimming video clips/segments from DVD, crop frame size, merge separate movie titles into one, add external subtitle to the movie, decrypt DVD Mac, adjust video parameters and many more.
Also Read: 12 best online video editors to edit MP4 video files
And the best part is that you can get the software for free
They are running a Giveaway with a 100% win rate till August 31st, 2018. The rules are simple. Click here to go to the Giveaway page and click "Share to Win" button to share the giveaway on your Facebook wall and you'll see a popup window to get your own MacX DVD Ripper Pro license key for absolutely free.
So, go ahead. Enjoy ripping DVD to MP4 using this amazing tool. You can never miss out on movies and videos that you couldn't watch previously on your iPhone or Android devices.