When talking about videos and the media players, there's a lot of stuff to talk about. And then, there is the stuff named codecs and extensions. So, a little geeky introduction for them.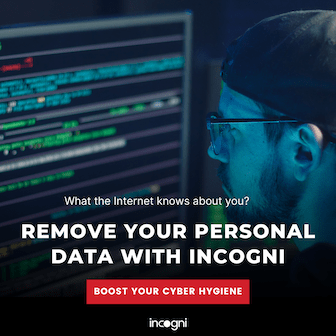 A codec is a kind of a program (called upon coder and decoder) that encodes a digital signal into some storage for transmission. Then the decoder reverses the encoding for playback or even editing.
Extensions are the few words (like a domain name) given to files to recognize their type of coding data signal so that the proper codec can be used to play them. There are a whole lot of extensions for every kind of file, and the best thing, you can even convert them from one to another like converting a 4K MOV video to MP4 format or vice versa.
More about the MOV video extension
MOV, the MPEG 4 video converter file format, which is used frequently in Apple's QuickTime program, uses Apple's proprietary compression algorithm.
Apple introduced the format in 1998. With the increment in Apple users over the years, MOV format has been in increased use. The format is best because of its high compatibility for Apple devices and high-quality storage and sharing of media files.
MOV file format is widely used and supported by QuickTime player, Windows media player, and Real Player too. Even today, many video recording products released by Canon, Nikon, and Olympus have chosen their mainstream recording choice in MOV format. MOV format is also frequently used in drones with 4K resolution recording.
Problems with the format
Even though it is still widely used in Apple devices, there is still a loophole. MOV format, being compatible with Apple and other devices, becomes highly incompatible for many different devices such as Television, an old computer operating on the initial versions of Windows OS, etc.
Other problems occur when you have to view a 4K resolution video in HEVC Codec such as on Mac/Windows, VLC media player, QT, and even a windows media player.
Although it works best when storing or sharing 4K resolution videos in MOV format, it becomes a terrible idea to view them in the same format. It also becomes a bad idea if we want to edit our MOV format video in HEVC Codec to video editors such as Sony Vegas, Adobe, and even Windows Movie Maker.
The Better Option
So, why not just use the MOV for storing and convert it to some other extension for viewing. Well, the idea is pretty high and pretty simple too.
For the task, we need only one thing, a video converter. And so, here the WinX HD Video Converter Deluxe will come into action. The converter is excellent, with the ability to convert in many file extensions. And, if you are unable to choose your output profile, you can go with the option to convert it based on your Device Profile (such as an Apple or an Android Device), Web Video Profile (such as a YouTube or a Facebook Video) and even a Common Video profile (such as a PC General Video or a TV Video).
Features of WinX HD Video Converter Deluxe
WinX HD Video Converter Deluxe, not being a standard converter, is far more than that. This can be proved by the points below.
It is a GPU-accelerated 4K Video Converter for Windows.
You can choose the output format based upon the type of your Codec settings.
You can decide the quality of output video, which will eventually determine the time of your conversion.
Well, strikeout point 4, because you won't need to decide the quality. The converter is super-fast for all types.
It also enables you to convert Audio and Picture formats.
You can directly add videos from YouTube URLs.
Free-Trial is available on the official site of the converter.
Multilanguage options are available for the software.
Gives the option to add subtitles and change the audio channel before converting the process.

Bits and Bytes of video such as the Frame Rate, the Resolution, the Aspect Ratio, and many other things can also be changed if the user wants it.
The converter also gives the option to Crop & Expand and even Trim your video as per your choice.
Convert 4K MOV Video to MP4 Format
Let us round up a task for the converter by converting an MOV to MP4. Converting a video with this software includes three straightforward steps – import your video, select the output format, and click Run.
For this tutorial, we have taken our YouTube channel intro video named "Geek_Dashboard_INTRO_v2" which was in the ".mov" format. We'll now show the steps for converting this .mov file to .mp4 format.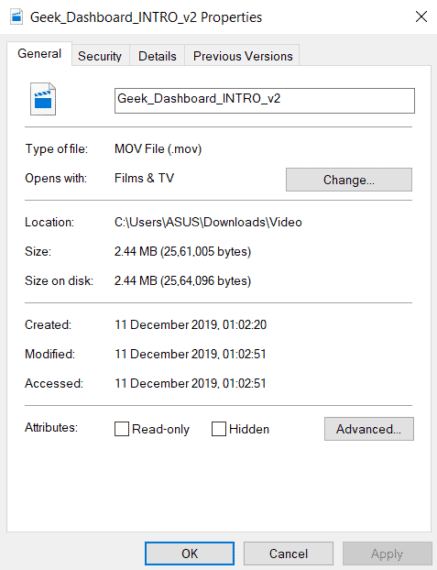 Here are the detailed steps to convert 4K MOV video file to MP4 format:
Step 1: Download WinX HD Video Converter Deluxe and install it by following on-screen instructions. Open it and the home screen of the application will look similar to the below image.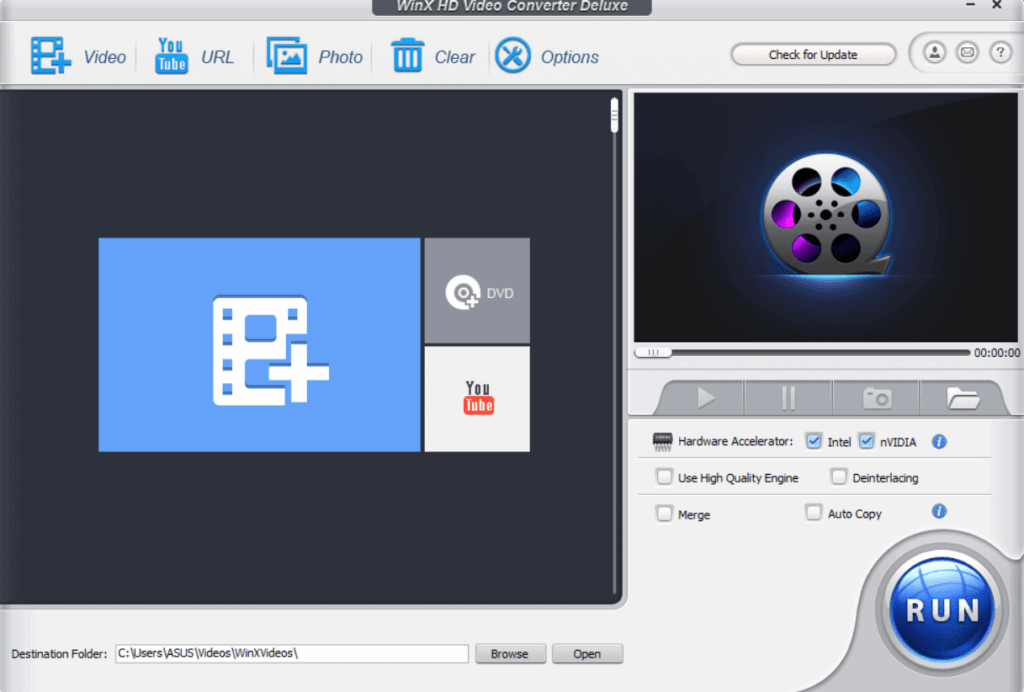 Step 2: Now you need to import the .mov video file by clicking the Video icon at the top left of the window. Doing so, a dialog box will open and you will have to browse the original MOV file from your Windows machine.
Step 3: Select the output format as .mp4 and click the 'OK' button. The video will then be imported and ready for conversion. Also, confirm your destination folder at the bottom of the screen. The converted .mp4 file will be saved in the selected destination folder.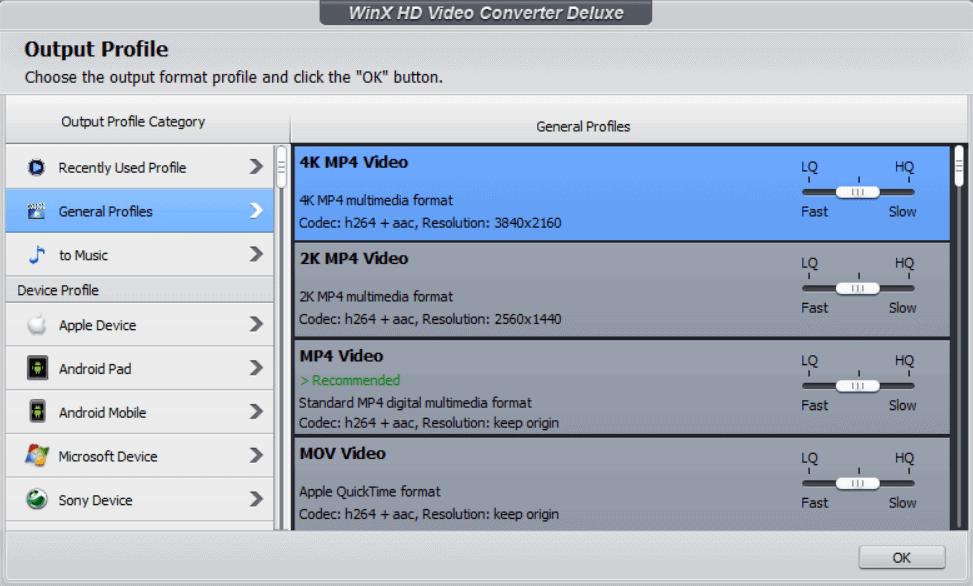 Step 4: As the final step, hit the 'RUN' button and a window as shown below will pop up. Wait till the video conversion is completed.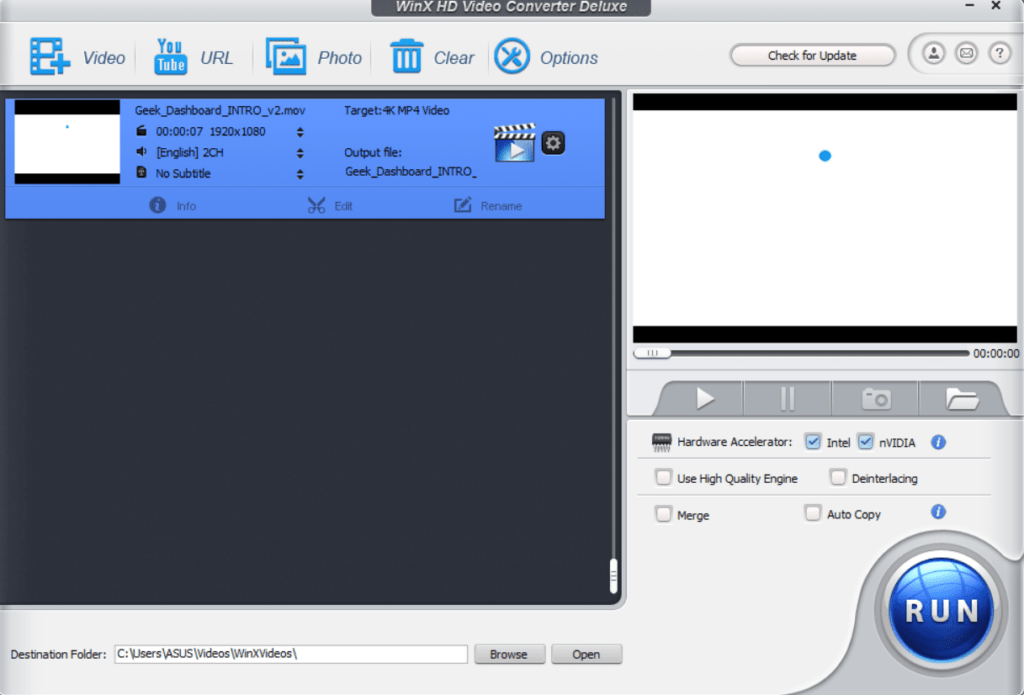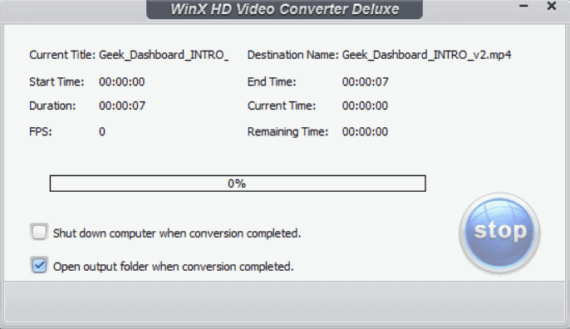 That's it. The new converted .mp4 file is waiting for you at the destination folder which you have chosen in the earlier step.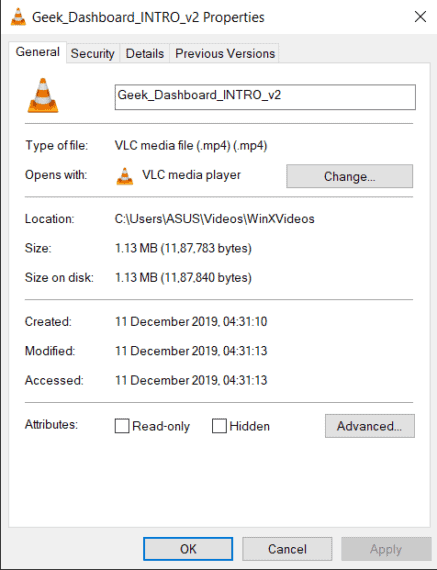 Final Verdict
So, here is everything you need to know about converting a 4K .mov video file to .mp4 format. If you like it, why not give it a shot. You can also try the trial version of the software for free, which is readily available on the official website.